Have you ever taken drugs before? Please don't worry. I won't tell anybody. It is just one of those things some people do to take their minds off other things, right? You know, like – work – bills – monkey wrestling – porn – tragedy – and other such related search engine keywords which will help promote this article across cyberspace. I wonder if Director: David Gordon Green; or Actors Seth Rogen, James Franco, Gary Cole, Danny McBride, Rosie Perez, and Amber Heard, will too? Probably! Though only for 117 minutes in 2008.
Pineapple Express
THE STORY:
Twenty something process server, Dale Denton (Seth Rogen) has a very perplexing dilemma on his hands.
No. Hold up a minute. It doesn't have anything to do with his teenage girlfriend, Angle (Amber), wanting to invite him to lunch with her parents for the following day. Plus it has absolutely nothing to do with him buying drugs from his pot-smoking friend, Saul Silver (James Franco), either.
It is because he has witnessed the drug dealer, Ted Jones (Gary Cole), and his corrupt cop ally, Carol Brazier (Rosie Perez), shoot a Triad drug lord whilst he is in the process of serving Ted a subpoena.
But how does Dale handle this problem you might cry? Simple really. He goes back to Saul's pad, and then explains to him what he has just witnessed. Moreover, during Dale's explanation, he comes to the realization that he has dropped a joint onto the ground whilst he was trying to get away, and that Ted can trace this substance back to him, because he is the only person in the area who sells that particular brand of drug -- called, Pineapple Express.
So after a drug filled night, the following day, both Dale and Saul try to figure out how to deal with this problem without any luck whatsoever.
Yeah. You name it. It doesn't work. Saul's 'drug liaison', Red (Danny McBride), doesn't know what the f*ck he's doing. Dale's girlfriend, Angel, doesn't want to know. Plus when they devise a plan to sell drugs to teanagers on the street, just to raise enough funds to get out of town, well, that doesn't work out as well.
Nevertheless, once Dale and Saul both manage to ditch 'the fuzz' -- as well as Ted's crooked cop ally, Carol -- regrettably, they then have a falling out over their dependency on pot. Prompting Dale to do some solo soul searching for some inner peace -- and Saul to go his elderly Grandmothers residential home, where Ted's henchmen then pick him up and take him to a weed-warehouse.
Ooops!
Ha! Well, I suppose that is why what next transpires is long, tenuous, and harrowing affair all in all. As Red sees red – Triads end up dead – pot smokes in its bed – and at the end of the day, Saul's Grandmother is there to drive everyone home afterwards. Bless her.
THE REVIEW:
I find that 'Pineapple Express' is a really fine movie to watch. It has it all, fun – excitement – adventure – a car chase – comedy – comradeship – and most of all, pot.
In essence, this film harks back to the late seventies 'Cheech and Chong' pot smoking movies; as it is able to tell a tale of two pot-head's, who have a somewhat jovial adventure in a somewhat benign landscape. Moreover, the humor in the film is based primarily on slapstick and laid back wordplay, with both aspects having that ability to exorcise this film from having any sort of serious tone to it at all.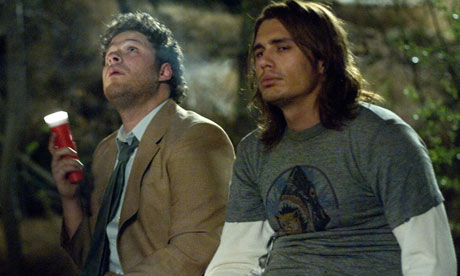 Now is this a good thing or a bad thing in retrospect? Well, if you are looking for a grungy movie with dark urban roots -- your sh*t out of luck, pal. But if you are looking for a film filled with frolics, fun, and foolhardy humor -- your ship has just sailed in.
Myself, I took 'Pineapple' on face value -- and enjoyed the roller coaster ride full of pitfalls and valleys come what may. Granted, it is a film that is mainly downhill for the main protagonists involved. Yet I found that this was part of the fun. Someone digging themselves into a bigger whole with every move they make.
Obviously, the ending was a happy one, and manages to wrap things up quite nicely with the 'bad guy's' losing, and the 'good guys' saving the day. But what else could you expect from this type of film? Huh? Blood? Guts? Death? And mayhem? OK, so it does provide that also. But in a somewhat 'Tom and Jerry' fashion. Plus, in addition to this, I have to say that I really enjoyed the comradeship between Seth's and James' character; as together, they do have a very unique on screen chemistry. Very warm.
Overall, I would say that 'Pineapple Express' is a very fun film with a mixture of different eras presented within it also. Its 'eighties' where the 'buddy comedy' is concerned. Its 'seventies' where the 'pot-smoking' is concerned. Its 'nineties' where the tone and style is concerned. And its 'naughties' in everything else. Here, check this out, to see what I mean...
Good or bad this is a film that does not care, and it's main concern is its next generational high, ha!
THE RATING: B


PINEAPPLE EXPRESS
Reviewed by
David Andrews
on
May 04, 2011
Rating: