You most probably heard the expression "Like a fish out of water" before, right? But have you ever pondered what it actually meant? OK, I know it refers to a person in an unfamiliar surrounding – but if you really think about it for a moment or two – it means 'dead'. Unlike this film, Directed by: Robert B. Weide; and Starring Simon Pegg, Kirsten Dunst, Megan Fox, and Jeff Bridges. It was made in 2008, and lasts for 111 minutes.
How to Lose Friends and Alienate People :
The Film
-
The Book
THE STORY:
With a little gumption, with a fearless temperament, and with some help from a pig, London based aspiring celebrity columnist, Sidney Young (Simon Pegg), manages to get himself hired by New York magazine mogul, Clayton Harding (Jeff Bridges), for his publication, 'Sharp'.
Great news, right? Sidney working in New York City? Well, no, not to his work colleges it isn't. Clayton is deterred by his his left-wing ideals. His supervisor, Lawrence Maddox (Danny Huston), is annoyed with his appearance. Plus his co-worker, Alison Olsen (Kirsten Dunst), is cross with him due to their initial encounter at a bar. Moreover, to make maters even more strained for Sidney, the celebrities that he is meant to be pandering to – rising star, Sophie Maes (Megan Fox) and up and coming director, Vincent Lepak (Max Minghella) –just cannot take to his English ways, plus their Publicist, Eleanor Johnson (Gillian Anderson), either.
So what do you think that Sidney tries to do next, to make himself appear more New York media-compliant? Errr - nothing really. He just continues down the path of left-wing idealism, whilst at the same time trying to get himself into everyone's good books his way.
Thankfully, over time, Sidney does seem to please someone – Alison – as he grows closer to her because of mishap and transgression. Mishap: because she covers' up for Sidney when he mistakenly kills Sophie's dog. And transgression: when he consoles Alison when she breaks up from a secret affair she is having with Laurence.
Please note, Sidney's consolation does involve Alison being drunk, and then humiliating herself when Sidney's academic Father suddenly shows up. Nevertheless, through this, they both share a very tender moment together, as well as a common bond in subversive literature.
Still, Sidney being Sidney, I am afraid to say that this warm union does not last for long, because Alison gets back with Clayton when he separates from his wife. Plus in addition to this, when Sidney begins to strike an amorous rapport with both Vincent and Sophie, he moves into a better apartment – he gets better dressed – and he works his way up the career ladder to book.
No - this is not good news. Though I suppose that is why what next transpires is a right personal journey all in all. As the media is dismayed - stars start to fade - showbiz is a waylaid - and love it finally relayed.
=1" width="336px">
THE REVIEW:
Personally speaking, I found 'How to Lose Friends and Alienate People' to be a really good movie. It manages to do a number of things in retrospect: (1) Tell a story of self-discovery. (2) Reveal the true nature of celebrity tabloid journalism. And (3) Has a rom-com vibe about it too.
OK, so is all of this a bit too much for one film to handle? Maybe – in places. Overall, though, it is a compelling adventure story full of cameo appearances, and a self-evolving story-line.
I especially liked Simon Pegg in this film, because he just captures that awkward English man abroad persona perfectly, whilst not seeming to pander to the camera. Also, the other actors seems to play there parts very well too. Kirsten is adorable and natural – Jeff is imposing and shamanistic – and Megan is sex on a stick.
I also found the story to be very thought provoking too – as it has that ability to inform, entertain, and make you think at the same time. Well, it does asks a very pertinent question – why do we like celebrities so much?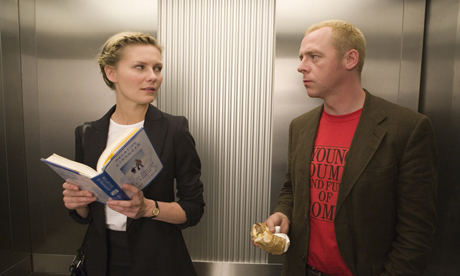 Now me, personally, I cannot really answer this question really. I just adder towards a certain celebrity because I like his or her character. And why do I like his or her character? Again – I cannot say, and this film does not seem to really know either. It just meanders' to and throw, and skirts around the answer to this question by imposing character and plot.
However, is this a bad thing for 'How to Lose Friends and Alienate People' to do - ask this question that it cannot even answer? No – not really. As lets face it, it is a film not a documentary – and a very nice and vibrant film to. Here, look at the facts: (1) Megan Fox was cast in this film before starring in 'Transformers'. (2) The man who wrote the autobiographical book 'How to Lose Friends and Alienate People', in which this film was based on, Toby Young, was banned from the set because he was a pest. (3) The scene in which Sidney asks an actor "Are you gay?" is based on Toby Young doing the same thing to Nathan Lane regarding his role in 'The Birdcage'. (4) This movie makes a number of references to the Jeff Bridges film 'The Big Lebowski' - dude. And (5) This was Janette Scott's first film in forty-one years, plus there were cameos by Simon's director pal, Edgar Wright, and the producer of this film, Stephen Woolley, as well.
All in all I would recommend this movie to anyone who likes their rom-com's funny, their celebrities superficial, and their Brit-humour Peggy. Great.
THE RATING:
A
HOW TO LOSE FRIENDS AND ALIENATE PEOPLE
Reviewed by
David Andrews
on
June 07, 2011
Rating: