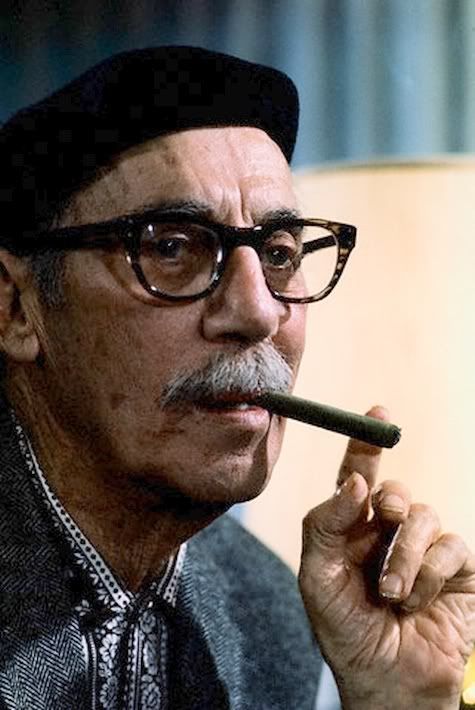 Question: What did you get up to whilst you were vacationing in Africa? Answer: I went hunting and shot an Elephant in my pajamas. But what he was doing in my pajamas was anybody's guess. Summation: The man who asked this question was Dick Cavett. The man who answered it was Groucho Marx. And together they had a chat that lasted for 50 minutes in 1969.
Dick Cavett
-
Groucho Marx
THE STORY:
Now this program was only meant to be 30 minutes long. But no. Groucho and Dick had other ideas. You see, in fine form, Groucho takes to the stage and starts off his interview with Dick with out a care in the world. Somewhat jovially, he explains such things as – his childhood – his hat – his education – his lyrical leanings – Greta Garbo – as well as the state of play between him and the world he now lives in.
Next, Groucho sings a song written by his old friend, Harold Arlen, and once performed by himself in the film 'At the Circus' called 'Lydia the Tattooed Lady'. However, his musical musings do not end there! No Sir-Ree. Then, just as soon as he recounts his feelings on fatherhood, and why this 'vocation' is disrespected in the eyes of America, he sings another song called...
Oh! And not only in English, but in German too! What then follows' are numerous funny accounts stated by the man with the funny hat, the horn-rimmed specs, and the well groomed mustache. For example: (1) The state of play where taste is concerned in those present times, 1969, compared to when he was treading the boards in vaudeville. (2) A rather amusing story about when he and his brothers had a meeting with a Hollywood producer, Irving Thalberg. (3) How his brother, Chico, was a mathematical genius. (4) How the stuffy dowager whom often played opposite him in the films, Margaret Dumont, never really knew how to take him. And (5) His literary accomplishments, specifically the book of notes that was published in the congressional library in Washington.
In closing, here are a couple Groucho quotes from the show:
All people are born alike - except for Republicans and Democrats.
Before I speak, I have something important to say.
I must confess, I was born at a very early age.
I have had a perfectly wonderful evening, but this wasn't it.
Groucho Marx. Whenever I see this man on screen, it takes me a whole day to get him out of my system. I can't help it. I don't know why. I just start to take on his mannerisms almost immediately. Everything I say sounds like a joke. Everything I do seems to be farcical in nature. And everything that crosses my path feels as if it should be a target for me to shot at. Maybe it has got something to do with me wearing glasses and sporting stubble? Or maybe it is because he reminds me of a bastardized version of myself plus a shed load of relatives? Better yet, maybe it is because I have an affinity for the people whom he has inspired?
Well, this latter fact is very-very true you know. Just as the rest is. Wheever I see a Woody Allen film, a Robin Williams stand-up show, a Richard Pryor ramble, and many-many more – Groucho is always in the air.
Heck, you can see it straight away in this interview with Groucho. His witty one-liners. His rambling and rumbustious remarks. And overall his confidant stance on what he believes to be true. But can Dick manage to curb this comedic giant in any way shape or form? No – not really – except when he encourages him to sing some very congenial and vaudevillian type show tunes, which I found to be very reminiscent of a by gone age. Inadvertently showed me what type of a man that Groucho really is.
Moreover, there is a point in this program when Groucho sings one of these songs (not the one included) where he stops the orchestra and then tells them that they should start all over again. Now, to me, this sign just exhibits the type of character and instinctive nature that he had. Like many other comedians whom have followed in his footstep's, Groucho's comedy is all to do with 'how he says it', rather than 'what he is saying'. It's as thought he can perceive the perfect pitch for a punch line – as he did with this song – which illustrates the grounded training that he had to preserver though to become the man he was.
Unfortunately, Groucho does not really delve into too much depth with this type of thing during his interview with Dick. Instead, he jumps about from one topic to another, and leads this interview as if he was the interviewer rather then the interviewee. Still, Dick does not seemed to bothered about any of this. If anything, he seems to enjoy it – and sits back and lets Groucho just go on about with whatever he pleases. Within reason of course.
In a round about way this makes for a really enjoyable program, because it demonstrates what type of a man Groucho was at the time, as well as what he though about things – as if he and Dick were talking to each other in a more everyday environment (like a restaurant or something).
Overall, this episode of the Dick Cavett show is a really great one to watch. It is informative. It is of its time. Plus it tells you (kind of) about a man whom inspired many others to take to that crazy profession called comedy, and then urged them to make us all laugh. Class.
THE RATING:
A
THE DICK CAVETT SHOW WITH GROUCHO MARX
Reviewed by
David Andrews
on
September 16, 2011
Rating: