Now do you know who Ralph Snart is? What? You've never heard of him? Well, according to Wikipedia, Ralph Snart is a comic book character written, drawn, and published by his creator, Marc Hansen. But what the f*ck does Wikikakia know! They thought that Jackie Chan died nine times last year. Me – if I were you – I would get my information from the source himself – Marc Hansen.
Ralph Snart Adventures
Hello dear reader, please allow me to pose to you a number of questions, which may aide you in reading the remainder of this piece.
(1)
Do you like your comic book characters silly and absurd?
(2)
Do you enjoy your artwork bold and brash?
(3)
Do you bask at the sight of knuckleheads elevating the mundane into the epic?
(4)
Do you have the next five minutes free to read this article?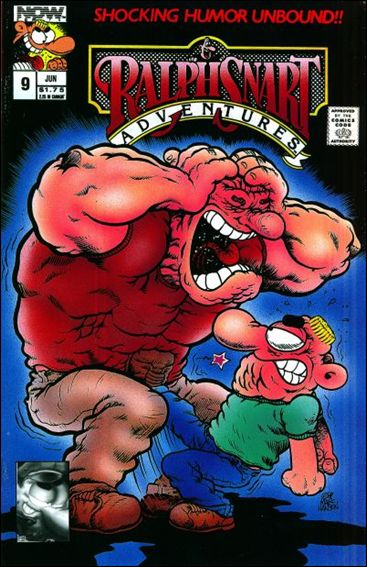 Now if you have answered 'yes' to all four of these questions (or even if you haven't), then, by all means, please give me the opportunity to introduce to you Ralph Snart. Listen, for those of you not in the know, Ralph is a very peculiar comic book character all in all. As you see, in his own way, Ralph shies away from his boring life, by escaping into a baroque dreamscape of his own devising. Well, I suppose that this is understandable in today's' climate really. As come on – lets face it – who would not want to disappear into a dream and come out renewed at the 'other end'. However, where Ralph is concerned, his exploits are written and drawn by a living 'baroque dreamscape' – Marc Hansen – who is an enigma wrapped in a bubble encased in a sesame bun (in a nice way of course). Here, check out some of Marc's Ralph Snart covers...
Funnily enough, Marc, like his creation, is a very peculiar character too. In the past, he has worked as a illustrator for such companies as
NOW
Comic, Marvel / Epic,
Malibu
, and Kitchen Sink Press. And after eight years away, doing God knows what in his hometown of
Detroit
, Marc has returned within the last couple of years or so, by doing his most admired creation, Ralph Snart, as a monthly web comic (
comics.marchansenstuff.com
). Here are a couple quotes made by Marc from a past interview he had, which elaborates as to what he thought about this venture:
"Please don't touch there, it may hurt the pigeon."
"I had an urge to do something creative for the last couple of years, and when an opportunity eventually presented itself to get the rights back for Ralph Snart, I decided to do it."
"You best remove that now, or otherwise the neighbors will complain."
"With my work schedule, I decide to do a "web comic" because it was much more feasible than to do an animated cartoon."
"Garlic Bread?"
"Print media no longer makes any sense now that we have digital media. I considered for a long time about publishing a monthly comic on CD-ROM because of the chance of eliminating printing costs. But now, with the internet, increased bandwidth and faster computers makes total sense to publish on the internet."
"Shhh! I think that the Monkey has passed out from the strain."
RALPH SNART OFFICIAL SITE
Reviewed by
David Andrews
on
October 19, 2011
Rating: