Now it is a proven fact, that Irish comedians have an unfair advantage over comedians from other counties. And do you know what that is? It is because Irish comedians are generally funnier than most – simple as that really. Unlike this 60-minute stand-up performance compiled in 2010.
Dylan Moran - Aim Low
THE STORY:
This program presents segments from three of Irish comedians, Dylan Moran's, stand up performances, in England, Australia, and Ireland, chronicling his comedy shows labelled 'Monster Live', 'Like Totally' and 'What It Is' respectively.

In fine form, Dylan takes to the stage and then regales his audience on subjects such as – religion – love – the battle of the sexes – parenthood – children's behaviour – the meaning of PMD – drink – and of course, being Irish. And on top of that, he also rambles on a lot – makes funny noises – slurs a bit – takes a drink – has a smoke – and generally exhumes what he is... being funny.

On occasion, Dylan might say something that is surreal in content and blatant in execution – but that does not bother him – as he just flimflams from one subject matter to another, until he tells the audience to 'piss off' before wandering off home.
Here are a number of quotes that he states during this program:
On Sexual Freedom throughout the Generations: "When it came to my generation it was, DONT F*CK ANYONE OR YOU'LL DIE!".
On A Childs Inquisitiveness: "You know it's a sad day when your child looks up at you and asks 'Daddy, are these organic?'".
On Ireland: "This country has become a mesh of Barcelona and Miami – and everyone is going out with someone called Fejuvia".
On Australia: "It's a ridiculous place located three quarters of a miles away from the sun".
On The Development of Existence: "There was a big bang – and then we all derived from monkeys".
On What You Would Give a Prostitute If You Was With One In A Hotel Room: "Home Made Yogurt?".
On Hotel Rooms: "This is the only place in the world where you would steel everything even before you take off your coat".
On What A Child Really Is: "Midget Drugs".
On Adulation: "Men look at breast just as women look at babies – isn't that lovely".
On Modern Children: "They are all like dead bumblebees drinking lattes".
On Long Term Relationships: "People communicate in a different way when they get older – it's called silence".
On Women: "Now I do not mean any disrespect when I say this – but women have no feelings".
Once the day is done, and Dylan has said all that he has come to say, he leaves the stage accompanied by a thunderous applause of recognition.
THE REVIEW:
Now I first became aware of Dylan Moran when he starred in the Channel 4 television series entitled 'Black Books'. Within this sitcom (which he co-wrote) he played one of the main characters called Bernhard Black – a disgruntled and semi-inebriates book shop owner who slurped his way through life draped in black and with a wine bottle attached to his hand. And do you know something? This has been the exact impression that has stuck in my mind whenever I seen Dylan Moran ever since.
Though, was I still correct in my presumption when I watched this DVD? Well – HELL YES – especially after watching 'Dylan Moran: Aim Low'.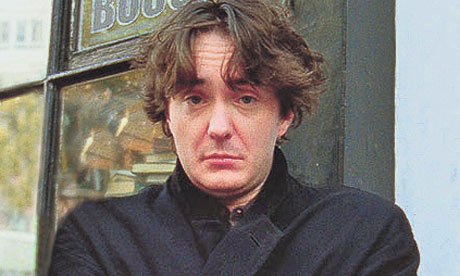 First off, let me just say what is bad about this program – just to get it out of the way. It is too fragmented in tone – and has a rather bad habit of jumping back and forth between each of Dylan's shows at a drop of a hat.
That's the only bad thing I can say.
However, as for the rest of it – boy-oh-boy – it is bloody funny. It is quick witted– it is surreal – it is bold – it is exuberant – it is truthful – and on top of that, it is pure Dylan in a can. Honestly, do not try to eat anything whilst watching 'Dylan Moran: Aim Low', because – like me – you might find yourself corpsing from hearing whatever comes out of Dylan's mouth. Also – like me – don't waste half your time mumbling to yourself 'How the f*ck does he make this stuff up!', as you most probably would miss a quick gibe from Dylan's gregarious gob. Moreover, please-please-please take note that Dylan is the type of comedian that is a product of his time, and he is not afraid to swear, curse, smoke, drink, say something offensive, and do it all with a wink in his eye and a mop of hair to match.


Personally speaking, Dylan reminds me of a modern day version of the seventies Irish stand-up comedian, Dave Allen. Now this has nothing to with their shared Irish heritage – even though is apparent in their work – instead, it is the way that both of these great men are able to look at life from a surreal perspective, and then say what they feel in a rather bold, dynamic, and Irish way. Granted, Dave Allen drank Whisky on stage whilst Dylan drinks wine – but this is nothing more than a nerdish observation really – and by in large these two Irish statesmen are really just funny guys to watch and captivating to behold. In addition to this, they both have a slurred an animated manner in their delivery – which on occasion makes you think that they are pissed whist they are performing. Still – this is by the by all in all – as these men are pure Irish gold.
In closing, here are a couple of clips to illustrate what I am trying to say.


THE RATING: A+
DYLAN MORAN – AIM LOW
Reviewed by
David Andrews
on
November 22, 2011
Rating: