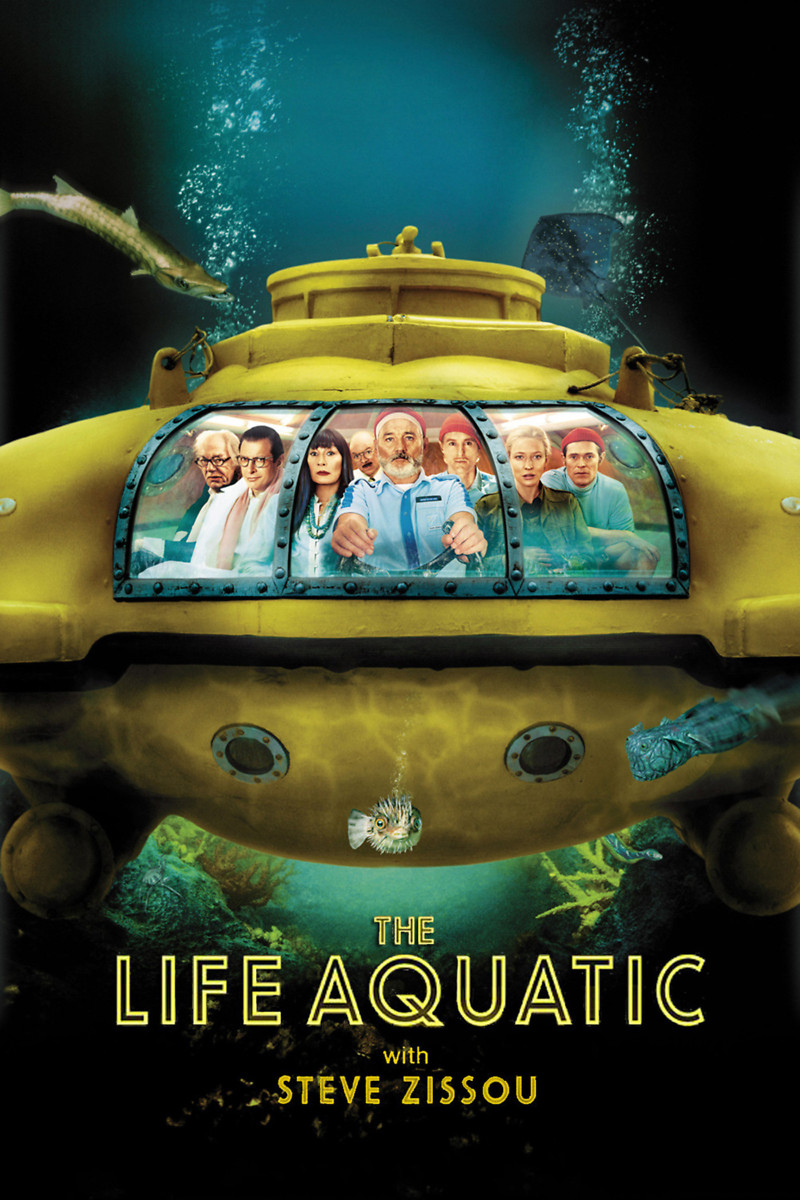 'Life on the open waves - is as fresh as a Dutchmen's knee. Though you should always remember to behave - whenever you want to go for a pee. Or alternatively, if you want a more picturesque idea behind the old briny, watch this film, Directed by Wes Anderson; and Starring: Bill Murray, Owen Wilson, Anjelica Huston, and Willem Dafoe. It was made in 2004 and lasted for 119-minutes.
The Life Aquatic with Steve Zissou
THE STORY:
It is pretty safe to say, that aquatic adventurer, famed documentarian, and owner of the good ship 'Belafonte', Steve Zissou (Bill Murray) is in a very emotional place at the moment.

For a start, he is upset that his mentor, Emilio, was killed by a 'Jaguar Shark', during a previous mission that he was on with him – and now wants revenge. Next, Steve is annoyed that his rich bitch of a wife, Eleanor (Anjelica Huston), will not accompany him on this subsequent mission. After that, Steve is surprised when Ned Plimpton (Owen Wilson), tells him that he is his son from a past liaison he once had. And finally, Steve is deterred when pregnant journalist, Jane Winslett-Richardson (Cate Blanchett), asks him some pretty rude questions about his failing career.
Oh! On top of all this, Steve does become fleetingly frustrated when he hears from his financial advisor, Oseary Drakoulias (Michael Gambon), that his backers will not fund his revenge gambit either.
Poor sod!
However, thanks to Ned, Steve and his crew manage to overcome this fiscal tomfoolery, and they all then set sail to find the 'Jaguar Shark' - all of them accompanied with some very probing questions. Steve's first mate, Klaus Daimler (Willem Dafoe) – wants to know what Ned is trying to accomplish by unveiling that he is Steve's son. Steve wants to know – why Jane is not falling for his sloppy advances. Ned wants to know – why Steve did not try to find him earlier. And Steve's naval nemesis, Alistair Hennessey (Jeff Goldblum) – wants to know who pillaged from his sea-lab.
Hint! It was Steve and his crew, when they needed to salvage supplies for his ship.
Still, do you think that any of the members of the good ship 'Belafonte', manages to get any of their questions answered for them during their voyage? Err – no, not really, instead – pirates pinch their funds and a member of their crew – family disputes are elevated due to two bold confrontations – and worst still, Hennessey is captured, after he slaps Steve's dog in the head.
Thankfully, though, by this time, Steve's wife, Eleanor, comes to the rescue – resulting in both hostages and adventurers to link – sons and fathers to sink – Jaguar Sharks not to blink – and films to end with a Parisian, PLINK-PLINK-PINK!
THE REVIEW:
Now before I start my review on this film 'The Life Aquatic with Steve Zissou', please allow me to convey four trivia related observations I detected whilst watching it.
FACT
1: The Beatles film 'The Yellow Submarine' is stylistically shown throughout this movie, primarily in the underwater sequences, and physically on-board the ship.
FACT
2: David (Ziggie Stardust)
Bowie
songs' and influence is felt within this film also – most notably, the black singer onboard the ship, as well as some of the surrealist undertones amongst the incidental scenes too.
FACT
3: The overall arc of this film, is somewhat reminiscent of such stories as 'Moby Dick', plus some of the British 'Boys Own' stories from the 1920's to the 1950's.
FACT
4: I presume that the name of the ship was called the 'Belafonte', because in 1954, famed black singer, Harry Belafonte, sang a song called 'The Banana Boat Song'. Here, have a click at this...
OK, so now that I have the trivia out of the way with, what do I now think about this aquatic adventure, huh?
Well, for a start, it is a Wes Anderson film – and because of this, I have to say that the style of this movie is of 'an alternate taste'. The direction is vivid – the set decoration is of high contrast – plus, the actors, even though very good in their performances (all of them) they do come across as somewhat stilted at times, benign even.

Still, as I just said, this is Wes Anderson film – and these things are expected within his productions, take it or leave it.
Now personally speaking, I would take it – because I find that his over stylised type of filmmaking is very captivating to watch. Moreover, I do enjoy how his camera pans from left to right and through doors and walls, almost giving his compositions a very comic book feel to them. Granted, like some of the other things that I have mentioned previously, this may not be to everybody's cup of tea. Nevertheless, the one thing that I can categorically say about 'The Life Aquatic with Steve Zissou', is that it does tell a multi layered story, with all of these layers having a heart and a soul that comprises many a tale of old.
For example, the parental part of the story, does reminds me of a Charles Dickens novel of sorts – with that ambiguity hanging in the air. The nautical slant of this tale, reminds me of something like 'Captain Nemo', tinged with a touch of the Gerry Anderson style (no relation). And the adventure part of the story, reminds me of a... errr... an adventure story? (well, you know what I mean).
Overall, this film is a very nice and placid film to watch. It has an old heart – a great cast – a simple narrative – and a sheen that is one hundred percent Wes, through and through.
Think of it as an art-house film made about an old story in a new way.
THE RATING: A-