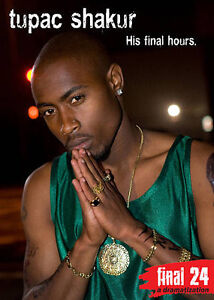 Tech-head, Stewart Alsop, once said "A dying man needs to die, as a sleepy man needs to sleep. And there comes a time when it is wrong, as well as useless to resist". But do you think that the case for musician, Tupac Shakur, once his last breath finally came? Why don't you have a look at this 47-minute documentary made in 2010, to find out more?
Shakur, Tupac - Final 24
THE STORY:
This installment of 'Final 24', chronicles the highs and the lows of fabled 'Gangster Rapper', Tupac Shakur. Now to help the feature tell this tale, on display, are a number of archival video clips, audio inserts, stock photography, plus numerous pre-recorded interviews, involving family, friends, musicians, and employees alike.
Here is a basic run down on what this show has on offer:
BLACK BEGININGS:

Tupac Amaru Shakur had a very tough childhood. His Mother was a drug addict and a convicted felon associated with the Black Panther movement. Plus his father was nowhere to be seen. Still, thanks to him being enrolled into the Baltimore school for the performing arts, Tupac found some direction in his life, though his love for rap music and other artistic pursuits.
RISE OF THE RAPPER: Tupac rise to fame was a somewhat linier and laborious one. Initially, he honed his talent for rap music, by jumping into the fore, with friend, Jay Luv. Next, he honed his art as a performer, by becoming a member of the 'Digital Underground'. And finally, he managed to seal for himself a record contract, with record producer, Atron Gregory.
A THUGS LIFE: Even though he welcomed his sober and drug-free mother, Afeni, back into his life again, Tupac's 'Gangster Rapper' image took a hold of him, and made him do a number of disreputable things. He started a verbal war with one time friendly fellow rapper, Biggie Smalls. He had numerous encounters with the law for violence and drug abuse. And he was even convinced and sent to prison for touching a girls ass. Please note, in addition to this, Tupac was also shot and injured as retaliation for some of these misdemeanors.
DEATH ROW: Suge Knight, owner of Death Row records, managed to arrange for Tupac early release from prison, and in so doing, took him under his wing as a solo artist. However, this union was not a fortuitous one for Tupac – as Suge was affiliated with the Mob Piru's, which is a gangster sect from Compton, Los Angeles.
THE LAST DAY: The last days of Tupac Shakur reads as follows: (5) Tupac, his niece, his girlfriend, and his bodyguard, all drive to Los Angeles, so that he can initially watch a Mike Tyson fight, and then perform on stage at a club afterwards. (4) Once checked in, Tupac sends his niece and his girlfriend to the hotel room upstairs, so that he can gamble at the casino below the hotel. (3) After watching Mike Tyson win his fight, Tupac then involves himself with beating up a member of a rival gang, opposed to Suge's affiliation. (2) Tupac and co., all alight for as short while, before they all then drive off together for his performance at the club. And (1) Tupac is gunned down whilst still in his car – he dies a couple of days later.
THE REVIEW:
Now before I commence my review on 'Tupac Shakur – the Final 24', please let me just say, that I have watched the Nick Broomfield documentary about this musician's life and death (click
here
for review), plus in addition to this, other noted sources associated with him as well. However, unlike this feature, I have never seen Tupac's mother, Afeni, interviewed previously, or seen a documentary that was more focused on what Tupac was all about either.
Personally speaking, this latter factor does make this program 'special' in a certain light. Not better or worse - special - because it is able to give you a very clear impression, on whom Tupac was prior to being famous. Moreover, I have to say that I liked most of the interviews on show as well, especially:


Afeni Shakur: Tupac's Mother, Afeni, has always been portrayed as the 'drug addict Mum', who was more concerned about the 'Black Panther movement', than she was about her children's well being. Still, now that I have heard her speak myself, and can see how open she is about her 'past failures', I just cannot help but admire Afeni for her perseverance in the face of adversity. After watching this program, I think of Afeni as a woman who has had a full and hard life – bless her for her sins.
Jay Luv: Jay, like Afeni before him, has always been talked about in other programs, and never really seen – thus implying that he has something to hide. Though, my impression of Jay, is that of a man who has had a long and varied existence. Plus on top of that, he is very astute and aware of how life has a course of action and counter-action – as noted in his words about Tupac's conflicts.
Frank Alexander: Now Frank was in the Nick Broomfield documentary that I mentioned previously in this review. And, like before, appears like a 'friendly giant', who is still guarded about certain facts relating to Tupac's eminent disassociation from 'Death Row'. Maybe because of Suge Knight?
Jamala Lesane: Jamala, Tupacs cousin, comes across as a very sweet lady indeed. Thankfully, she has used Tupac's death in a very positive way, by promoting his memory for the benefit of the community – along with Afini, Tupac's Mother. Also, her recount on Tupac's last days and life, is very insightful and honest – making her resolve very erstwhile all in all.
Overall, I feel that 'Tupac Shakur – the Final 24', a very compelling program to watch, and if it did have a slight drawback, it would be that there were two questions lefts unanswered by the end of it. Firstly, what were Tupac's reasons for leaving 'Death Row'? And secondly, why wasn't Afeni questioned about this, or alternatively, why wasn't Suge Knight interviewed?
A nice program about a man that will be surely missed.
Bless you Tupac – you're a star.
THE RATING: B+
THE FINAL 24 - TUPAC SHAKUR
Reviewed by
David Andrews
on
January 24, 2012
Rating: