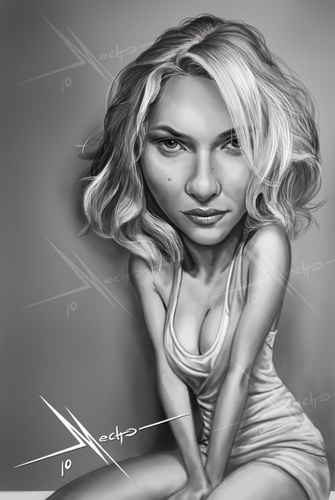 Now it's not everyday that I sit down at my computer and laugh like a loon with a spoon to bloom. OK, so there was that one time when I typed in 'Obama Skin Flick' by mistake on Google, and saw that picture of Barack in the sack. Still, this is nothing more than political porn in the scheme of things, as I really want to tell you about the interview I had with a friend of mine, Andrew, and what he had to say about his web-comic 'I Am Arg'.
Web Comics for Teens
1) When did you first discover that you could draw? And how did this develop into becoming what is now your website?
It's the classic "Ever since I could remember, I was drawing" story.
You see, when my brother was born, I was more concerned with drawing than meeting him, being creative is just something I love to do. I don't think I'll ever stop creating something. When I was younger I wanted to be an animator, so I focused all my energies into getting into the animation industry. I went to Seneca College for Animation Arts in Toronto, Graduated, and worked for a number of years in the Toronto animation scene.
One weekend I went to Toronto Comic Arts Festival, and said to myself, "Self, You can do this. You can make a comic strip". I had a twisted sense of humor thanks to the open minded sensibilities of my family, which naturally, marries well with drawing.
It just made sense to start a web-comic. And here we are with "I am ARG".
2) In your own words, how would you describe your web-comic?
I am ARG
is a NSFW gag a day comic about a nerdy canadian and his nerdy girlfriend and their life and thoughts. I say NSFW because everybodies sensibilites are different and that covers all my bases. There's comedic violence and the occasional drawn wang - but nothing you wouldn't find in an episode of 'Southpark'.
3) If your site was a movie, a piece of music, or an object, what would it be and why?
I can totally see I am ARG as an adult swim cartoon. The humour and the style just fits that group so well. I eventually want to animate some flash versions of the strip for youtube.
If it ever becomes a move I want Ryan Gosling to play ARG. Scarlett Johannson can play my girlfriend. She'll be doubly happy with those two sentences...
4) Your certainly have a comedic edge to your work. Who would you say is one of your inspirations in this department? Plus do you conform to his / her style?
That's a great question. I rarely get asked what inspires me comedic-ally.
I'm a huge Tex Avery fan. For those that don't know of him, he was a cartoon director for warner brothers and MGM way back in the golden age animation days. His style of wacky zany unpredictable humour is still awesome today, 60-70 years after the fact. I'm also a big 'Southpark' fan as well, and I completely subscribe to their no holding back, nothing is taboo attitude to comedy. Plus, I love Tim and Eric Awesome show Great Job. That combination of ridiculous and awkward humour is just brilliant.
All of those and shows like '30 Rock', 'It's always sunny in Philadelphia', 'How I met your Mother', 'The Office' and a whole bunch of others, greatly influence me as a comedy writer. Basically, if it's a little bit zany and off the wall, I'm probably going to enjoy it immensely.
5) Who do you feel that you represent in the art-stakes? And why is that so?
I take a lot of my art influence from animation and cartoonists, especially more graphic or pinup styled artists. I'm a huge fan of Bruce Timm (Batman:Animated series), Bill Presing (Pixar), Bobby Rubio (Pixar), Stephen Silever, Mike Krahulik (Penny Arcade), Shane Glines, John K (Ren and Stimpy), Glen Keane (Disney), Skottie Young (OZ), Joe Madueria (Battlechasers, Darksiders), and a crap ton more. I'm more stylized / animation / graphic influenced, than the traditional comic book style. But good art always grabs me in some way and I'll retain something from it...
6) What was the first comic book you read?
Probably a Batman or Spiderman comic. There were so many comics back then. I was huge into Spiderman growing up and the comics that Nintendo Power put out in their magazines. I have a collected "Black Costume Saga" Spiderman book that I absolutely adore. Know that I think of it. It was probably one of the original Tmnt books. I got it at a comic book shop back when TMNT was the craze and I was amazed at how different the book was. In high school I collect a lot of the Image stuff. I was big into 'Gen 13' and 'Spawn'. I don't usually get a chance to get into comic books unless they're graphic novels.
Today I'm lovin' 'Skullkickers'. That book is super fun.
7) If you could change something about your site, what would it be and why have you not done it?
I just recently redesigned the site, so thankfully I fixed alot of the things I wanted to change with the design and layout. I do want to open a store and add some more fun stuff like wallpapers, an Ask box, etc. I want to open the site up to more community involvement. Get readers talking with eachother and not just to me in the comments section.
8) Do you have any future plans with your web-comic? Anything on the horizon?
Currently I'm planning to put out a book in May/June and travel to some comic book conventions to promote the comic and open up a store. I also want to launch another comic in the near future depending on the time I can dedicate to it. I'm super excited for it as it's about a small Animation studio and it's employees. I get to write for characters and give them their own personalities and lives. That's super fun.
9) Nerdish fact for you Andrew. I remember the phrase 'I am Arg' used in the Monty Python movie 'The Holy Grail' – nearing the end of the film with the big animated monster. How did you come up with this name for your web-comic? And am I in the ball-park?
I actually can't recall that part in the movie, now I want to go back and see if it's actually in there and it's just an awesome movie to watch anyways. "ARG" refers to my Iniitals. My full name is Andrew Richard Gregoire. In high school and college I signed my art work with ARG! And it just sort of stuck with me to the point where some people started calling me that in real life. So when it came to naming the strip, it came natural. It's also oddly refelctive of the tone of the comic too, that expression of frustration and anger.
So there you have it dear reader, Andrew and his great web-comic IAmArg. But if you would like to know some more about him, check out his site, or alternately follow him on facebook, devaintart, or twitter.

Go ahead - shift your butt or else...
Ooops! So not exactly 'I am Arg' - but 'Arg' never the less, right? ha!
I AM ARG - A WEB-COMIC THAT IS JUST... AGHHH!
Reviewed by
David Andrews
on
February 06, 2012
Rating: