Now what does it take for an artist to create? Some paint and a paint brush? A chisel and a block of wood? What about a powerful three dimensional modelling application and a very good imagination? Yeah - that last one works for me as well. And do you know what? It works for my mate Melk too. Here, reserve a slice of your time to digest an interview me and he had together just the other day, whilst jumping onto a speeding train.
Cinema 4D, Third Edition
1) In your own words Melk, how would you describe your web-comic, spacesleepsyndrome?
Spacesleepsyndrome.com
is a kind of a surreal weird "Horror-Murder-Mistery-Science-Fiction-Thriller", sort of an ironic story really. You see, it describes the attempt of mankind to secure its future, far away from Earth where life began, on a new planet, after destroying the old one. So it deals with the vulnerability of mankind and with as focal point of the mission the aggregated preservation of all forms of life. And it deals with the difficulties of a long journey and other issues as you can see under " mission " on the website.
2) What piece of music, movie, or object, would you say your comic was like, and why?
With music, I would say a kind of Murder-Ballade or Lay, played in minor key, lovely but scary sinister, sometimes a bit melancholic and always with a wink. Similar to Nick Cave's song "where the wild roses grow".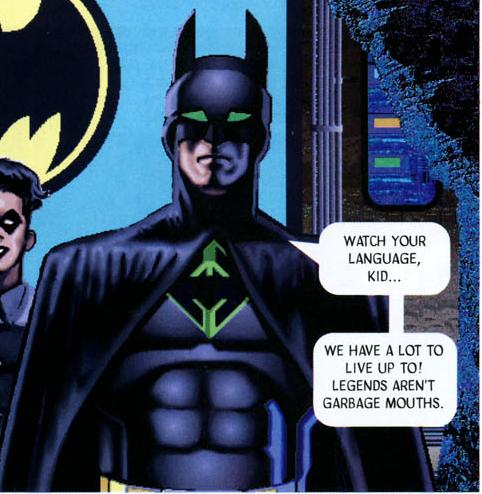 3) I find that your style of art is very reminiscent to Pepe Moreno, the creator of Batman Digilal Justice. Plus your comic does have a similar vibe to the Ridley Scott classic 'Aliens 1'. Who would you say your artistic and literary inspirations were, and why?
Surely I was inspired by Batman - either digital or analog - and Aliens - each of its kind influenced me, as fitted into the times of the darker pop cultures. Moreover, I am dead certain that the visual build of Spacesleepsyndrome was influenced by the classics of Science Fiction. I still remember the moment where the first space cruiser of the Star Wars Empire thundered over my head and wouldn't end - a scenery later on so splendid and marvelously spoofed and satirized by Mel Brooks in 'Spaceballs'. Still, I do hope that in spite of this great influence, I was able to develop and bring in my own sort of visual effects and aspects.
As far as the story of Spacesleepsyndrome is concerned, the Science Fiction Theme is a firm part of the plot but equally important are classic thriller elements.
4) Your style of animation is very cinematic in its execution. Do you have any prior knowledge of cinematic techniques? If not, where does your 'story-boarding vibe' come from?
Graduated on the Lucerne School of Art and Design here in Lucerne, Switzerland, I had to learn the basics as commercial Illustrator and comics author by doing, so on the job. I created my first comics already in 1989 when still at school. It was called "Chief Roggenmoser - a difficult case" and was well received for its drawing quality. In 1991, I experimented and created a comic called "Some Deadly Eggs Are Falling Down To Earth", a type of Comic-musical with accompanying soundtrack on LP/ CD.
But to get back to your question regarding the "Story Board Vibe", creating a comics always comes with a kind of script or storyboard in your mind that is brought to paper using the learned skills of drawing classes. The creative part of developing this kind of mind driven storyboard is indeed cinematic and needs some (mental) Imagery capabilities.
5) What type of three dimensional modelling software do you use, Melk? And how long did it take you to master this application?
I am using Cinema4D with a user-friendly GUI that allows fast intuitive usage of the software, so ideal for a do-it yourself guy like me. I am experimenting with Digital 3D techniques and design already 7 years now and started a first larger project in 2007 as Contributor to the computer animated project "
Stella Nova
", a production of
the National Swiss Museum of Transport
planetarium in Lucerne, Switzerland.
The partially in 3D animated and semi-animated sequences of Spacesleepsyndrome is another experiment and I am trying to use the Internet and its publishing capabilities for experiencing with different distribution channels.
6) What was your first commercial piece of work, Melk? And what did you gage from this experience?
My first "job" as illustrator was creating drawings for a book on mathematics ;-) Tough for someone that hated school. What I learned was that illustrators where not paid for their work but for the accompanying pains coming with a job like that.
Later on I fully illustrated a 100 Metres long
City Train
for the Regional Transportation Networks of Zürich, a so called Night Train mostly used by people visiting the City for entertainment. Hundred thousands of people have been driving "my train" but I never got a feed back from the passengers. From that I mainly gaged that an Author is not seen when the product is good, one just enjoys his creation and takes it for granted.

7) Do you have any amusing stories about your site? Amusing story? Hmmm, well, some interesting feedback came from my Mum. In a mail she wrote me, she liked my web comics, it looked thrilling. It looked as if someone was going to get very rich from it. Implicitly she of course meant, that unfortunately, that wouldn't be me.

8) Have you had any acknowledgement in the media about your web-comic? Or interesting feedback? Indeed the local press was interested and 4-5 Newspaper wrote about it and published some pics and so. But I mainly am interested and anxious to find out if I get louder responses from the Internet or if the whole story goes under in the bulk of publications and discussions in the Web. I must say I was very pleased though seeing incoming feed back from readers even from Australia or Peru that left messages in the guest book. I think that's great.
My Web Comics has also drawn the attention from the organizers of the Fumetto International Comix Festival again.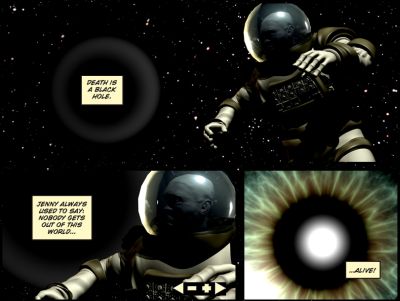 9) If your website were a person, who would it be and why?
If my website would be a person, than most likely Frankensteins Monster. The Creature of a genius: amazingly strong, a bit dangerous - but at its heart sincere - and on certain spots patched-up with sloppy stitches ;-)
Thanks very much for that Miek, much appreciated pal. So when you have the time dear reader, please feel free to check out Miek's web-comic, spacesleepsyndrome.com, plus you can also find out a bit more about the man behind the comic from melkthalmann.ch, langueerotique.com, or alternatively see him work by clicking here or here.