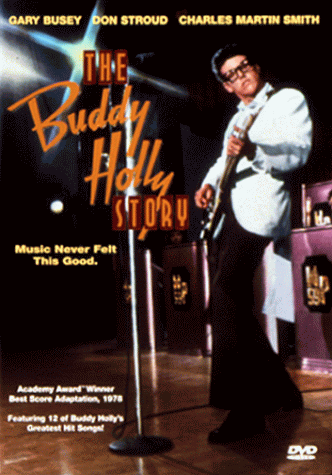 Ohhhh! That'll be the day - that, you make me cry-ei. That'll be the day - that, you spit in my eye-ei. Baby don't you be, no dirty pigsty-ie. Because that'll be the day-ie-ie, I will sit down and watch this biopic Directed by Steve Rash; and Starring: Gary Busey, Don Stroud, and Charles Martin Smith. It was made in 1978, and lasted for 113-minutes.
The Buddy Holly Story
THE STORY:
Listen, it has to be said for the record, that just like the lilt in his voice, Buddy Holly's (Gary Busey) life is a somewhat topsy-turvy affair.
Now I am afraid to say it all starts off on a rather downward key. No one seems to understand the music that he and his band, 'The Crickets' (Don Stroud and Charles Martin Smith), are trying to play. His hometown thinks he's tendering to the devils wares. The record producer's in Nashville thinks that he is harmonizing to 'Negro noise'. Plus the radio station which broadcasts his tunes, just do not like the new sound of Rock-n-Roll!
Next, I am happy to say, that both Buddy and the Crickets suddenly seem to be on the upward spiral for a change. For a start, they get a record contract with Ross Turner (Conrad Janis) at Decca Record. Then, they start touring with Sam Cooke and the Negro sect. Moreover, on a personal note, Buddy wins the affections of Ross's Puerto Rican secretary, Maria Elena (Maria Richwine), thanks to her stern but fair Auntie.
However, as the old saying goes, "what goes up, must come down", right? And down does appears to be the way that things are headed, as soon as Buddy and his band start to hit the big time. You see, Buddy over works himself in the music studio, which causes some concern for all those who are around him. "The Crickets" have had enough of touring and playing second fiddle to Buddy's shenanigans, and they decide to go back home for a bit of respite. Also, Ross wants Buddy to tour again on his own, just so he can promote his music in a more proactive manner.
Well, I suppose that is why what next transpires begins when Buddy, the Big Bopper, and Ritchie Valens, all hit the road together. As calls are made - songs are played - reunions are conveyed - and the world of Rock-n-Roll will forever be dismayed.
THE REVIEW:
Did you know that 'The Buddy Holly Story' is one of Paul McCartney's most favourite films, and that Buddy's musical legacy was paid partial homage to in 'The Beatles' name? (i.e. 'The Crickets'). Interesting fact, right? Just like some of these filmic facts too: (1) The actors sung their own songs and played their own instruments during production, and were confined to only one or two takes due to budgetary constraints. (2) Director, Steve Rash, over-dubbed the voice of the organ player in the opening 'roller rink sequence' - "You're going to have to quit now; we're going on the air". The reaction by the audience to their songs wasn't dubbed though, as they were honestly surprised about the great Rock-n-Roll music being played. (3) Gary Busey wrote down most of his song lyrics and then taped them onto his Guitar so that he could remember them. (4) Fictional names had to be used for Cricket members, Jerry Allison and Joe Mauldin, because they sold their portrayal rights to another movie. Also, to simplify the story-line, the three Cricket members were reduced to two.
And (5) Gary Busy had prior knowledge of the 'Buddy Holly Story' because he was supposed to play the drummer, Jerry, in a previous failed Holly biopic, 'Three Sided Coin'.
Still, whist keeping in a trivia frame of mind, how accurate was this movie? Because did it honestly depict the unfortunately short lived career of Buddy and company? Well, from my own perspective, plus where the overall narrative is concerned, it did manage to avoid most of the fragmented pitfalls other biographical tales have failed to avoid. And, by in large, it was a fairly straight forward and clean depiction of the life and times of this great man, whilst at the same time giving some incite and character to the events surrounding Buddies biography.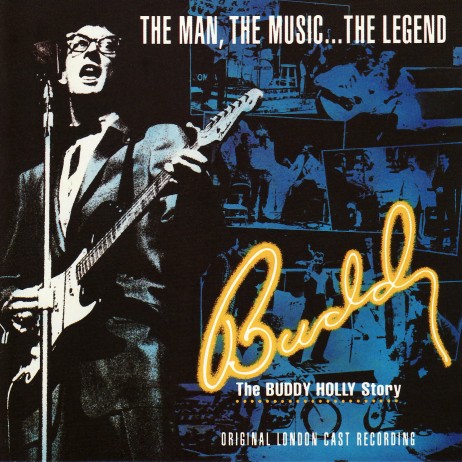 However, where the facts are concerned: (1) Buddy was born at home and not in a clinic. (2) Buddy's older brothers, Larry and Travis, taught him how to play the guitar, as well as aided his career path on both a personal and financial level. (3) Rock and Roll legend, Little Richard, said that when Buddy Holly and the Crickets performed at the Apollo theatre, the all black audience did embrace this band. But initially was very-very shocked to see that they were white - more so than was shown in the movie. (4)
The Crickets never played with Buddy at the roller rink. (5) The movie shows Buddy's father having an 'And Son' business - he did not. (6) Buddy Holly never got into a fight with the
Nashville
music producer, but he did disagree with them for trying to make him into a country singer. And (7) Although this film was accurate about the song 'Peggy Sue' originally being named 'Cindy Lou' - it was about Buddy's niece, not his girlfriend.
OK, I confess, I am all fact-ed out with 'The Buddy Holly Story' now. So I best tell you what I think of it, shouldn't I? Personally speaking, I am in the same frame of mind as ex-Beatle, Paul McCartney - it's a class all round biographical and musical masterpiece. Heck, I cannot fault it.
Gary
is just sublime as Buddy, and he plays him as I would imagine him to behave - ticks and all. Moreover, his supporting players, Don, Charles, Conrad, and Marie, all really do support this movie to the nth degree. Every single one of them just giving that extra bit of character that just reinforces the whole picture together as a complete package. Also, I have to say that the direction and the period setting were a blast to watch, with hardly any sort of then modern day paraphernalia distracting the ambiance of this piece one little bit.
Overall 'The Buddy Holly Story' is a well crafted movie, which pays homage to the beginning of the Rock-n-Roll era of music, a great man, and a time and a place that any lover of yesteryear would die to be a part of. Don't you agree Buddy?
A class movie - a class man - and a class way of presenting a bio-pic.
THE RATING: A
THE BUDDY HOLLY STORY
Reviewed by
David Andrews
on
May 01, 2012
Rating: