They Sikh him here. They Sikh him there. They Sikh that Sikh everywhere! Though I don't know why they bother really. He's down the road playing badminton with my younger brother Mick. Why don't you ask these chaps? They know. Director: Damien O'Donnell and Actors: Om Puri, Linda Bassett, Ian Aspinall, and Raji James. But only in 1999, and for 97-minutes.
East Is East
THE STORY:
Picture the scene.
Manchester, England
, the early seventies. Your father is a devout Muslim called George Khan (Om Puri). Your mother is a
Yorkshire
lass named Ella Khan (Linda Bassett). And six month previously, your eldest brother, Nigel (Ian Aspinall), shamed the family by running out on an arranged marriage.
Still, it could have been worse I suppose. You could of have been circumcised like your youngest brother, Spaz, (Jordan Routledge), just after he pissed up the wall of a Mosque.
Yes. That's right. You are a part of an Anglo-Pakistanian family living in a small council house, a stone's throws away from your parent's fish and chip shop. Moreover, you have a number of other siblings too.
For example, there is Picasso (Chris Bisson), who goes to
Art
College
. Then there is your sister, Meenah (Archie Panjabi), who is a slightly flirtatious teenager. Plus finally there is Maneer (Emil Marwa), who is the only brother who obeys your Fathers devout wishes.
OK, so which one are you out of two remaining children then? Arthur or Tony (Raji James and Jimi Mistry)? Arthur is a somewhat quite chap, who does not like any problems what so ever. Whereas Tony is the most roguish out of the Khan clan, who has an English girlfriend on the side, and likes the night life also.
Well, it doesn't really matter in the scheme of things. Because at the end of the day, you're Dad, George, wants them both to have an arranged marriage, so that his family can be redeemed of past transgressions.
Bugger! What do you do? Be a good boy and stay behind like Arthur? Or cause trouble for your family like Tony? And then attempt to run away to pastures new.
Either way, it doesn't matter, because what next transpires is a right family affair all an all. As the brides pay a visit - meetings turn to a load of sh*t - dynasties fight - and matters of the heart turn out alright.
THE REVIEW:
Now before I give you my spiel on this great film, 'East is East', please allow me to tell you my own story about my 'intended' arranged marriage.
Quite some time ago, whilst I was studying at University, a Greek Uncle of mine called George came to our house, and tried to set-up my older brother with some Cypriot bird he never met before. Straight away my brother told Uncle George to 'Piss Off', leading him to then pose this same arrangement onto me. However, me being a bit more open minded than my bro, I said to him "Sure, why not. Just as long as I can have a look at her prior to the nuptials, so I can tell if we'll hit it off or not" so to speak.
Fast forward to three weeks later, and everything was set. My Mum did the cooking. My Dad made everything spick and spam. And Uncle George laid the ground work so we could all meet at my parent's home.
But there was one problem with this -- Me -- the night before this 'meeting of minds' I was working very late at a job I had at the time -- in a Greek restaurant -- and I missed the last train home and had to sleep there for the night. Plus I got pissed.

Ooops!


Still, how was I supposed to know that when I came home in the early hours of the following morning, that they would already be there waiting for me? Also, how was I to know that I would get on more with 'my intended's' younger sister than I would her? Worst still, why the f*ck did I vocalize this fact out loud to everyone when I was none to spry with my faculties?
Thank God my Dad thought it was funny. Although the others didn't. He was just relieved that I didn't fancy the Mother as well.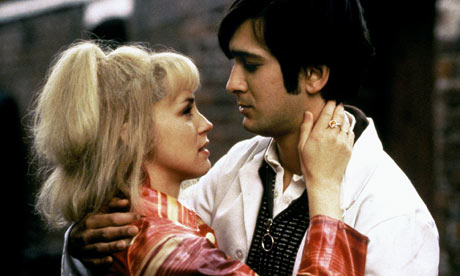 Funny but true story, don't you agree? Just like 'East is East' as a matter of fact. I find that this film is a very well crafted slice of multi-cultural life, which I personally can associate with on multiple fronts. Granted, all the characters are archetypal by nature, and are presented in that very English stoic and broad manner. Nonetheless, it is a great film to tap into if you can gauge the semblance behind the story. Plus if you can come to terms with what it is like to have ethnic origins of an alternate kind.
You see, coming from a Greek Cypriot background myself, I knew exactly what the characters in this story were all going through. Not hundred percent, admitted. As my parents are much more amicable to me and my brother ways, compared to their own ethnic upbringing. But I do know of other Greek families that are more 'hard core' than mine. And I have seen with my own eye's how the 'multiracial dilemma' affects them in life.
Well, that is what is at the heart of this film, huh? The multiracial dilemma. How can parents bring up their kids in 'the old way', if their surroundings, their society, and their time, are not the same? It's like trying to milk a chicken. Impossible to do at both ends. Making the parents feel frustrated for not being able to accomplish this task. And making the child feel frustrated as if they're doing something wrong.


Valid points I find. Like these filmic facts: (1) Writer, Ayub Khan-Din, based this tale on his own life-experiences growing up in a multi-cultural background. (2) This film it was banned in
Egypt
due to the association.
(3) Om Puri was awarded an honorary OBE for his services to the British Film Industry. (4) There were three cut scenes from this picture. The first scene entailed Abdul rebelling against his work-mates for calling him 'Gunga Din' where a fight ensued. The second scene involved Abdul breaking down in front of his father just prior to Mr. Shah's family arriving. Plus the third scene featured a discussion where George's children debated amongst themselves what their true nationality was, after Peggy cruelly calls Meenah a 'Paki'. (5) Like the family in this film, Jimi Mistry's father is Indian and his mother is Irish. (6) This comedy was based on a stage production by the same name. Most of the actors from the stage reprised their roles in this movie. (7) The actor's who played George's children were born in
England
and found it very easy to relate to their roles. Multiculturalism in action.
(8) Chris Bison now appears in the soap 'Emmerdale'. Whereas Emma Rydal appeared in the soap 'Hollyoaks'. (9) There were two seventies 'truisms' clearly depicted in this film. Not all terraced houses had bathrooms installed, and tin-based-facsimiles were used instead. Plus people living in low rent housing estates could never really afford the cost of an automobile.
(10) This was Archie Panjabi film debut. She then when on to star in films such as 'Bend it like Beckham'. (11) Linda Bassett was born in Pimlico,
South London
, not far from Brixton.
Overall 'East is East' is a great film. The story is a relevant one. The actors are all great. The comedy is genuinely funny. And in my own opinion it is a must see film for anybody who wants to gauge the multiracial dilemma.
THE RATING: A
EAST IS EAST
Reviewed by
David Andrews
on
July 25, 2012
Rating: