When I started blogging I decided to check out a variety of different blogs to get a more varied picture of what this occupation actually entailed. Just to point me in the right direction, so to speak. Eventually I managed to stumble upon a site run by a Swedish girl called Alexandra, whose style, elegance, and charm, stopped me in my tracks, and made me want to partake in this venture more than I did previously. Here, check out an interview I had with her just the other day to find out why. Trust me, it's 'Abba-riffic'.
Karlskrona Leuchtturm
1) How would you describe your website, ropcorn.com?
As a personal blog about me, my travels, my dog Lisen and life in Sweden. With lots of photos and updates.
2) What are your own origins Alexandra? And when did you know that you wanted to be a 'lifestyle' blogger?
I was born in Sweden, my father is Swedish and my mother is Persian. So I am a bit of both I guess, which is quite nice.
Now I have always wanted to have my own column in a newspaper, but when blogging started to become popular I decided to give it a go. Because I think a personal blog is like a newspaper column in many ways, though I have more freedom to post what I want and greater possibility to reach out to people all over the web (hence world) with my blog than with a column published in a newspaper. Blogging is actually better you know. I started blogging about two years ago, so that was probably when I decided to become a 'lifestyle' blogger.
3) Where does the name of your site – ropcorn – derive from?
It is a name I have used online for as long as I can remember, so I thought it was perfect to use it as the domain name for my personal blog.
4) I've been to Sweden quite a few times in the past, mainly to the Stockholm region. And I have to admit, I found the people very pleasant there, and the climate very-very nice. How would you describe where you live to someone who has never been there before, Karlskrona ? And how does it compare to Stockholm?
Karlskrona is a rather small town in Southern Sweden with about 64 000 residents. I would describe it as a charming, old, historic naval city by the sea. As well as a city with a bit of a small town mentality where "everybody knows everybody". So in comparison to Stockholm, with its more than 1 million residents, Karlskrona is often referred to as a small country town.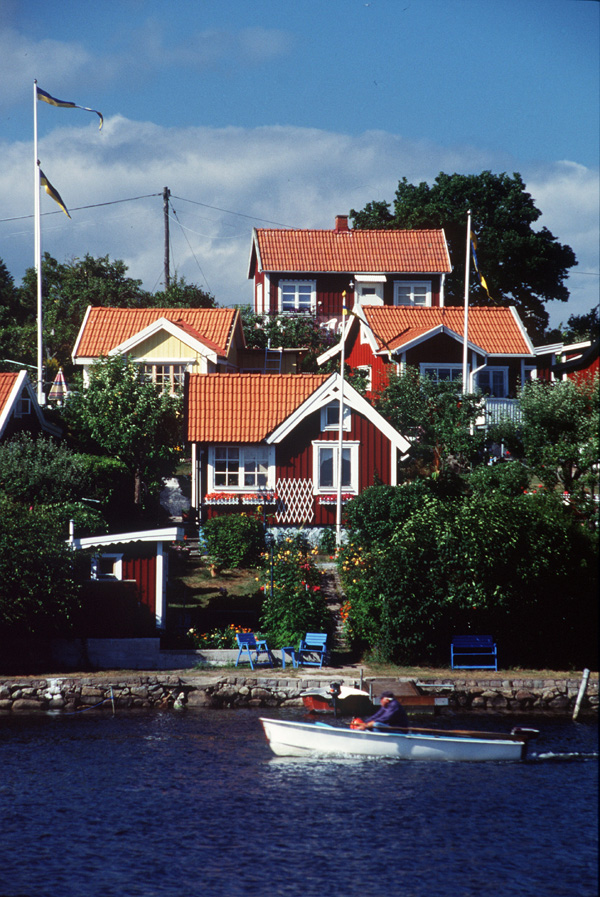 Nevertheless, I actually think that Stockholm and Karlskrona have a lot in common. Especially with both cities archipelagos and locations by the sea. Having said that, I do prefer the quiet and familiar surroundings here in Karlskrona over the more hectic and urban lifestyle of Stockholm. So I guess I'm more of a small town girl in that way. :-)
5) If you could assign a smell to your site, what odour would it be and why?
The beach, if that now counts as a smell? But sea and sand. Mainly because I love it and I live near the ocean. I also relate relaxing, having fun and just enjoying nature with the beach. Which I think fits my style of blog posts. And of course the beach smell would fit perfectly with the design of the site.
6) If your site was a movie, a piece of music, or an object, what would it be, and, again, why?
If my site was a movie I would say it was my all time favourite movie, the 1988 comedy 'Big business' starring Bette Midler and Lily Tomlin. Because many of the ingredients of my site is in that movie: humor, a small town, dogs, the simple life, traveling, seeing things for the first time, sisters, family and so on. So I can definitely relate.
7) What is the one piece of advice you would impart on a fledgling blogger?
Write what you know and are passionate about. And be proactive -- don't expect people to just find your blog. Instead promote it in as many ways as possible -- in a pleasant way. I always think about what I want for my blog, then I give it to somebody else. So if I want many relevant comments on my blog, I leave relevant comment on other blogs. Or if I want many followers, I follow other blogs and so on. This has worked well for me. I also always respond to all my comments, which I think gives a nice personal connection and dialog with my readers.
8) Has 'ropcorn' has any acknowledgment in the press or media?
I have been interviewed and featured on other sites before, but I would not say ropcorn has been acknowledged in any actual published newspapers, magazines, TV or similar (yet). :-)
9) If you was stranded on a desert island, and was only allowed to bring with you one item, what would that item be and why?
Swedish Firesteel, because I think that would come handy in a lot of situations.
Thanks for that Alexandra, much appreciated. Now I hope 'dear reader' that you can find the time to check out ropcorn.com, plus please remember to do the facebook, twittter, google+, and youtube thing. Go ahead. It would make a very nice Swedish girl very-very happy. Hay-Doe!
ROPCORN - A SWEDISH BLOG WITH THE SPICE OF LIFE
Reviewed by
David Andrews
on
August 12, 2012
Rating: