Being ill is a right pain in the ass at times, isn't it? Especially if you have a pain in the ass. Well, lets face it, this type of thing can make you cranky. It can make you moody. And it can make you create a great comic too. Yeah. That's right. I said 'comic'. Because that is precisely what my good buddy Joe did after he came down with a rather dapper dose of the big 'C'. Thank God he's a lot better now, and has the time to tell me about his experience, whilst applying cream on my a... Ouch!
JGM Comics Online Store
1) What are your own origins Joe? And when did you know that you wanted to be a creator?
My father was born in Sicily and my mother was from Brooklyn. I was raised in North East NJ. I haven't moved more than a mile from where I was brought up in 41 years. I knew at an early age -- maybe 10 -- that I enjoyed drawing and telling stories. I created Shadowflame when I was 13 or 14. So, I have been dreaming of this for some time.
2) What inspired you to create the comic 'The Mighty Titan'?
I was diagnosed with kidney cancer at 33 years old. When I was recovering from surgery I came up with an idea for an invulnerable character that had a human alter-ego that got cancer and how he would deal with that. I know that before I had cancer I felt like I was invulnerable. Like nothing could hurt me. Then I was diagnosed and I haven't felt that way since.

3) In your own words, how would you describe this comic book, what formats does it come in, and how in the hell did you get Jerry Ordway to draw the cover? Ha! I asked. I explained what I was doing and Jerry said yes to drawing the cover. I was psyched! The Kickstarter had a special "Backer's Cut" which will have a lot of extra stuff in it that the regular comic doesn't have. Behind the scenes stuff and just fun stuff that I like to see in a comic. The regular issue is a standard comic that I have slated as a 5 Issue Mini-series. There is an opening for an issue 6. But we'll see how this one goes first.
4) If 'Titan' was a piece of music or an object, what would it be and why?
I write almost all of my comics to Slayer's 'Reign in Blood'. No. Seriously. But, if the book had a soundtrack I would say it is 'Piece of Mind' by Iron Maiden.
5) If you could cast a movie based on this book, who would you cast and why?
Titan would be Dustin Clare who is 'Gannicus' in the 'Spartacus' TV show. I think he has the right cockiness and pride that Titan has by the time we see him in issue 1. He is very happy and hasn't really had a defeat as there is no one that he has gone up against that can do him much harm. That is why the diagnosis is going to humble him, as it did me.

6) What is the main difference between this comic book and your other book 'Ripperman'? Ripperman is a creature of vengeance. He isn't really a superhero in the traditional sense. He is a metaphysical being that was created by both God and the devil to exact vengeance on people who have otherwise escaped their deserved ends. Titan doesn't kill. He is an honorable hero. He is a hero that people look up to.
7) If your lead character was a singleton looking for a date, who would this date be, and why would he want to date this person?
Just a normal down to earth woman. He wouldn't want a Lois Lane or someone that would challenge him. In his "Real" life he is married to his college sweetheart and is very happy when his world starts to unravel. At the end of the day, Titan is a man like us and he just wants to live his life and be happy. He was given this glorious gift of power and he wants to help other people to be safe and happy as well.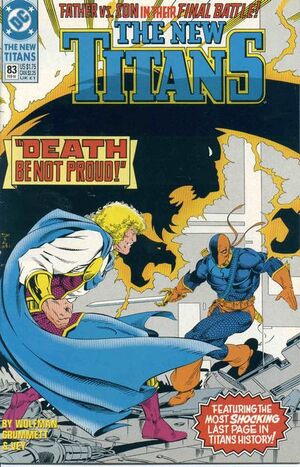 8) During your time in this field of work, what is the one thing that has kept you in good stead?
The new fans that I meet. Especially the ones that didn't know me before. They just picked up the book in the store and hit me up on Twitter to tell me they really liked my work. That keeps be going. Other than that my family of course.
9) Is it just me, or does 'The Mighty Titan' look a bit like Jericho from DC's 'New Titans'? Ha! Maybe the cape! I am a big George Perez fan so it might be subliminal. No mutton chops though.
Hmmmmmm. Chops. I feel hungry now. So before I go off and a fill my own face, you know what to do dear reader, don't you? Correct. Visit Joe's website, www.jgmcomics.com, then do the tweet-tweet and face-face thing. Oh! And you might be interested in checking out his blog and kickstarter campaign too. God Bless.
JGM COMICS PRESENTS THE MIGHTY TITAN
Reviewed by
David Andrews
on
September 14, 2012
Rating: