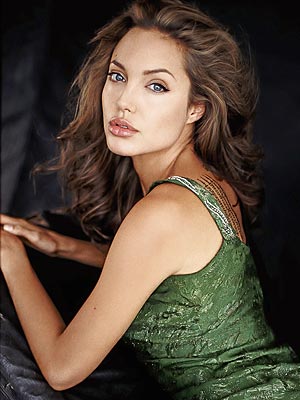 Did you know that many-many-many-many different things have happened on the 4th of June? The Ottoman Empire handed over the country of Cyprus to the United Kingdom to look after. Henry III became a Holy Roman Emperor. Winston Churchill gave his famous "We shall fight them on the beaches" speech. Plus a very pretty person was born on this date as well. No. Not James Lipton. Angelina Jolie. Here, check out what they said to one another for 45 minutes in 1994.
Angelina Jolie
THE STORY:
She has the looks. She has the presence. But does the actress, Angelina Jolie, have the gumption to go toe to toe with Mister Blue-Cards himself, James Lipton?
Yeah. Angie doesn't do too bad answering his questions really. On such subjects as: (1) Her parents and their spit. (2) Her warn yet alternate childhood. (3) Her early masochistic tendencies. And (4) Her b-movie film-work.
Here, why don't you have a look at some of what she says to James?
I'm very aware of my emotions.
Yeah. I was very sexual at kindergarten. Ha!
I went to therapy for extra high-school credit.
In all honestly I don't like to cry. I find it very difficult.
You have to be honest to yourself and to those around you.
I speak very bluntly. It's who I am.
I liked working with my father on 'Tomb Raider' because I found it therapeutic after our time apart.
Flying is better than sex.
My son, Madox, is my best friend.
OK, so you might have noticed that Angie mentioned 'Tomb Raider', huh? Well, that's because she does answer some questions about her movie career too. Go on, check these out why don't you:
On 'George Wallace' -- Her pictures said a lot to me.
On 'Gia' -- At first I refused this part because she felt very close to me. She was addicted.
On 'Girl Interrupted' -- I decorated my trailer with porn just to make me feel sexual.
On 'Lara Croft: Tomb Raider' -- When I saw her image I was offended to be offered such a role. But the producers talked me round eventually. It was adventurous.
On 'Mr and Mrs Smith' - Brad was really great to work with. I found him very down to Earth.
Now in closing this interview, Angie answers questions posed by James from the Bernard Pivot structured questionnaire -- where we learn that she likes the word 'now' and hates the word 'No'. Before she then answers subsequent questions posed to her by the studious audience about: love scenes, Amsterdam, and what she does if a scene 'works' or not.
THE REVIEW:
Listen, before I give you my 411 on this great actress, Angelina Jolie, and what I thought of her interview with Mister Nice-Beard himself, James Lipton; please allow me to spill some related trivia first, OK? (1) Angelina is a citizen of the United States of America and Cambodia, plus an honorary citizen of Sarajevo too. (2) One of Angelina's many nicknames is 'Catwoman'. (3) Whilst growing up she showed interest in becoming a funeral director. (4) Her godparents are actors Jacqueline Bisset and Maximilian Schell. (5) She made her screen debut at the age of six alongside her father, Jon Voight, and mother, Marcheline Bertrand, in the 1982 film, 'Lookin' To Get Out'. (6) Angelina was a model at age 14, and even played real-life supermodel, Gia Carangi, in the HBO bio-pic "Gia" -- which was her first breakthrough role. (7) Angelina has tattoos etched on numerous parts of her body. On her shoulder blades are the words 'Know Your Rights' -- which is the song title of her favorite band. On her left arm is a quote by Tennessee Williams -- "A prayer for the wild at heart, kept in cages". And on her back are the latitude and longitude co-ordinates relating to the birthplaces of her children and her partner, Brad Pitt. (8) Because Angelina is left-handed, the makers of 'Lara Croft: Tomb Raider' had to purchase specially designed left-handed guns for her to use on this flick. (9) In 2003, Angelina became the first person to be awarded the 'Citizen of the World Award', due to her charitable ventures with the UNHCR. (10) Before joining forces with Brad Pitt, Angelina married Jonny Lee Miller and Billy Bob Thornton. Plus she currently has six children as well.
OK, so now that my 'Angie facts' have been splurged, how can I explain to you what I thought about this very striking lady? Well, simply put -- Emotional and Peter Sellers. Please allow me to explain...
EMOTIONAL:
Where the media is concerned, honest to God, I do feel sorry for pretty actresses like Ms Jolie. I just find that in this very image conscious age, superficially does outshine substance at times -- with the press presenting one point of view, whilst in actuality something completely different is more accurate.
Now unless you have locked yourself in a cupboard over the last ten year or so, it is pretty safe to say that Angelina has been tarnished with this brush -- inadvertently bestowing her with this 'ice-queen' persona that is far from the truth.

She is a great actress, and she has been penalized because of her good looks and her privileged upbringing. Why? Huh? Why should Angie -- or any person for that matter -- be marginalized because of her appearance and her lifestyle? Granted, her upbringing and her appearance must have helped her become the person she is today. But then again why should this be a 'bad thing'? It's not. It's something that should be expanded upon and understood -- and not looked upon with envy and contempt. Would the media do the same thing with a disabled person? No. I don't think so.
See? I told you I felt emotional about this subject, didn't I?


PETER SELLERS:
If truth be told, I couldn't help but compare Angie to the English actor, Peter Sellers, after hearing what she had to say to James in this episode of 'Inside the Actors Studio'. You see, just like Ms Jolie, Mr Sellers was a person who had a rather unorthodox upbringing, giving him the ability to inhabit a role, whilst at the same time difficulty to shake it off afterwards. Moreover, another thing that they both have in common, is that they both crave love and honesty in themselves and in those people around them -- leading them to do some very strange and oscillate things in their life.
Fair enough, I can understand if you feel that this is a rather bold comparison to make -- because on the surface they do come across as two totally different people. However, what I am talking about is their underlining persona -- the one which is embedded beneath their skin, giving them the gumption to push boundaries, use their craft as therapy, and strive to find themselves in a world that is not akin to their initial perception of it.
IN CONCLUSION:
All in all I really liked watching this episode of 'Inside the Actors Studio' with Angelina Jolie. Truthfully, it has made me warm up to this lovely lady more than I have in the past, as well as understand her for what she is rather than what the media says she is. Oh! And on a side note, this interview was recorded before she got together with Brad -- which I'm sure James would have sensed -- the flirtatious sod that he is, ha!
THE RATING: A
JAMES LIPTON WITH ANGELINA JOLIE
Reviewed by
David Andrews
on
October 15, 2012
Rating: