Have you ever wondered what it would be like to work for a comic book company? You know, a fairly big-ish one. With departments, offices, computers, a bull-pen, and all of that razzmatazz, which comes with this type of erstwhile entertainment avenue. My mate India Cosper don't have to wonder. Here, check out a conversation we had only the other day, whilst 'borrowing' some stationary from a nondescript location, WINK-WINK!
Aspen Comics
1) What did you do prior to working at www.aspencomics.com, India? Both academically and in life.
Prior to working for Aspen I worked for an independently owned textile design company called "Urban Fish Design". I was assistant to the owner / creator, Rebecca Berenson, and would handle office organization, write press releases, general assistant-type work, and occasionally worked in photoshop on certain elements of pattern-making when needed. I also spent a good deal of time outside of work reading and writing.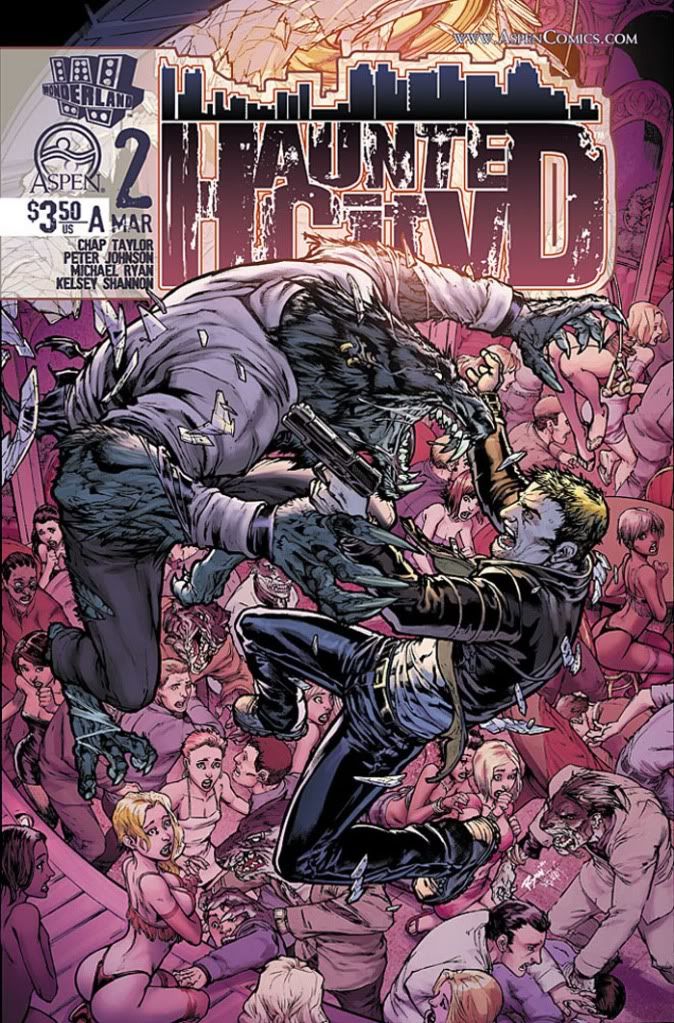 2) What do you do for this company in a professional capacity?
I help with all aspects of marketing. Primarily I send out any news information, previews, and review copies of our books, and assist in setting up interviews among our writers / artists / editors with the writers of comic book review sites.
3) What have you learnt about the comic book industry whilst working at Aspen?
I have learned so much! I had a very vague idea of how comics were made beforehand, but it really is a multi-person process to create every issue. Each job -- such as the writing, the pencil drawing, the ink drawing, the coloring, the word bubbles, the choosing of which panels to keep or to get rid of -- pass through lots of hands before it comes out as one really great, final product, that can be sent to retailers. It's incredible.

4) What was the first comic book you ever read? And what comic's do you still read today? When I was much younger I was a fan of the Archie comic books because they were available at the market where I shopped at with my mom. Now I read everything Aspen has to offer (my current favorite series are the 'Executive Assistant' series, 'Haunted City', 'Homecoming', and 'Lady Mechanika'), along with a few older graphic novels such as 'League of Extraordinary Gentlemen', 'V for Vendetta', 'The Killing Joke', and some of Neil Gaiman's more recent work. Those are only the most recent, though. I tend to go through about one novel and several comic books a week.

5) What would you say was the biggest difference between what Aspen publishes and companies like DC or Marvel? I think the biggest difference between Aspen and larger publishers -- like DC and Marvel -- is the way they interact with their fans. Smaller companies such as ours are more easily able to maintain relationships with retailers and reviewers on a personal level -- it's less automated.
For example, I send every single email that goes out individually. I really get to know the guys who write for these comic book sites. We perform on a smaller scale -- especially since it's a relatively new company -- so it's easier to incorporate suggestions and ideas we get from people outside of our office. Whereas in a larger more corporate environment, it may get lost in the piles of fan mail. I'm certainly a fan of Marvel, but I really like the way that Aspen is much more of a business that is run by people who are friends, rather than just employees.

6) In your own opinion do certain genre's of comic book do better than others? Or is it more creator specific? From my experience, it seems that it really depends on the writer and the company. Super-hero comics, because they're what comic books typically tend to be, seem to be the best selling ones. At Aspen, our fantasy genre tends to be the best selling of all. Our books 'Fathom' and 'Soulfire' have been going on for years now and while working at the Comikaze convention in downtown LA this weekend, I was able to see firsthand how devoted some of our readers still are to those series.
The genre of steampunk is beginning to come into light in the past couple years, so that's getting a good bit of publicity now, too. 'Lady Mechanika', our steam-themed series by Joe Benitez, is really taking off. So to answer the question, I suppose it really is dependent on the writer of the series, and definitely the artist as well. Presentation means a lot in this industry.

7) What song would you say best represents Aspen and why? Hahaha! That's a great question! I've never thought about that before. We all tend to have music playing on our computers all day in the office, and lately a few of us have been playing a good deal of the band 'Death From Above 1979'. Personally, I like 'The Seven Deadly Sins' by Flogging Molly. It's about freedom and having fun, if in a raucous and piratical way, which seems to describe us pretty well!
8) If you could get a celebrity – either living or dead – to represent Aspen, who would it be, and again, why?
I'm not really sure. Our best selling series, 'Fathom', has a character named Aspen Matthews (the namesake of our company) and looks exactly like Megan Fox, so I suppose her. The resemblance is uncanny.

9) Does Aspen have any comic book projects upon the horizon? We have lots of new comics coming out! There are a few projects on the horizon that I can't really discuss at the moment, but we are putting out a novel in January by J.T. Krul which is anticipated to be a big seller. We also have some of our newest series to join the group, 'Homecoming' by David Wohl and 'Idolized' by David Schwartz. They're gaining a good deal of recognition lately, and the 'Executive Assistant: Assassins' series, by Vince Hernandez, is our very first ongoing series and is being very well received by readers.


Well I'm sure my readers will be looking forward to that, India. Right you lazy bunch of sods? So what are you waiting for? Check out aspencomics.com today, plus don't forget to do the tweet-tweet / face-face thing too. Good reader. You can now have a banana.