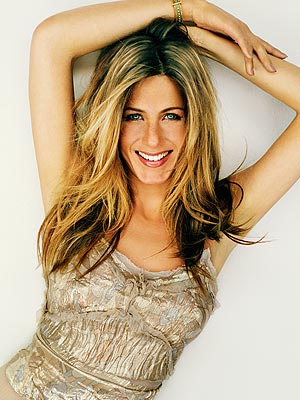 Shut your eyes if you will; and try to imagine one of the most beautiful people in the world. Can you see this person now? Just suspended in the air by their own elegance and grace? Good. It's Jennifer Aniston, isn't it? HUH!?!?!?! What do you mean it's James Lipton? You must have seen him in this 50 interview he did with Jen in 2011! Tut-tut-tut.
Jennifer Aniston
THE STORY:
Now will James Lipton be there for Jennifer Anniston in this episode of 'Inside the Actors Studio'? Or will the master of the 'bearded mafia' slap the seductress of the 'shampoo squad' like a Chandler Bing-A-Ling-A-Ling?
Well, who cares? Because without any further a do, James poses questions to Jennifer about her early life; and touches upon such subjects as: (1) Her Greek origins. (2) Her parents and their eventful spit. (3) Her time in academia and drama school. Plus (4) The meandering path Jen took to get to star with a scary Leprechaun. No. Not James. It was in her first movie. This is just some of the stuff she had to say:


I used to daydream a lot at school.
I just loved 'Annie'. And I wanted to be in it badly.
My Godfather is Telly Savalas.
My drama teacher told me that I would be disagreeable in the Russian Theatre.
I had purple hair. What can I say, it was the eighties.
Comedy is who you are. I don't think that it can be taught.
You have to appreciate every single minute when you are allowed to do what you love to do. You never know when it's going to end, right?
Boy-oh-boy! Heavens to Betsy! How can James not speak to Jen without mentioning 'Friends' next, huh? But he does. And she is more than happy to talk about it as well. Check out some of what she had to say about this sit-com why don't ya':


Rachael is a frail and loving woman.
The show was very auto-biographical. We thought that the writers were bugging our rooms.
David is an excellent partner to have on camera.
The last episode was just awful. We cried. It gave me everything.
At this stage in their interview together, James asks Jen questions about her movie career. Yet again, this is some of what she had to say about it:


On 'Office Space' -- That was a lot of fun. I think I best watch it again, ha!
On 'The Good Girl' -- What a great film. I wasn't sure if they sent me the script in error though'.
On 'Bruce Almighty' -- I just wanted to work with Jim Carrey. He improved. I stuck to the script.
On 'The Break-Up' -- I was slightly familiar with the topic, which made it a lot easier on me.
On 'Marley and Me' -- It was a very touching movie.
On 'Horrible Bosses' -- Ohhhh! This is going to be fun.
On 'Wonderlust' -- Everybody is naked in it, and it's full of sex, drugs, and rock and roll, ha!
In closing the show, Jennifer answers questions posed by James from the Bernard Pivo structured questionnaire; where we learnt that she loves the word 'Norman' and hates the word 'Stupid'. Before she is then subsequently posed more questions' by the studio audience about relaxation, starting a new career, character, plus friends and family.
THE REVIEW:
I just love Jennifer Anniston I do. No. Let me re-phrase that if I may. I want to give Jennifer Aniston a baby - plastic in origin - and then just... errr... hmmm... I best not go there, huh? Or otherwise some of my comments may appear misconstrued in retrospect.
Instead, let me state for the record that my adulation for this very fine actress has not got anything to do with her hair, her shapely form, or her fame and fortune (I think). But rather, I like her because she got to where she is today by applying herself accordingly, and then doings whatever she needed to do to maintain her status.
Well, after hearing what she had to say in this instalment of 'Inside the Actors Studio', I've discovered quite a few things about Jen I have. For example: (1) As a person Jen seems like a very grounded and jovial character by nature. She does not shy away from her humble yet alternate beginnings. Yet, in the same breath, she doesn't appear too boastful of what she has achieved either. (2) There is a segment during this interview where Jen states that she is very grateful for being given the opportunity to act. For me, personally, this comment touched me deeply; because it illustrated how beautiful Jen is inside as well as out. (3) By her own admission Jen admitted that she looks the way she does because of working out, keeping trim, and having a 'touch-up' here and there. Now this very Frank statement is refreshing to hear within this very cosmetic age, and shows how open Jen is as a person.
Hey! Do you want to know what else I have learnt about Jen both here and elsewhere? Here, have a read of this: (1) Jennifer Joanna Aniston was born
February 11, 1969
, in Sherman Oaks,
California
. (2) Via her mother's ancestry, Jennifer is a direct descendant of the royal House of Stuart in
Scotland
. This is the same house as the late princess Diana. (3) Jennifer had a painting placed in the Metropolitan Museum of Art when she was eleven. (4) Prior to becoming an actress, Jennifer worked as a waitress, a telemarketer, a bike-messenger, and a receptionist too. (5) John Aniston, Jen's farther, was a former actor on the soap opera 'Days of Our Lives'. Plus Jen's mother, Nancy Aniston, was a former actress, photographer, and model. (6) Originally Jen's family surname was Anastassakis, not Aniston. It was changed when her family moved to the States. (7) Jennifer seriously considered giving up acting after her dreadful experience in the horror film, 'Leprechaun'. It was her first movie. (7) Although she has to fly all over the place due to her career, Jennifer has a fear of flying. (8) Initially Jennifer auditioned for the role of Monica in the series 'Friends', but was chosen to play Rachael by the executives. (9) When her 'Friends' co-star, Mathew Perry, gained quite a bit of weight in 2002, she offered to be his own personal trainer so he could drop a few pounds. (10) For the years 1999, 2002, and 2004, Jennifer was voted the most beautiful person in the world by 'People Magazine'.
Overall, watching Jen in this episode of 'Inside the Actors Studio' was very much like watching Jen herself. It was informative. It was funny. It was nice to follow. And I wanted to give it a baby - plastic in origin - and then just... errr... hmmm... I best stop now, huh?
THE RATING: A


JAMES LIPTON WITH JENNIFER ANISTON
Reviewed by
David Andrews
on
November 26, 2012
Rating: