Did you know that the legendary film director, Alfred Hitchcock, once said to the multi-talented writer / director / actor, François Truffaut, that even though he made two pictures prior to this one, he still thought of this 'Jack The Ripper' project as his first 'true film'? You know. This silent-film. Directed by the Hitch-meister-max himself; and Starring: Ivor Novello and a lady called June Tripp. It was churned out in 1927, and lasted for a whole 79 minutes.


The Lodger : The Book
- The Film
THE STORY:
'Extra! Extra! Read all about it. The Avenger has struck again. This shrouded figure has killed yet another blond-haired beauty on the streets of old
London
town tonight'.
Hey! Did you hear that? But who could this madman be I wonder? Surely not one the lodgers' frequenting Mrs. Bunting's (Marie Ault) boarding house?
No. Not, Joe Chandler (Malcolm Keen). This very dapper looking chap is actually one of the policemen assigned to this case! Also, he is very sweat on Mrs. Bunting's pretty young daughter, Daisy (June Tripp), too.
Of course I'm referring to that other fella. The suspicious one that has a lot of cash to splash. Jonathan Drew (Ivor Novello). Because for some strange reason he's ordered Mrs. Bunting to take down all those pictures of blond-haired ladies in his bedroom.
Yeah! I'm not messing about! Moreover, Mrs. Bunting heard him sneak home one night after a subsequent murder. And let's not forget that Jonathan appears quite sweat on Daisy as well. To the chagrin of her bulbous father, Mr. Bunting (Arthur Chesney).
Still, that's most probably why what next transpires commences when Joe breaks up a secret rendezvous between Jonathan and Daisy. As a landlady scream's like a banshee - who would like a nice cup of tea - a dead sister is found to be the key - plus murderers and lovers live on in infamy.
THE REVIEW:
Now if you ever want to watch 'The Lodge: A Story Of The London Fog' -- like I have -- there are a number of factors you have to take into consideration beforehand. Firstly, it's a silent film, accompanied by orchestral music and caption-cards to elevate the overall tale. Secondly, although this film is supposed to be based on the 'Jack the Ripper' murders, don't expect to find a realistic portrayal of this grizzly event within it. Thirdly, the acting in this piece is rather mannered and slow, with most of the performances either very intense, or very bold, depending on the intent of the scene. Fourthly, please note that this is a very old movie, so the quality of what you see on screen isn't always that clear, sometimes bordering on the blurred. And fifthly, if you are a comic book lover like I am, try to think of this flick as a 'live-action' tale published by the 'Vertigo' imprint, full of grainy and stark visuals of the suspenseful variety.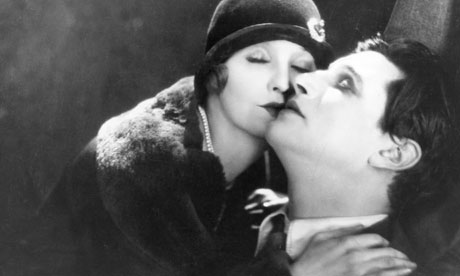 OK, so have you got all that, dear reader? Good. Let's have some filmic facts now, shall we? (1) 'Woolf & Freedman Film Service' released this £12,000 production in
England
on
the 14th of February, 1927
. In
America
though, 'Artlee Pictures' released it on
the 10th of June, 1928
. (2) This movie was based on a popular novel written by Marie Belloc Lowndes. Allegedly, Marie got the idea to write this piece because she was told an anecdote by the painter, Walter Sickert, [who's another Jack the Ripper suspect, click
here
] which he heard from a landlady he was renting a room from. (3) The director, Alfred Hitchcock, originally wanted this film to have a more ambiguous ending to it -- like it was in the book. But when the movie-star, Ivor Novello, was hired for the lead role, the studio -- plus his agents -- wanted this project to have a more 'finite' conclusion. (4) Even though Alfred Hitchcock had to go through a lot of bother to persuade Scotland Yard to allow him to record the aftermath of the first murder at Charing Cross Bridge, ultimately, this was all for naught. During editing, Alfred discovered that the cameraman forgot to take the lens-cap off of the camera. (5) Due to the fact that he needed some more people in the scene, this was the first time Alfred had a cameo in one of his own films. You can see him sitting at the desk in the newsroom. (6) This thriller has been remade three times since it was initially released. In 1932 Ivor Novello reprised his role for the Maurice Elvey version. In 1944 Laird Cregar played 'the lodger' for the John Brahm version. And in 2009 Simon Baker played the 'mysterious stranger' for the David Ondaatje version. Heck, even Peter Lorre played this part on the radio as well. (7) I kid you not; Alfred Hitchcock married his assistant, Alma Reville, on
the 2nd of December, 1926
, not so long before this film was released. (8) The producer, Michael Balcon, didn't like what Alfred Hitchcock did with this picture one little bit -- and threatened to shelve it. Thankfully, film-critic, Ivor Montague, came to Alfred's rescue, and helped him 'salvage this project' with a couple of minor suggestions. Mainly, re-shooting the title-cards', plus a few of the minor scenes'.
Phew! Now that I've got that off of my chest, I'm sure you're wondering to yourself if I liked watching 'The Lodger: A Story Of The London Fog' or not? Well, if truth be told, I did. Personally speaking, if a film can tell a coherent tale -- like this one managed to -- then it's a good film in my book. The suspense was suspenseful. The overall through-line made perfect sense. The acting was clear and to the point. And on occasion, I did find the camera-work quite inspiring, considering when it was made.
Granted, to juxtapose my positively, I have a feeling that this film wouldn't be everybody's cup of tea. So if you've read my proceedings five point summary at the start of this piece -- plus is the type of a person who can't 'cope' with silent-films -- then this one is definitely not for you.
It's a shame really. Because you're missing out on a slice of cinema history; and something that will live on and on and one, like our buddy, Jack... Jack the Ripper.
Good movie; and unquestionably one for movie-buffs, Ripperologists, and fans of cinema's yesteryear. Smashing.