It has once been alleged that the notorious 'Jack the Ripper' had a sister called 'Jill the Stripper'. Not really sure what her profession was though. Must be something to do with wood restoration or wallpaper removal, huh? I know what. I'll ask the Directors: Robert S. Baker and Monty Berman; or the Actors: Lee Patterson, John Le Mesurier, and Eddie Byrne. But only in 1959, and for about 84 minutes.


Jack The Ripper: The Film
- The Book
THE STORY:
One dark and murky night in 1888, a mysterious figure lurking around the streets' of Whitechapel, London, asks a lone-lady if she goes by the name of 'Mary Clarke'. Now when this forlorn-female denies that this is her actual name, in turn, this strange shadow of a man stabs her to death, before disappearing into the foggy streets of old London town.
The man is none other than Jack the Ripper -- whilst the lady in question is his current victim. What Inspector O'Neill (Eddie Byrne) and his American ally, Sam Lowry (Lee Patterson), need to know next; is who is Jack the Ripper?
Could it possibly be someone working at the local hospital perhaps? Because it is has been alleged that this killer does have some sort of anatomical knowledge! But if so -- who? Surely not:
The venerable, Sir David Rogers (Ewen Solon): As this very astute surgeon is rather dapper don't you know. Plus he does sport a very nice-looking beard!
The stoic, Doctor Tranter (John Le Mesurier): Who is both a brash and charitable man in hindsight. Especially when you take into consideration that he has sponsored his new ward, Anne Ford (Betty McDowall), in her more erstwhile pursuits.
The lowly, Clarke (George Rose): As this chap is a disabled porter working at this place of care. Not very nice to look at. Agreed. But he does have a very good heart.
Huh? What's that you say? Jack can't be any of these people? OK then, so maybe he's a pickpocket, a nightclub door-man, or even a drunk lying destitute on the ground? Still, whatever the case may be, that's most probably why what next transpires kicks off when Sam and Anne views the aftermath of one of the Rippers next victims! As a woman points the way - a victim is held at bay - an American can smell a rat - and at the end of the day a misguided doctor goes... sigh... splat.
THE REVIEW:
Now being an avid Ripperologist (click on the following link for more details), you might have thought I'd be very hypercritical about any of the
Jack the Ripper
movies I've watched. But no. Not really. Half of me always presumes' that the filmmaker's will skip on most of the pertinent details relating to this case. Whilst the other half of me is just glad to watch something relating to 'The Autumn of Terror' on screen!
Well, I'm not normally a very fussy person by nature. However, in this instance... errr... how can I put it? Oh! I know: (1) From a literary perspective, the structure of this 1959 'Jack The Ripper' film is all over the place. It starts off on a killing. It then introduces the two key 'police figures'. Then it showcases the suspects. And after that it goes from another killing, to an arrest, to a release, to a segway, that meanders two and throw until the conclusion presents itself. No. It wasn't focused enough as a tale in its own right. Plus I wasn't very keen on how the numerous characters took centre stage without any logical forethought. (2) Even though I understood on a commercial level why the two main cops in this movie were American, on a visceral level this aspect felt very much out of place. What if the roles whee revered, huh? And it was a couple of Englishmen who tried to solve the JFK assassination! Tonally, this just feels very-very obtuse; particularly when it is placed within the confines' of Victorian London. (3) The two things that I really did enjoy about this film were the set-designs and the conclusion. Now where the sets are concerned -- smashing -- slightly above the usual high standard for a period film made in this era. And where the conclusion was concerned -- yeah -- that was smashing too -- mainly because some of backstory was conveyed, and the final 'chase sequence' presented a very cleaver quandary. (4) By in large most of the actors in this piece did a pretty good job conveying their characters -- especially John Le Mesurier, who seems totally out of character than normal.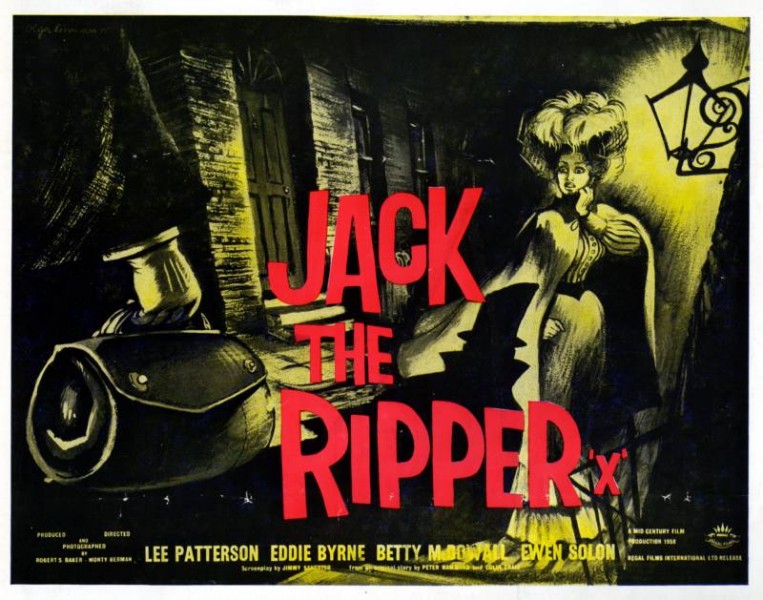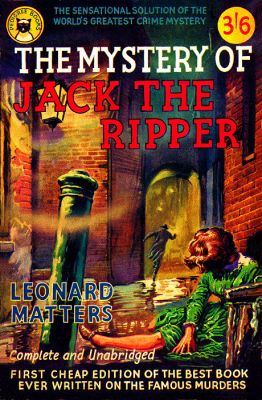 OK, before I get carried away with myself, let's have some filmic facts now, shall we? (1) Although the American version of this film credits the American company, 'Embassy Pictures Production', for making it; in actual fact it was made by an English company called 'Mid Century Film Productions Ltd', who released it in the
UK
on
the 28th of May, 1959
. (2) This yarn is loosely based on a thesis published in 1924 written by the Australian journalist, Leonard Matters, who hypothesized that Jack the Ripper was a medical man, whose son tragically died from syphilis caught from a prostitute. The name of this book is 'The Mystery of Jack the Ripper', and it was the first non-fiction book about him. (3) Jimmy Sangster, who wrote the screenplay for this film, was one of the driving forces behind the legendary 'Hammer' film studios. (4) One of the main producers on this movie, Joseph E. Levine, also produced the
Dustin Hoffman
movie, 'The Graduate', and the
Mel Brooks
film, 'The Producers', amongst others. (5) This picture has been referenced in Gorman Bechard's 1987 horror-comedy, 'Psychos in Love', and Anthony Hickox's 1992 horror-comedy sequel, 'Waxworks 2: Lost In Time'. (6) For all of you location spotters out there, I'm sure you can tell that this film was shot entirely in 'Shepperton Studios',
Surrey, England
. Ha! (7) Even though this thriller was well remembered because of its $1 million dollar advertising campaign, ultimately, it was deemed a failure in the eyes of its producer, Joseph E. Levine. He once said to the press "We dropped dead in every state! You'd think somewhere, a small town maybe, someplace, it would have done business. But no. That's a record they'll never come close to". (8) The two musicians who composed the score for the U.S. version of this movie -- Jimmy McHugh and Pete Rugolo -- teamed-up with Steve Allen, to produce the following promotional novelty 'Jack the Ripper' song, sung by Nino Tempo.
Overall, this 1959 'Jack the Ripper' film is pretty much a hit and miss affair. The concept was a good one, yet the story and the execution wasn't. Still, you can't win them all, huh? Unless you're Jack. Jack the Ripper, HahAHAhahahaa!
THE RATING: C+