Haven't you ever noticed how certain people seem to have very adventurous lives? One minute they could be on top of a volcano somewhere, whilst the next minute, they could be creating a great animated adventure. HUH? What's that you say? You've already heard about my great pal, GB? Fair enough. Then I suppose you wouldn't mind checkout what he told me only the other day, whilst we were both line-dancing in the middle of an active volcano.
Strange Frame
1) What are your own origins, GB? Plus what path did you take in life to get into this movie making business?
I grew up on the East Coast, and did my undergrad in 'Astrophysics' first, then 'Visual Arts and Media Science' second. After I finished school, I moved my young family to the Big Island of Hawaii. Not to search for paradise, but to find community instead. Island culture is beyond karmic: What goes around really does come around… and quickly.
I set myself the task of learning Hawaiian, and during this time, I spent countless hours doing television work on the active volcano, crossing active flows with the U.S. Geological Survey and burning a few pair of boots along the way.
I also worked with the Hawaiian immersion schools, and eventually did over 100 programs with them from shorts to a feature film. These educational videos allowed me to hone a unique style of cutout animation -- a style that is both artful (taking advantage of my addiction to drawing), and economical (a prerequisite when you live in one of the most economically challenged areas in the country). How I got into the movie business from there was just deciding to do it.
2) In your own words, how would you describe 'Strange Frame'? And can you compare it to a film or a combination of films?
'Strange Frame' is an experience. As Hendrix once said, "Have you ever been experienced?". It is trying to capture the best of literary sci-fi. Ideas that are severely lacking on screen. The best of John Varley has never been seen on screen. None of the great work of Neal Stephenson or Kim Stanley Robinsonʻs stuff has made it on screen. Plus I donʻt think weʻve really captured any of the ideas of cyberpunk akin to William Gibson.
I think our influences are pretty apparent because our reviewers keep bringing the same ones up: Cowboy Bebop, Blade Runner, Fifth Element, and Heavy Metal.

3) If 'SF' was a single song, what song would it be and why? Just one? Geez! 'Dark Side of the Moon' by Pink Floyd. It is one continuous track, so itʻs not really cheating. It shares so many of the same themes as 'Strange Frame'. The joy of creation, the pitfalls of success, the irrationality of the greater society, madness, and of course, love. The album and movie have a lot of different moods and they both stand outside simple categorization. You have to experience both many times to truly ʻget itʻ.
4) Why did you decide to adapt this story into an animation instead of a live-action film?
We had such a grand vision that we could not afford to realize it beyond drawing the images ourselves.
5) What are your own aspirations for this project? Plus how did you cast your voice-actors?
I hope that we can continue making movies because there are so few opportunities over here. Really, we live in one of the poorest parts of the country, and our smart kids have little to aspire to. My whole team of animators were youths I trained from the communities nearby, and I hope we can continue to inspire and encourage everyone around here to reach for the stars.
As far as casting goes, because of our very limited budget, we had to rely on the strength of our vision. Our animation is hand drawn and cut-out. We have been providing internships in animation to young adults in one of the most impoverished parts of our State. Our crew is made up of these young people. We did a lot of begging. Jamie Thomason, our casting director, was able to see our vision (thank you Jamie!) and he was able to convey this to the people we wanted for our film.



6) If you could assign a smell to your movie, what odour would it be, and again, why? Poppies. The smell of poppies. That smell makes me feel high, takes me on a trip. Tim Curry said 'just watching Strange Frame will make you feel high, and it sure is a trip'.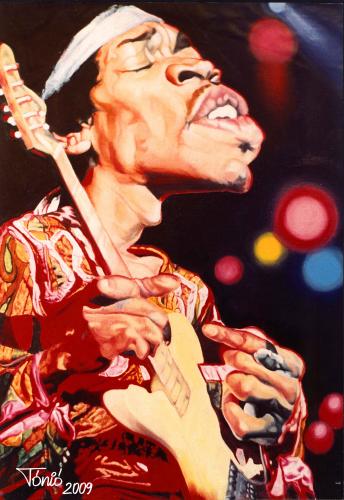 7) If you could get a well known celebrity – either living or dead – to promote 'SF', who would you get, and why would you choose this particular person?
Kevin Smith would be great because I think his fans would totally ʻgetʻ Strange Frame. But Jimi Hendrix would be my fave to be involved. Heʻd get Strange Frame too. After all, Jimi did say, "Imagination is the key to my lyrics. The rest is painted with a little science fiction".
8) From what I have seen of it already, 'Strange frame' is a very slick production. How was this accomplished? I think it has slick parts and rough parts too. When we started in 2006, we were doing good work with a new process. After 5 years of full time work refining the technique, it got really slick. This style is about drawing the best art you can and figuring out how to cut it out to make the characters move in ways that make them intriguing. The last few scenes we animated (for example the one in Parker and Naiaʻs apartment) are how epic the sequels are going to look… if we get the chance.


9) If there was a message behind this movie, what would it be, and why would you want to convey it?
Choosing family, friendship and love over fame and fortune. Many films have the theme of family, friends and love, but too many of these tie success to fame and fortune. What really matters in life are the people who care about you when youʻre down and out. Not the ones who love you when youʻre on cloud nine.
Ka-Pow, GB! Lovely sentiment, mate. I couldn't have phrased it better myself. Now I hope you've got all of that, dear readers, because you know what you have to do next. Check out strangeframe.com today. And of course, the tweet-tweet / face-face thing too. Go on. Vamos.
Strange Frame
STRANGE FRAME - AN ANIMATED FILM THAT IS LITERALLY OUT OF THIS WORLD
Reviewed by
David Andrews
on
May 17, 2013
Rating: