Now some people say that gambling is a mugs game. You can't win. You can only loose. And generally you're left without a penny in your pocket. Heck, the only way you can win at this game of chance, is if you dress up as a playing card and then rob a casino. Here, you can see a demonstration of this within this 45 minute cartoon made in 2004.
Justice League - Wild Card
THE STORY:
Whilst investigating some strange comings and goings at a Las Vegas Casino, Batman and the Justice League suddenly discover that the Joker has taken over the airwaves, planted a number of bombs throughout this vast neon-ridden metropolis, and recruited the Royal Flush Gang to stop them from tracking down these explosive devices.
Hey! Wait a minute, folks! You do know who the Royal Flush Gang are, don't you? What's that? No you don't! Well, they're a motley crew of meta-human teenagers, who Mister J broke out of a government facility that held them against their will.
For example, there's Jack: the stretchable sod that Batman has to fight before his particular bomb goes off. Then there's Ten: who is the brutish thug Superman takes on for the very same reason. Next there's the King: the fire-throwing fiend who gets right up the Flash's nose. And finally there's the Queen: a somewhat spiteful character that Green Lantern faces, not so long before his.... BOOOM!... mechanism does some damage?
No. Don't fret comic book fans. Thanks to Hawkgirl, GL just about manages to survive this bold encounter. However, I can't say the same thing about the residence of
Sin
City
! Hell no. Especially not when the Joker unveils his final gang member -- Ace -- who is one crazy brat, in more ways than one!
Still, that's most probably why what next transpires all goes to pot when Harley Quinn tells Batman that she's been going to marriage guidance. As the League splits the deck - a plan goes straight to heck - a mad person goes astray -- plus please-please remember, do have a very nice day.
THE REVIEW:
Now I only have one small gripe about 'Justice League - Wildcards'. The origin of the Royal Flush Gang is very different from the original. Apart from that though -- nah -- I think that this is a brilliant animated adventure. Full of character, hi-jinks, intrigue, and suspense; making it one of my all time favourite episodes of this series.
Yeah. I'm not kidding, dear reader. There were a number of things I thought were a right blast about this cartoon. For instance, I liked the way that the Joker acted as a pseudo-narrator to his own shenanigans. Allowing him to comment on what he feels about the individual member of the Justice League, as well as the origins of his teenage accomplices. Furthermore, I did like the brutality and the honesty about this piece too. Particularly the '
Fantastic Four
' inspired fight-scenes between the League and the gang, plus the interpersonal relationships between Hawkgirl and Green Lantern.
Granted, I know that some of you out there in cyberspace felt that this 'Kendra and John subplot' was unneeded within the confines of this secular tale. But to me, personally, I didn't mind it at all. I thought that it added a nice little resolution to this story, and was a long way in the coming. Moreover, it also allowed the ending of this adventure to end on a more positive note. Subtracting what could have been a somewhat obtuse conclusion to a somewhat action-packed and dynamic episode.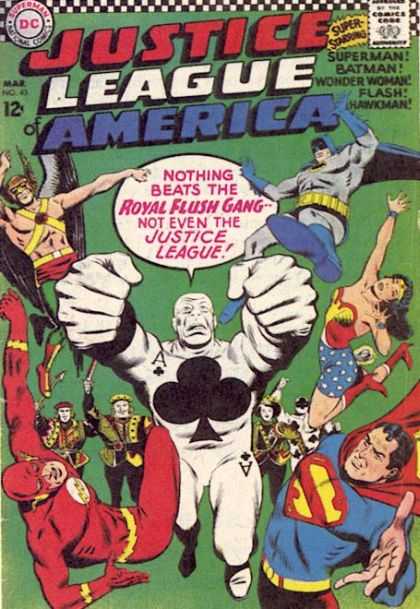 Here, before I gush about 'Justice League - Wild Cards' any more, let's have some Royal facts, shall we? (1) This episode was first aired on the same day that the American wrestler Jerry 'The Wall' Tuite, passed away --
the 6th of December, 2003
. (2) The Royal Flush Gang was created by writer, Gardner Fox, and artist, Mike Sekowsky, in Justice League of
America
, #43, March 1966. (3) Originally the 'RFG' was the brainchild of the 'good luck' villain known as Amos Fortune; who was the pug-faced schmuck that cobbled them together in the first place to pit against the Justice League of
America
. (4) The second version of the 'Royal Flush Gang' was set up by the Green Lantern villain,
Hector Hammond
. But they didn't last long though. Oh no! They folded when the pack split. (5) Although their roster has changed slightly over the ages -- once including the likes of either the Joker or the aforementioned two founders -- by in large this 'gang' comprised of an Ace, a King, a Queen, a Jack, a Ten, and someone called Wild Card. (6) During the mid nineteen-eighties, Maxwell Lord famously used this gaggle of goons to trick his way into the fledgling 'Justice League', with some inadvertent help from the time displaced hero, Booster Gold. (7) For a short period of time, Jack changed his name to 'Hi-Jack', and became a member of the 'Secret Society of Super Villains'. (8) Not only does this gang appear in this cartoon, but they've also appeared in ' The Super Powers Team: Galactic Guardians', 'Justice League Unlimited', 'Batman Beyond', 'Batman: The Brave and the Bold', an episode of 'Arrow', plus the feature length animated movie, 'Justice League: Doom'.
Overall 'Justice League - Wild Card', is a really great cartoon. It's like watching a satirical version of the film '
Casino
', just replace Joe Pesci with the Joker, replace Joe's gang with the 'Royal Flush' one, and then replace
Robert De Niro
and Sharon Stone with the Justice League. Trust me. It may work. Don't you agree, Ten?
Err? That might be a yes? Ha!