I once knew of a comedian whose act was so bad; he actually made his audience run out of the auditorium screaming 'Blue Murder'. I don't know why though. Maybe it had something to do with him wielding a sharpened sword? Or better yet, something to do with this film Directed by Jacques Tourneur; and Starring: Vincent Price, Peter Lorre, Boris Karloff, and Basil Rathbone. It was made in 1964, and lasted for about 84 minutes.
The Comedy Of Terrors
THE STORY:
Now what sort of Undertaker argues with his wife, Amaryllis (Joyce Jameson), attempts to poison his father-in law, Amos (Boris Karloff), whilst trying to trump up more business for himself by killing old men at the dead of night?
Nope. It's isn't the frog-like, Felix (Peter Lorre)/. This unwitting accomplice is nothing more than a spectator to all of these bold shenanigans. It's his drunken boss instead, Waldo Trumbull (Vincent Price).
But don't you worry your pretty little head off, folks! Waldo and Felix aren't very good at carrying out his sordid money making scheme. Oh no. For example: The buxom wife of their first victim -- Mrs. Phipps (Beverly Powers) -- runs away without paying them one single penny. And as for their second victim --Waldo's landlord, John F. Black Esquire (Basil Rathbone) -- well -- how can I put this?
For some bizarre reason John has a very strange physical condition which prevents him from dying properly; and this is why, time and again, he keeps' on fraining death and then coming back to life. Initially this happens to him at home when he's first confronted by Felix. Then this happens at the funeral parlour whilst John is being prepped by Waldo. And finally this happens when he's within his very own bloody coffin.
Still, that's most probably explains why what next transpires all commences when a funeral peculiarly goes off without a hitch. As an undertaker is betrayed - a dead-man feel's like he's been played - a showdown is on the cards - and at the end of the day, a splash of poison guides us towards the longest yard.
THE REVIEW:
One of the main reasons why I wanted to watch 'A Comedy of Terrors'; was because I enjoyed its predecessor so much within the anthology film, '
Tales Of Terror
', I felt that I had to.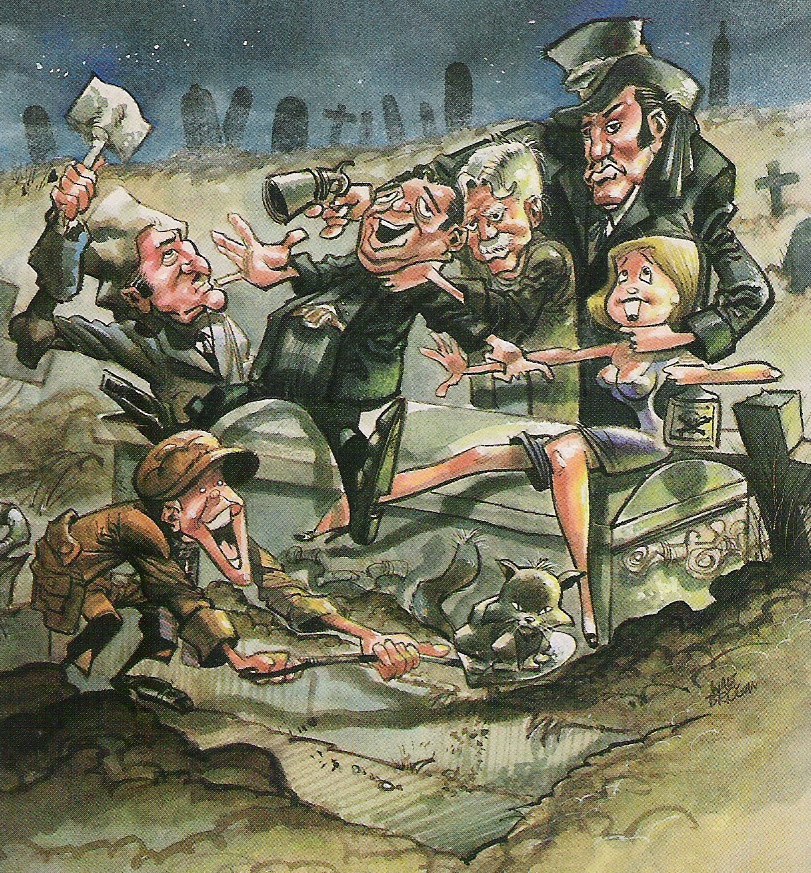 Granted, now that I have, I have to admit, it wasn't as 'laugh out loud' funny as it successor was. Plus this film didn't have that whip-snapping 'punchy attitude' about it either.
Nevertheless, whilst saying that, I still really-really-really enjoyed it an awful lot. It was just one of those timely classics that's chock full of charm, splendour, and jovial exuberance that puts it right up there with a number of other long forgotten treasures of yesteryear. Moreover, it also had that timely levity that today's more modern movies can not even compete with. You know. A daring streak running through it's veins.
You see, in my eyes, this comedy is a amalgamated hybrid of sorts. Part's of it remind me of a 'funeral version' of the sitcom, 'Steptoe and Son' (or 'Sanford of Son' in
America
) -- largely due to the 'family dynamic' it conveys. Other part's of it remind me of a '
Carry On
' type skit -- with the over the top antics, the rather witty wordplay, and all of that coming and going of the very farcical variety. Whilst, other parts of it, reminds me of a distorted view of a baroque fantasy -- as it's never quite 'real' enough, yet it feels 'real' at the very same time.
Yeah. No kidding, dear reader. This comedy is a sight for sore eyes I can tell you.
Peter Lorre
, Boris Karloff, Basil Rathbone, Joyce Jameson, and
Vincent Price
, are a right scream in their respective roles. Every single one of them 'goes for broke' with their mannered yet comedic take on 'dark humor'. Furthermore, the story was so enveloping, it was like a bastardized rendition of 'funeral life', set amongst a cast of overt and bumbling buffoons.
Here, check out this trivia-splurge for some back-story on this amazing movie masterpiece. (1) 'American International Pictures' released this production on the very same day
Wisconsin
produced the largest piece of cheese --
the 22nd of January, 1964
. (2) The screenwriter, Richard Matheson, wanted to write a follow up to this film called 'Sweethearts and Horrors'. But alas, because it wasn't a big box-office success, this idea was quickly scrapped post haste. (3) Did you spot the two supple filmic-references inserted into this film? The first one was a cat reference relating to the 1951 movie, 'Rhubarb'. And the second reference involved Basil Rathbones character cutting the candle's on the candelabra in half, just as he did in the 1955 adventure, 'The Court Jester'. (4)
Boris Karloff
was the first actor hired to play the part of John F. Black. But due to his severe arthritis,
Basil Rathbone
was then hired to take his place, and Boris in turn was given the less 'physical' role of Mister Hinchley. (5) The writer, Elsie Lee, adapted a novelized version of this project that was published by 'Lancer Books' in the very same year it was released. Please note though: Elsie changed the ending to this story. (6) Now if you look very closely, I'm sure you can tell that Peter Lorre's stunt double was a lot younger than he was, and had a lot more hair too. Ops! Visual mistake. (7) Believe it or not, this whole film was made within the month of September, 1963. (8) This was the last ever screen appearance of the actor, Joe E. Browns -- who played the 'Cemetery Keeper' -- even though he died nine years after this movie was made.
Overall 'A Comedy of Terrors' was a brilliant film. It was darkly funny in places. It told an evolving tale. And all in all it is one of those films you have to watch before you die. (Ouch! Pun intended).
THE COMEDY OF TERRORS
Reviewed by
David Andrews
on
June 30, 2013
Rating: