Believe it or not; 'The Fly' is the only known creature in the insect kingdom, which is named after the only thing it can do. Well, if you think about it for a moment or two, you know that this fact is correct, right? Just ask the Director: Kurt Neumann; and the Actors: Vincent Price, Patricia Owens, and David Hedison. But only ask them this question for about 95-minuets, in 1958.
The Fly
THE STORY:
Why did she do it? Huh? Why did the glamorous housewife, Helene Delambre (Patricia Owens), kill her scientist husband, Andre (David Hedison), by squashing his head in a hydraulics-press? Twice! Moreover, why is it when she then informs her brother-in-law, Francois (Vincent Price), that's she has committed this grizzly deed, she doesn't tell either him or the Inspector assigned to this case, Charas (Herbert Marshall), the circumstances surrounding her strange actions?
No. It's not because Helene's mad. If anything, she is disturbed. Disturbed by a white headed fly that she's desperately wants to kill before it's too late. Thankfully, her young son, Philippe (Charles Herbert), can corroborate what she says. And is one of the main reasons why both Francois and Charas are able to trick Helene into telling them her story.
So, prey-tell, what is Helene's story? Well, a couple of months ago, Andre managed to cobble together a teleportation device, which can transport an item between two booths situated in his laboratory. Granted, this piece of kit wasn't one hundred percent perfect. It inverted fine-china at first. And then it made their cat vanish into thin air. Nonetheless, as weeks passed, Andre was able to fix these snags, just in time to show his brother, Francois, what he had come up with.
Still, that's most probably why what next transpired begins when a brother is told to buzz off, whilst a scientist is afraid to show his face. As a wife is given instructions - a husband's face need a lot of reconstructions - a plan is somewhat circumspect - and the fate of a disturbed woman all lies on a white headed insect.
THE REVIEW:
Now if like me, you've seen the 1986 version of 'The Fly', then I would encourage you to watch this 1958 version as well. No. Not so you can have a giggle at the nth rate creature make-up's, or the slightly over earnest acting. These aspects are the stalwarts for this era of movie making, and should be appreciated by the discerning viewer. Instead, you should watch this movie for three very specific reasons.
Firstly, it is a good film, and illustrates how simple storytelling techniques are the best way of relaying scientific parables. Secondly, the basic conceit of this picture gives an example why Mother Nature shouldn't be tampered with by the scientific elite, for the sake of progression or advancement. And thirdly, in a roundabout way, it justifies why you should never marry a scientist.
Alright. I admit. My third point was played for laughs (kind of). Though that doesn't stop me from spilling some filmic facts now, does it? (1) '20th Century Fox' released this $495,000 production on
the 29th of August, 1958
. (2) This was the first screenplay written by the Swedish novelist, James Clavell, basing it on a short story of the same name devised the by horror-writer, Geo Langelaan, who published it in 'Playboy' magazine. (3) Apart from the David Cronenberg 1986 remake [click
here
for the review], this movie spawned two official sequels: 'Return of The Fly' in 1959, and 'Curse of the Fly' in 1965. (3) I kid you not, the British actor, Michael Rennie, turned down the lead role in this picture because his face would have been covered up throughout most of it. (4) Now it cost about $28,000 for the lab-set to be made, and this included quite a lot of Army surplus equipment. (5) Although this was the biggest box office success in his career, I'm afraid to say that the director, Kurt Neumann, didn't live long enough to appreciate it, because he died a few weeks before it was released. (6) Vincent Price and Herbertt Marshall had a hard time filming the final scene with the small animatronic 'spider' in it. This was because when they both looked at the diminutive figure used in this scene, they kept on laughing. (7) The woman who played Helene in this movie, Patricia Owens, is actually scared of insects in real life. Of course Kurt used this knowledge to his advantage during production. (8) The original ending of this film was changed because the studio wanted a more 'up-beat' conclusion. The tossers. (9) The actress who played the nurse caring for Helene, Betty Lou Gerson, also provided the voice for Cruella DeVille in Disney's '101 Dalmations'. Thank to my mate
Rick
for that last one.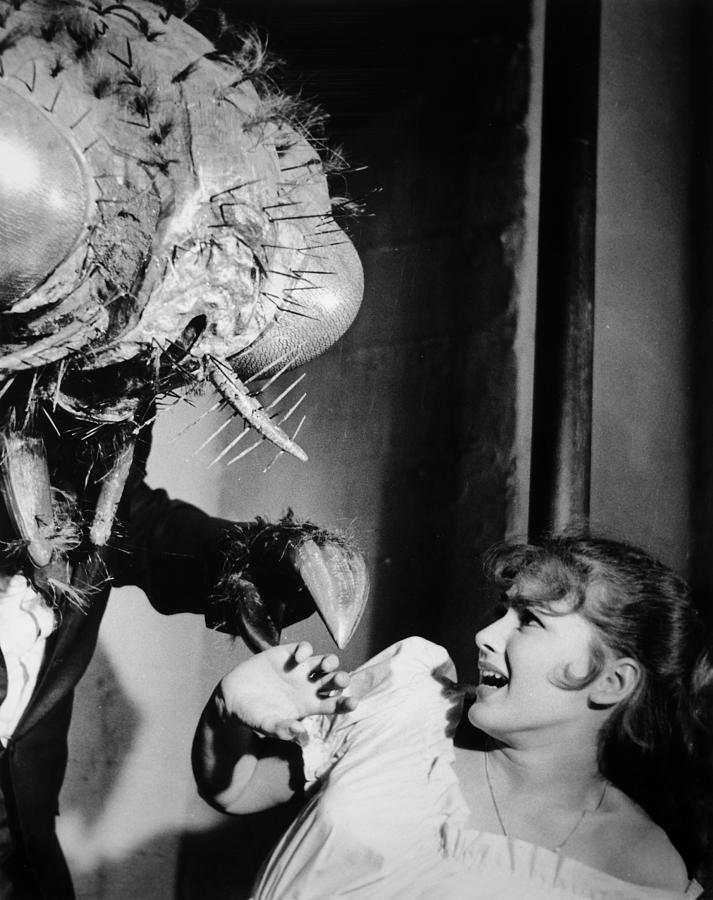 OK, so now that's all out of the way with, I'm sure you're wondering what else I liked about this original version of 'The Fly'. Well, one of the stand-outs for me was how it used novelistic techniques to tell its tale. In some way it reminded me of a gum-shoe murder mystery -- like
Colombo
-- starting off by posing a dilemma, and then continuing with how this dilemma came about. A very nice way to tell a story that is; and something that the remake sorely lacked.
Also, another thing I liked about this yarn; was how all the actors had that cheesy yet stoic vibe about them. Never really grandstand during a performance. Rather, easing into their respective roles, without coming across as 'too' anything by default.
Moreover, how about the ethical quandary, huh? Should man be playing about with nature in the way it has? According to this film -- no -- no it shouldn't. And demonstrates that some of the things society worries about nowadays' isn't anything new where technological advancement is concerned. Still, how things have been evolving within recent years, who is to say otherwise? Huh?
Not the Fly -- a great film -- and an all-round classic.
THE FLY (1958)
Reviewed by
David Andrews
on
June 12, 2013
Rating: