The American novelist, Thomas Wolfe, once wrote, 'you can't go home again'. But what the f*ck does he know? Huh? The Yankee sod. All he ever understood was Big Mac and Fries, or something about this film Directed by Stephen Frears; and Starring: Gemma Arterton, Roger Allam, Bill Camp, and Tamsin Greig. It was made in 2010, and lasted for 113 minutes.
Tamara Drewe :
The Film
-
The Graphic Novel
THE STORY:
Just like a wild dog chasing a herd of cows in a meadow, don't you also find that the true nature of love and lust can get confusing between the sexes?

Take populist author come co-owner of a writers retreat, Nicholas Hardiment (Roger Allam), for example. He's been known to have cheated on his lovely wife, Beth (Tamsin Greig), on at least one occasion, even though one of the writers staying at his retreat, Glen McCreavy (Bill Camp), is secretly smitten by her.
Ouch! Doesn't that sound's pretty confusing to you, dear reader? Plus in many ways is exactly like the life and times of one Tamara Drewe (Gemma Arterton).
Yeah! I kid you not. This one-time conk-nose -- present-time plastic-fantastic -- has returned to her parental homestead, with the intention of selling it on now that her folks have past away. But she doesn't. No. Not really. As time passes, she's coaxes her old barmaid humping arch-rival, Andy Cobb (Luke Evans), to fix up her old house, just before shacking up with a drummer in a band called 'Swank' -- named Ben Sergeant (Dominic Cooper).
OK, I'm sure you might be wondering to yourself where the aforementioned confusion comes into play. Correct? Well, Tamara is secretly in love with Andy; Andy is secretly in love with Tamara; and a young schoolgirl -- called Jody (Jessica Barden) -- is secretly in love with Ben as well. Furthermore, none of them any the wiser about this current state of play as weeks into seasons.
Still, that's most probably why what next transpires all kicks off when Jody and her pal decide to break into Tamara's house, and send a mass-email of her own devising. As love hurts - a cheating husband flirts - writer's write - plus at the end of the day, the true nature of love and lust turns out kind of alright.
THE REVIEW:
Now to be perfectly honest with you, dear reader, I wasn't really expecting too much out of 'Tamara Drewe' when I first sat down and watched it. I presumed that this was going to be one of 'those films' for the female persuasion only. Touching upon matters of the heart in a very flowery way -- full of hope, splendour, and all of that type of cr*p.


Admittedly, I was wrong with my presumption in part. It's not a bad film really. No. Better than that. It's quite good in fact. Because it has a great British cast that try their best at telling a story about love, whilst delving into a multi-faceted plot-line of the incremental persuasion.
OK, I'm sure you've seen this type of thing before. A wayward character moseys on into town, and inadvertently causes the periphery characters to look at themselves in turn. It's a tried and tested formula for this genre of film, I'm sure you will agree. However, where 'Tamara Drewe' makes a difference, is how it manages to intertwine these divergent plot threads all together, using two schoolgirls that are just fantastic to watch.
Yeah. Straight up. The characters of Jodie and Zoe -- played by Jessica Barden and Charlotte Christie -- are the standouts for me bar none. Conceptually they act like a 'Greek Chorus' for the narrative, instigating misguided plots on the one hand, whilst bombastically commenting on the nuptials with the other.
Listen, I'm not trying to imply that the other actors aren't great as well -- because they are. Tamsin is a surprisingly smashing Mother figure. Roger plays the worm like a treat. Bill, Luke, and Dominic are everyman's everyman. And as for Gemma Arterton? Well? By in large her character is treated as pure wank-bait material. And occasionally she can appear too cosmetic on the surface (which was most probably the intent), without having that staying power needed to drive a meandering plot-line, that does comes across a mite flimflam in temperament.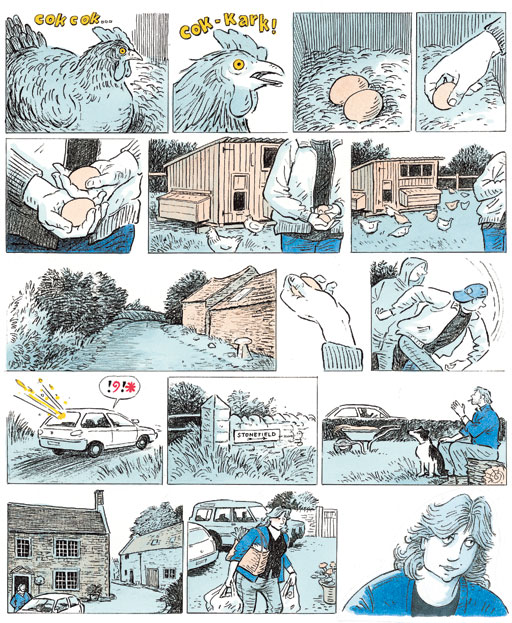 Though, before I start sounding like a complete and utter twat, lets have some filmic facts now, shall we?
(1) 'Momentum Pictures' and 'Sony Pictures Classics' released this drama at the Cannes Film Festival on the 18th of May, 2010, eventually clawing back $11,910,695 at the box-office (2) Moira Buffini -- who wrote the 2011 version of 'Jane Eyre' -- adapted the screenplay for this film from a graphic novel created by Posy Simmonds, who in turn adapted it from a late 19th century novel -- written by Thomas Hardy -- entitled 'Far from the Madding Crowd'. (3) It's a little known fact that Gemma Arterton and Dominic Cooper were both born in two different boroughs connected together by the very same train-line run by 'Connex South Eastern Rail Network'.
Gravesend
for Gemma; and
Greenwich
for Dominic. (4) Did you know that Fish Tank's Andrea Arnold was the first choice to direct this film? But when she turned it down, the director of one of my most favourite slices of cinema -- '
High Fidelity
' -- Stephen Frears -- was more than happy to take her place. (5) Although most of the interior scenes were shot at Pinewood Studios, Buckinghamshire; the exterior scenes were shot at Stockers Farm, Hertfordshire; Yeovil Junction Railway Station, Somerset; plus Salwayash and Yetminster, Dorset. (6) If you look very closely at the
Woody Allen
film, ' in
Paris
', in one scene you can see a poster promoting this picture. (7) Now it's pretty safe to say that this rom-com received a somewhat above average response from the filmic-elite. Review site, 'Rotten Tomatoes', awarded it with a 65% rating, whereas the film magazine, 'Empire', gave it a four out of five star rating.
Overall 'Tamara Drewe' is a fairly decent film. The good points are great. The bad points are of the cosmetic variety. And all in all this is a nice romantic comedy that touches on the duality of love, lust, passion, and hope, without skimping out on some tit and fart jokes for good measure. Bless.
TAMARA DREWE
Reviewed by
David Andrews
on
July 29, 2013
Rating: