It's a little known fact that the word 'n*gger' is an ancient Greek phrase that describes a person's status within their community. Loosely translated, it means 'a slave of a slave', or an underling of sorts. Yeah. No word of a lie. If you don't believe me just ask my mate Reggie in this 73-minute stand-up show produced in 2011. Go on. He'll tell it as it is.
Reginald D. Hunter Live
THE STORY:
Now can you guess what tall, black, stand-up comedian, performed live at the London Apollo theatre, within the month of June, 2011?
No. It's wasn't Lenny Hendry, silly. It's that other tall, black, stand-up comedian. You know the one. What's-his-name. That American chap with the deep voice, who speaks about: (1) Prejudice. (2) Britain and America. (3) Fear. (4) Dating. (5) The battle of the sexes. (6) Finance. Plus (7) That film with narrator girl, super-hoe, and their two boring friends.
Yeah. That's right. Reginald D Hunter is him name, and making everybody laugh is his game. Here, checkout the following quotes for a sample of his great japes:
A lot of effort has been put into tonight. Not by me. No. By those people who make money off of me.
I get upset more by someone saying to me 'You're going to get paid less', than the word 'n*gger'.
I told my Dad 'Did you know that the Irish consider themselves the n*ggers of Europe?'. And he said 'God damn it! White folk won't let us black folk have anything anymore'.
Britain is like White people's Africa. They do it very well.
A class system is a system that allows you to discriminate against a person that looks like you.
The O'Bama's are like the Kennedy's in black.
I bumped into a black guy in the cinema, and I said to him 'Sorry. I didn't see you there'. Now is that racist?
Alright. So let me get this straight. That man sitting next to you promised you a dog during sex!
Parts of Georgia still consider sarcasm as witchcraft.
There's a word in German that means 'To enjoy someone else's misery'. Who else, huh?
It's called abuse now, but back then it was called 'being a good Christian'.
How do you come to a comedy show without suspecting that the mother f*cker on stage isn't joking?
The worst thing you can do to a woman is rape her and then call her fat afterwards.
I think marriage is bad. It's just like slavery.
Me and Steve, we got a little drunk one night, and we did a very terrible thing. We watched 'Sex and the City' on DVD.
Now in closing his show, Reggie tells a very... errr... moving story about his Dad's past paid sexual encounters, before he graciously thanks his audience and trundles off of the stage like the great guy he is. Class.
THE REVIEW:
Now is it just me, or does Reginald D Hunter come across like the love child of Lenny Henry and
Samuel L Jackson
?
Alright. I know that this may sound like a silly thing to say. Especially when the person saying it -- i.e. me -- has been called the love child of
Robin Williams
and
Woody Allen
in the past. Still. Let it be put on record that Reggie does present himself like the two aforementioned celebrities. Not that it matters within the scheme of things. No. Not really. He's an amazing comedian all the same.
You see, for yours truly, I've just loved anything Hunter has been in since I first saw him on TV all those many moons ago. A panel show here. A panel show there. And in this live shindig -- wow -- what can I say? He just blew my frigging socks off.
Honestly, from the very beginning of it, to the very end, he just made me laugh like a man possessed. His comedy was funny. His stories had merit. Plus I loved the way that he divulged pieces of himself throughout his set, as if he was partaking in some sort of therapy session.
Yeah. I'm not kidding. There were quite a few moments throughout 'Reginald D Hunter Live', that I truly thought Reggie was going to spill out too much truth! Like that segment when he started telling everybody how much he hated his own mother for instance. Or how he thought marriage was a 'mugs game', and how the 'n' word and the 'c' word were harmless in today's society.
But I tell you what, dear reader, one of the main reasons why Reggie is able to get away with this, is because he just so f*cking charming and friendly on stage, you can't help but think of him as being one of your very own friends. Yeah. I do as a matter of fact. As though he's my next door neighbour, who has just popped over for a cup of tea and a chat.
Also, another thing that Reggie could do very well; was tell a very mean story 'of times past'. On occasion he would reel out a parable relating to a certain topic of note, and do it with such personality, that I couldn't help but get absorbed within his narrative nigh on straight away.
Anyway, that's enough of that I think. By now I'm sure you can tell that I loved watching 'Reginald D Hunter Live'. So before I piss off to the great unknown, please allow me to relay to you some of these RDH facts. (1) Mister Reginald Darnell Hunter was born in
Albany, Georgia
, on the same day that the Russian weather satellite, 'Meteor 1', was launched --
the 26th of March, 1969
. (2) A young Reggie made his first television appearance as a tow truck driver in a 1992 episode of 'Tales of the Crypt', entitled 'Split Personality'. (3) Although a 27 year old 'Reginald first came to England with the intention of studying acting at the 'Royal Academy of Dramatic Art', due to jovial a dare, he ended up becoming a
stand-up
comic instead. (4) In 1998 Hunter was a finalist at the 'So You Think You're Funny' competition at the 'Edinburgh Fringe Festival'. Plus he was nominated at the same venue for a 'Perrier Award' in the 2002, 2003, and 2004. (5) Some of the titles Reginald has used to promote his stand-up shows have caused quite a lot controversy in their time. For example, his posters for 'Reginald D Hunter: Pride & Prejudice... & Niggas', plus 'Trophy Nigga', were both banned from being displayed in the London Underground Network. (6) During his time on British television, Reginald has appeared on such panel shows as 'QI', 'Have I Got News For You', 'Would I Lie To You?', '8 Out of 10 Cats', 'Argumental', plus many-many more. (7) Not only did Reginald write his own material for this show, but in 2005, he penned the script for the comedy short, 'Black Out'. (8) Now how can my mate Reggie not have a website --
www.reginalddhunter.com
Overall 'Reginald D Hunter Live' was a class stand up show, and is definitely one to watch for those people who like it mean, and like it...


... funny.
THE RATING: A


REGINALD D HUNTER LIVE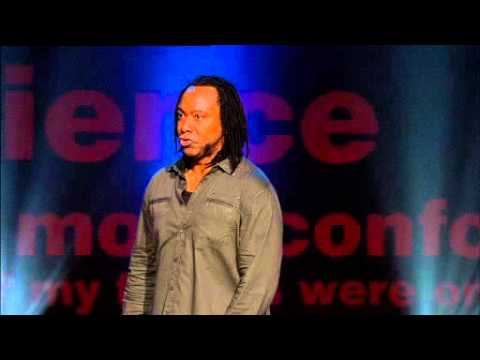 Reviewed by
David Andrews
on
August 07, 2013
Rating: