Do you know what? I have a sneaking suspicion that Mister Mack worked in a French branch of McDonalds, and bestowed himself with the middle name of 'Big', just after watching the film, 'Pulp Fiction'. 'Lee Big Mac'. Get it? No? Oh. OK then. Maybe you should watch this 70 minute stand-up show recorded in 2010. That'll definitely make you laugh.
Lee Mack - Going Out Live
THE STORY:
Oi! You. Yeah, you! Come over here, then imagine a venue slightly larger than a garden shed, where the studio audience, presently present, try not to piss themselves laughing at the funny-looking ferret-fancier telling them jokes about: (1) Drinking. (2) Eating. (3) The French. (4) Location-Location-Location. (5) Parenting. (9) People who can't count. (7) Age. (8) Children's Television. Plus (6) Porn.
Oh! Wait I minute! Don't tell me you don't know who I'm talking about, you fool? Well, it's that bloke who stars in all of those panel shows. Thing-a-mi-jig. The Mightily Lee Mack. Just a lot less mighty, and a lot more Mack.
Here, to plod you mind along in the right direction, check out some of the silly stuff he comes up with in this very lively stand-up show held at the Hammersmith Apollo.
I found a wine club recently. We meet up everyday around in the morning at the park.
I like my women, like I like my coffee. From the corner of the street, and I'm not willing to pay more than £2.40 for a sip.
As I grow older, I find that I'm turning more and more into my Dad. I'm now starting to fancy my own Mother.
If at 80, you feel the same as you do when you were 14, then I think that you've wasted your entire life.
My Mum was seriously injured because of Rich Tea Biscuits. She was supposed to buy me jammy-dodgers, so I punched her in the face.
Car insurance is a problem. I rang up the insurers and asked them for a quote. They said 'Do you park your car on the street, sir?'. I said 'Yes I do. As I'm having problems parking it in my spare bedroom'.
I was in bed the other day with a hangover. Well, it is difficult getting up when my cock is so big.
I rang up technical-support and told them I couldn't access my website. They said 'Have you disabled your cookies?'. And I said 'No. But I once bit the leg off of a gingerbread man'.
I've got to admit, I have always wanted three children. But now I have two, I only really want one.
Now in closing his show, Lee compares cockneys to thieves, and scousers to seals, whilst a member of the studio audience tries to steal his coat. Don't worry though, pal. Somehow Lee manages to walk off of the stage without loosing anything. Well, except for maybe his marbles of course. Ha!
THE REVIEW:
Now what can I say about 'Lee Mack - Going Out Live', that won't make me sound like a complete and utter biased loon? Oh! I know. What about 'It was a pretty funny show all in all, with some really great jokes in it'? Or yet again, what about 'Watching this gig made me laugh so much, it almost made me forget about loosing one of my close personal friends'?
Yeah. I'm afraid to say that I did loose someone today, dear reader. Alan was his name. And I lost him around the back of my sofa with my door keys and my pet monkey.
Ha! I almost got you there, didn't I? Though, I suppose what I was trying to demonstrate with this silly set-up, is how Lee is the type of a comedian who engages with his audience on a visceral level, by presenting to them a tale that is associative by nature, and silly in the execution.
In many ways he comes across like the late great home-county comics of old. Like Eric Morecambe for instance, or maybe even people like
Tommy Cooper
, or Lee's old pal, Tim Vine.
Hey! I'm not trying to imply that Lee has nicked any of their material. No. Of course not. Rather, that he and these comedians share a communal synergy where their delivery, their joke-construction, and the structure of their overall act is concerted.
For example; Step One: Engage with the audience to liven them up a bit. Step Two: Get your audience to see things your way by telling them something about yourself. Step Three: Present small little tales of times past, giving each one a nice little spin that's purely in your own style. Plus Step Four: Now you've got everyone in the palm of your hands, knock the whole experience out of the ball park by taking the piss out of anyone you can think of.
Granted, maybe this 'Four Step Plan' isn't one hundred percent exactly how Lee structures his shows. But I tell you something, folks, I'd say that it's a fairly accurate overlay. Like these Lee Mack facts in fact. (1) Lee Mack's real name is Lee Gordon McKillop, and he was born in
Southport
,
Lancashire
, on the same day as the American actor, Daniel Dae Kim --
the 4th of August, 1968
. (2) I kid you not; the Mighty Mack first realized he was funny because his classmates laughed at his impressions of Bobby Ball. He was 15 at the time. (3) Whilst working as a stable-boy, on occasion Lee had the opportunity to ride the legendary race-horse, Red Rum. (4) When he was a blue coat at the English based leisure resort, 'Pontins', Lee got transferred out from the Great Yarmouth branch, and into the Morecambe branch, because he called a customer 'a c*nt' whilst he was drunk. (5) Lee got his lucky break into show business in 1995, when he won the 'So You Think You're Funny' competition held at the Edinburgh Fringe. (6) 2012 was a funny year for Lee. On the one hand he received an honorary doctorate from
Brunel
University
. Whilst on the other hand he found out that he had attention deficit hyperactivity disorder. (7) If you're ever at
Ewood
Park
,
Blackburn
, you might spot Lee supporting his favorite football team, Blackburn Rovers. (8) How can Lee not have his own website --
leemacklive.com
Overall I'd say that 'Lee Mack - Going Out Live' was a really-really funny stand-up show to watch. One of the highlights for me was when that lady tried to steal his coat at the end of the gig, plus how Lee himself just kept on taking the piss out of his audience and his kin. Trust me. You'll laugh your ass off if you watch this show. Right, Lee?
Ha! I take that as a 'yes'.
LEE MACK - GOING OUT LIVE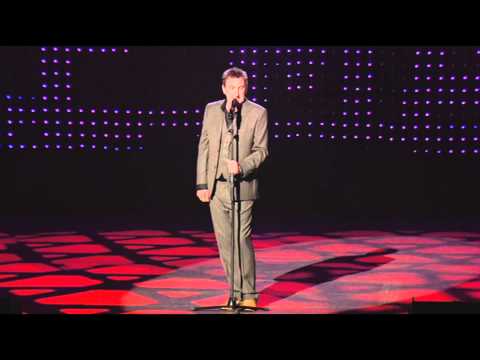 Reviewed by
David Andrews
on
October 08, 2013
Rating: