Don't you always get annoyed when you lose something by accident? You know. Something like a set of door keys for example. Somebody's phone number. A large pigeon called Clive. Or what about this film, Directed by: Alfred Hitchcock; and Starring: Margaret Lockwood, Michael Redgrave, and Paul Lukas. It was made in 1938 and lasts for whole 95 minutes.
The Lady Vanishes :
The Film
-
The Book
-
The Poster
THE STORY:
Excuse me. But has anybody seen that nice lady I was just sitting with? Miss Froy (Dame May Whitty)?
Yesterday, she had a bite to eat with Charters and Caldicott (Basil Radford and Naunton Wayne) whilst we were all staying at the same foreign hotel together. It was roughly at the same time I had an argument with that noisy chap living upstairs from me, Gilbert (Michael Redgrave).
Then, today, we both boarded a train headed towards England. Drank a cup of tea. Before -- POOF! -- she just vanished into thin air.
Pardon? Did you just ask me who I am? Why I'm Iris Henderson (Margaret Lockwood) of course. And presently I'm running around like a head-less chicken looking for Miss Froy with Gilbert.
Nobody seems to remember seeing her you see. None of the passengers. None of the staff. Not even that love-lost couple, Mr. and Mrs. Todhunter (Cecil Parker and Linden Travers).
Admittedly, a gallant Doctor called Hartz (Paul Lukas) thinks that I could be making up this missing person's scenario myself. Yet I'm not you know. I saw her. I did. I remember what she wore, what she said, and certain things I can prove if given half a chance.
Still. That's most probably why what next transpires all shows its face when a train calls in at a station. As a patient is not who it seems - liars group in teams - a shoot out is helmed by a goon - and this adventure ends on a right melodious tune. Choo-Choo!
THE REVIEW:
Now without sounding like a total film geek, I've got to state for the record that in my eyes 'The Lady Vanishes' is a perfect film. Honestly. It's one of those movies that'll keep you at the very edge of your seat from the very beginning to the very end. Constantly tantalizing you with a shed load of questions, characters, plus an intriguing premise that just spell's class in a can.


OK, I admit, I'm sure some of you more action-driven folks will find it slow on occasion. And it does have a very British way of poking fun at the English manner and decorum, whenever it has a chance to do so within the confines of its' narrative.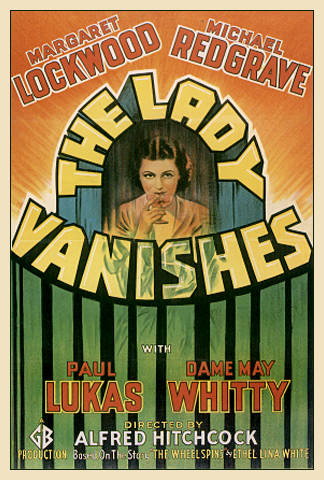 Apart from that though -- nah -- this is a top class film. And thoroughly deserve its rightful place in film history. Here. Look at the facts. (1) 'Gaumont British' first released this production in
England
on
the 7th of October, 1938
, and then in
America
on the 1st of November, of the very same year. (2) Apart from those scenes shot in 'Gaumont-British Studios' and 'Lime Grove Studios', Shepherd's Bush, London, most of the external scenes were shot throughout Hampshire, Islington, Woolmer Forest, plus Longmoor Military Camp and Railway Station. (3) To date, this story has been re-made twice in total. In 1979 it starred Elliott Gould, Cybill Shepherd, and Angela Lansbury. Where as in 2013 it starred Charles Aitken, Paolo Antonio, and Beatrix Biro. (4) If it wasn't bad enough that the actual film-set this production was shot on was merely ninety feet long, to make matters even worse, this was the first time Catherine Lacey and Michael Redgrave appeared in front of a movie camera. (5) The famed actor / director, Orson Welles, once said that he saw this film eleven times in total. Whilst the writer / director / actor, François Truffaut, said it was his favorite Hitchcock film ever made. (6) The two characters played by Basil Radford and Naunton Wayne in this flick, Charters and Caldicott, were so well received by the public when it was released, afterwards, they starred together in the 1940 wartime thriller, 'Night Train to Munich', the 1943 melodrama, 'Millions Like Us', and the BBC Radio serialization, 'Crook's Tour'. (7) If look very closely at the scene set in Victoria Train Station, you'll notice that the director of this movie, Big Al Hitchcock, is smoking a cigarette, and wearing a black coat in it. (8) British crime writer, Ethel Lina White, wrote the 1936 book this film was initially based on. And no. They're not the same. It was originally entitled 'The Wheel Spins'. Miss Froy is abducted because she knows something without realizing it. Iris's mental confusion is due to sunstroke, not a blow to the head. The train never stops moving. There is no final shoot-out. Plus the 'supporting characters' are somewhat different as well.
Now I'm sure some of you are wondering to yourselves why I enjoyed this 1938 version of 'The Lady Vanishes' so much. Well, without putting too finer point on it, it would have to be because it has a very innovative way of drawing you into its cinematic clutches.
The first twenty odd minutes is dedicated to introducing the characters involved in this piece. The next twenty minutes sets up the dilemma posed to the two main protagonists. The next twenty minutes after that it makes you wonder if the dilemma in question is actually a dilemma at all. Before finally, bash, crash, wallop, Bob's your Uncle, Fanny's your Aunt, and this movie makes mincemeat out of your more modern day-glow productions.
Granted. I know that I'm biased, and that this textual formula seems fairly standard by today's thrillers. Having said that, though, if you love story, pathos, films cobbled together by
Alfred Hitchcock
, and all of the majesty of yesteryear, I'd bet my bottom dollar you'd like it as well.
So overall, I would have to say that 'The Lady Vanishes' is a very special film. It's very timely. It's very English. It's very well acted and staged. Plus to top it all off, it's something that will keep you at the edge of your seats if you a fan of intrigue and suspense.
Say no more.
THE RATING: A
THE LADY VANISHES (1938)
Reviewed by
David Andrews
on
November 05, 2013
Rating: