What would you actually go through to fall in love? Would you fight a pack of savage animals, perhaps? Would you dance with a whoop of baboons? Or better yet, why don't you appear in this timely 88-minute movie made in 1955? It was Directed by: Andre De Toth; and Starred: Kirk Douglas, Elsa Martinelli, Walter Matthau, Lon Chaney Junior, with Diana Douglas.
The Indian Fighter
THE STORY:
Now I understand your concerns, Onahti (Elsa Martinelli). And you're right. There are quite a few differences between the two of us. Especially since you're an 'Indian Girl' and I'm a 'White Man'.
But come off it. Deep down inside me I'm a really nice guy. Honestly I am. Didn't you see how I sorted out that mess two days ago? When Wes (Walter Matthau) tried to steal gold from your native homeland! Or what about the day after that? When I arranged for your chief, Red Cloud (Eduard Franz), to sign a peace treaty with the US Army!
Yes. I know I should be with my people now, Onahti. Riding along side them on a wagon train leading to God knows where. Yet I'm not, though, am I? I'm here by your side. Just you and me. You. The love of my life. And me. Johnny Hawks (Kirk
Douglas
). The so-called 'Indian Killer' that's dying to plant a sweet-sweet kiss on those sexy-sexy lips of yours.
Still. That's most probably why what next transpires all kicks off, when Wes and his partner in crime, Chivington (Lon Chaney, Jr.), instigates' a war with your native brethren. As the Indians are coming - a battle starts a humming - a wagon train catches fire - and as the dawn falls over the skies, a man of peace ultimately gets a new squire.
THE REVIEW:
I suppose on the surface 'The Indian Fighter' is very much like many of the other westerns developed during this era. All the lead actors had great presence. Most of the story-line was pretty easy to follow. The production values and camerawork were nice for the time. And all in all -- yeah -- not a bad film -- but not a good film either.
You see, from my point view, the only aspect about this adventure I wasn't too keen on, would have to be how the first part of it wasn't very focused within its overall narrative structure.
Honestly, dear reader. It did have a somewhat ying / yang approach in setting-up its initial chunk of the tale. One part of it was about Kirk's character flirting with that Indian girl. Another part of it was about Walter's and Lon's characters trying to steal some gold from her people. Yet another part of it was about Anne's character looking for love and companionship. And finally, the whole thing was rounded off in number of sections trying to explain why Native Americans don't always seem to see eye to eye with the 'White Man'.
On the reverse side of this equation, though, there were a couple of things about this flick I quite enjoyed watching. For instance, I got a right kick out of those two scenes where Kirk spoke to Red Cloud and the photographer. Because how I see it, the underlining messing that was conveyed throughout those scenes, was how change doesn't always lead to progress or unity.
Furthermore, I best mention that Kirk, Lon, and Walt, seemed to have a real bond in those few scenes they shared together. In fact, this bond was so apparent on the screen, I would have honestly liked to have seen them together in this picture more than they actually were.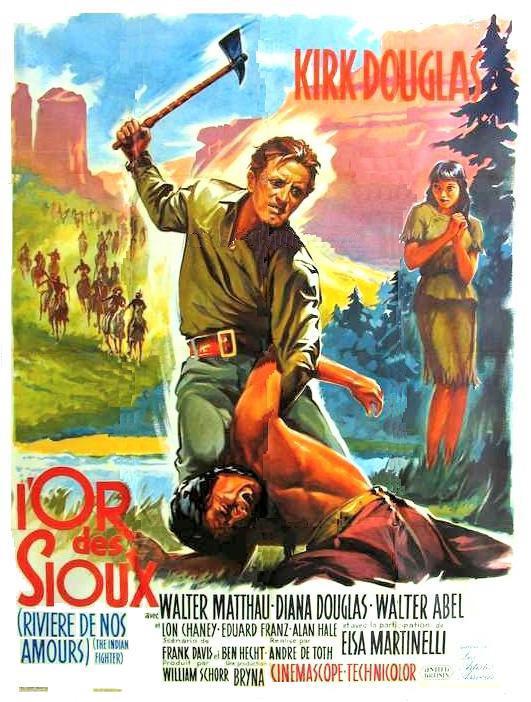 Ah-huh! So now do you see what I'm getting at, folks? When I say that his film wasn't that good yet not that bad? I hope so. Or otherwise you might not be able to embrace the irony seen in the following filmic facts. (1) 'Bryna Productions' first released this adventure in
New York City, New York
State, on
the 21st of December, 1955
, and eventually clawed back $2.5 million dollars at the domestic box office. (2) Loosely translated, this project was entitled 'The Hunter of Indians' in
Italy
; 'From Here to Death' in
Brazil
; and 'The River of Our Love' in
France
. (3) The majority of this movie was shot on location within the
Oregon
state of
Bend
. (4) Out of the following two taglines used to promote this picture, which one would you prefer to read the most? 'The Indian Fighter and the Girl...a love as fierce as a fire arrow!' -- or -- 'Only one man has the power to stop a war'. (5) This was the first feature length movie produced by Kirk Douglas' then fledgling production company, 'Bryna', which was named after his dear old mother. (6) Now if it wasn't for Kirk Douglas's wife, Anne Douglas, Elsa Martinelli would never have been hired to play role of Onahti in this flick. Anne discovered her whilst she was skimming through the pages of 'Vogue Magazine'. (7) In his autobiography, 'The Ragman's Son', Kirk described how he and Elsa had constant sex during the making of this movie. Tut-tut-tut! Poor, Anne. I bet you she never bought 'Vogue' after that. (8) This flick was based upon an original story devised by the writer, Robert L. Richards. (9) If you look very closely you might be able to tell that Hank Worden and Harry Landers play two very different parts in this
Western
. Whilst Hank plays 'Crazy Bear' plus the jailer, Harry plays 'Grey Wolf' plus one of Captain Trask's foot-solders. (10)
Kirk Douglas
actually broke his own nose whilst performing a stunt where he had to make his horse fall down onto the ground. Instead of him leaning back into the saddle before yanking the horse's head around to the side, Douglas leaned forward and took the full force of the horse's head right in the face. Ha! That's shows him for cheating on his wife.
Overall 'The Indian Killer' was a fairly middle of the road western that had a rather bi-polar edge to it. The actors were great, but not all of them. The story was fairly fine, but it could have been better. And at the end of the day I'm sure this is one of those films that'd be amazing if remade in a more careful and focused fashion.
Nuff said.
THE RATING: B-


THE INDIAN FIGHTER (1955)
Reviewed by
David Andrews
on
March 31, 2014
Rating: