Looking after someone else's kid isn't a very easy thing to do. First you've got to feed them. Then you've got to make sure they get to bed on time. And to make matters even worse, you've got to watch this 114 minute movie with them too. You know. That one made in 1993, and Directed by: Michael Caton-Jones; and Starring: Robert De Niro, Leonardo DiCaprio, Ellen Barkin, with Toby Maguire.
This Boy's Life:
The Memoir
-
The Movie
THE STORY:
Please, Toby (Leonardo DiCaprio). You have to believe me when I say I never meant you any harm. After your father left us I didn't know what to do with myself. I felt lost, alone, and desperately needed someone by my side to keep us both safe and secure.
And as you all well know, I honestly thought Dwight Hansen (Robert De Niro) was just such a man.

Well, he seemed like such a nice guy at first. He held down a regular job as a mechanic. He took care of his fledgling family rather well. Plus to top it all off, Dwight was even willing to take you under his wing when you got expelled from school for lude behavior.

But then, during this said-same period of time, he did something to you. Didn't he, my son? He tried to mold you into his own image by forcing you to cut your hair short, do a paper round, as well as join the scouts even when you didn't want to.

Heck, after a while it looked like he did such a good job of making you into a better person, that's when I said to myself, 'Caroline Wolff (Ellen Barkin)! You have to marry that man'.

Yet I wrong to do this, wasn't I Toby? As soon as Dwight put a ring on my finger, all of a sudden our lives spiraled out of control. Most of the time you and Dwight kept on bickering with each other, whilst I in turn acted as a referee to these proceedings. Furthermore, when one of your new-found friend's, Arthur Gayle (Jonah Blechman), told you that he loved you, well, that's most probably why what next transpired all kicked off when you deliberately crashed Dwight's car. As two years later things are more of the same - higher education is nothing like pain - jealousy turns into the ravages of hate - and please remember, son, good things come to those who wait.
THE REVIEW:
Now I wonder how the makers of 'This Boy's Life' were able to cast the Toby Wolff role? Well. Lets face it. There's quite a few factors that need to be considered before you can find someone to fill this part. For a start, this kid would have to be able to hold his own against someone like Robert De Niro -- which is by no means an easy feet for anyone. Next, he'd have to be able to channel the spirit of the real-life person he's supposed to be playing -- which couldn't have been much better, either. And in addition to this, he's got to carry the weight of this film upon his small shoulders, as well as as narrative it whilst being the believable son of Ellen Barkin too.
Wow! No wonder Leo got picked, eh?
Seriously though, I always saw this film on two different levels myself. The first level is how it appears to be the 'changing of the guard' for the 'Martin Scorsese players'. OK. I know that Martin had nothing to do with the making of this film. Yet chronologically speaking, this is when De Niro first worked with Leo, and he in turn then introduced him to Martin.
Where as the second level is all about the film in itself. As it's one of those great timely films with amazing actors, a very poignant story-line, plus something I cannot find fault with at all.
Honestly, folks. From my perspective it doesn't put a single foot wrong, apart from the way it has dramatized real life events like most movie adaptations usually do. Apart from that though... err - nish - nothing - nadda - no fawago. Simply put, this is a very good sold film which has all the hallmarks of being a timeless classic.
Here. Take my favorite scene for instance. That one where De Niro boasts to Leo and the family how he fought off some chap. Now in essence, all this scene has to do is redefine the fruition of an already bad relationship. But not only does it do just that in a very no nonsense fashion, it also heightens its overall dramatic edge, whilst simultaneously conveying character and pathos that's just as earthy! Go on. Check out this clip to see what I mean....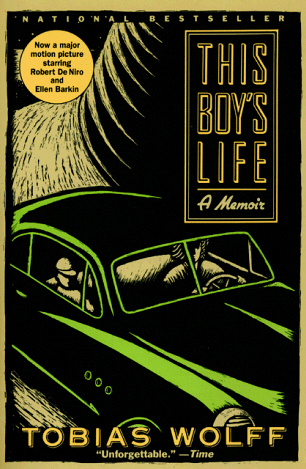 Wow! What a great scene that was, right, folks? But still. Do you think it's any better than the following filmic-facts? Ha! (1) 'Warner Bros.' first released this production in America on the 9th of April, 1993, and eventually clawed back $4.1 million dollars at the box office. (2) This movie was based on an award-winning autobiographical book written by the American author, Tobias Wolff, which was published in 1989. (3) Loosely translated, this project was entitled 'My Life As A Child' in Argentina; 'The Dawning Of A Man' in Brazil; and 'Secret Wounds' in France. (4) The majority of this movie was shot on location throughout numerous parts of Canada and America. In Canada you might notice: Vancouver, in British Columbia. While in America you might notice: Concrete, in Washington; plus Moab and Ogden, in Utah. (5) One of the taglines used to promote this picture, was, 'He looked like the ideal husband. He seemed like the perfect father. That's just what they needed. But that's not what they got'. (6) During the making of this drama Leonardo DiCaprio grew a few inches taller, so he had to slouch down in several of the scenes he was in, just to make himself look smaller. (7) This was the first time Tobey Maguire, Chris Cooper, Carla Gugino, and Eliza Dushku, ever appeared in a full feature length film. (8) After this flick finished flubbing,
Robert De Niro
starred in the crime-drama, 'A Bronx Tale'; Ellen Barkin starred in the thriller, 'Bad Company'; and Leonardo DiCaprio starred in the adventure, 'What's Eating Gilbert Grape'.
In closing, I'd just like to say that I've done some research to find out what the real life Toby Wolff thought about his bio-pic, 'This Boys Life'. And though most of what I found was generally monosyllabic praise for this piece, after a while I got fed up and just looked for porn instead.
Well, I'm not as perfect as this film, am I? A great film that's well acted, well directed, and up there with most of the other spot-on filmic adaptations, like 'Ray' or'Amadeus'.
Nuff said.
THE RATING: A


THIS BOY'S LIFE
Reviewed by
David Andrews
on
June 03, 2014
Rating: