There once was a man without fear, who grew angry whenever he'd smell beer. Until, one day, his fear, flew away, because his nose was replaced by his ear. Want to know more? Then please ignore the following adventure created by Chip Zdarsky, Marco Checchetto, and published by Marvel Comics in March, 2019.
TO QUOTE Stephen King: 'The trust of the innocent is the liar's most useful tool'.


THE REVIEW:
Many years ago, Matt Murdock was a young, lonely lad, who regularly sought salvation within the confines of his local church, doing so by talking to his pastor, Father Cathal, for guidance or some form of direction.
Now, though, Matt isn't seeking any form of guidance or direction. If anything, he's seeking a cold drink, a hot woman, and a group of thieves robbing a New York liquor store. Although, to be fair, he's a lot better at finding a drink and a woman than he is at stopping a robbery! After all, he doesn't kill someone while drinking or kissing. But he does kill someone who's robbing and thieving, which he eventually finds out the very next day.
So, what should he do about it? How should
Matt
react to his alleged crime, if it were true? I mean, should he ask his friend
Foggy Nelson
for some help? Should he try to
investigate
this scandal all by himself? Or should he just
parade
the city streets and avoid getting shot? BANG! Either way, if you want to know the answer, I suggest that you pick up
issue 1 and 2 of Daredevil
today. In the meantime though, here, check this out…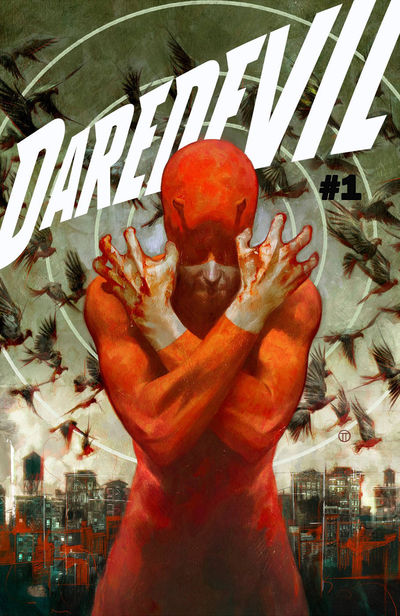 Part One) KEEPING IT REAL: To some extent, these two episodes of Daredevil have been able to examine the many different sides of Matt's personality. Although, between me and you, it doesn't only do this by exploring his spiritual side (praise the lord), his flawed side (jiggy-jiggy boom-boom), as well as his adventurous side (slap-bang-pow), but in addition to this, it also explores the evolution of who he's become throughout the years. Ranging from him being a small, tempestuous child, all the way up to him being a large, tempestuous adult!
Yet, on second thoughts, maybe
Daredevil
hasn't changed all that much?
Internally
I mean! Which is why he keeps on getting himself into trouble, again, and again, and again! Not that this is a bad thing, mind you, as we all have that special something that makes us unique, so to speak. But in Matt's case, it's almost as if his uniqueness includes a
self-destruct button
that can either help him out or hold him back. Pressed in, he wants to
defend
those in need and stand up for the repressed. While pressed out, he's addicted to
violence
and compelled to push himself to extremes.
Again, this isn't necessarily a bad thing. If anything, it's merely an observation, at best, and helps us understand that Matt is a multifaceted character with a bipolar edge. An edge which allows him to sleep with complete strangers, go to church, fight crime, defend the innocent, have a drink, and put himself in danger, regardless of the risks.
So, where Matt's
morality
is concerned, he may be a hero, but he's the type of hero who's prone to
making mistakes
, or dare I say it,
keeping it real
, both inside and out. Heck, even
Father Cathal
(who, by the way, is a great addition to this book) refers to this
trait
near the end of
issue 1
; and basically sums up Matt in one panel more than
Charles Soule
was able to do throughout the last series. No offense, Charles, but like this new incarnation, I'm trying to keep it real and keep it moral.
Part Two) COLE OR DOLE:
Actually, while I'm on the subject of
morality
, I would now like to draw your attention to a great new addition to this brand new series. Namely,
Detective Cole North
, who to me, seems like a real down to earth character that's one-half
righteous
, one-half
virtuous
, and one-half
justice-incarnate
. As a matter of fact, he kind of reminds me of another well-built African-American Detective who regularly appeared in the Bat-books,
Detective Mackenzie Bock
(circa 1995). Although, in Cole's case, he appears to be considerably meaner and a lot more driven in comparison.
During
issue 2
, for instance, he takes it upon himself to go and meet
Wilson Fisk
, the Mayor of New York City, in order to inform him about Daredevil's alleged crime. In doing so, however, both he and Wilson attempt to
size each other up
-- on a visceral level, at least -- which inadvertently defines Cole's status, personality, and temperament from that moment onwards (principled to a fault).
Come to think of it, something else we also discover during this scene; is that Wilson
didn't
frame Daredevil but he
did
get some information on Cole. Sinister, I know, and truly troubling too! All of which begs the question: If Wilson didn't frame Daredevil, who did?
The Owl
?
The Beast
? Another one of his
adversaries
? Or, dare I say it, did Matt do it himself? Kill the thief by
accident
I mean! And if that were true, what the hell should he do next?
Hand
himself in?
Continue
as per usual? Or
retire
from the superhero business altogether?
Well, what do you think, dear reader? What do you think Daredevil should do next? Or is it too early to tell? Also, how do you feel about this brand new creative team? Personally, I just thought they were marvelous all the way through! While
Chip Zdarsky's
storyline was well-balanced and well-exciting to read (despite being slightly text heavy in places),
Marco Checchetto's
artwork, on the other hand, was nicely detailed and tonally atmospheric! I also loved looking at those grand cinematic panoramas of Daredevil leaping through the sky. So, all in all, amazing job right across the board!
THE MUSIC:
For this month's musical match-up I'd like to align this adventure with the R.E.M. song, 'Everybody Hurts', simply because they both highlight a morose tale that touches upon such subjects as depression, survival, and redemption. Here, check this out…


As I've said before, I really do like this new Detective Cole North character, and sincerely hope he sticks around for the foreseeable future. So, with that in mind, I would now like to compare these two episodes with his namesake, a chunk of coal, despite the discrepancy in the spelling.
THE CONCLUSION:
At the end of issue 2, Daredevil runs into Detective North and Detective Higgins. So, out of the following eight options, let's see if you can guess what ends up happening between these three men? Could it involve…
Somebody getting his arse kicked.
Somebody getting a tattoo.
Somebody getting an incurable disease.
Somebody getting shot.
Somebody getting kissed.
Somebody getting a sex change.
Somebody getting a tax rebate.
Somebody getting a brand-new comic book series.
Nuff said.


DAREDEVIL #1 & #2
Reviewed by
David Andrews
on
March 25, 2019
Rating: