There once was a flirtatious genie, who'd get a kick out of wearing a bikini. Until, one day, her bikini, went away, because it was stolen by a dirty old meanie. Want to know more? Then please ignore the following adventure created by Adam Glass, Bernard Chang, and published by DC Comics in October, 2019.
TO QUOTE
Douglas
Coupland:
'
A ring is a halo for your finger
'.

THE STORY:
From the looks of it, a member of the Teen Titans has mysteriously stolen Djinn's magic ring, and now it's up to Robin to try to track down the perpetrator.
But can he do this? Can Robin figure out the
real identity
of this thief and then bring them to justice? Keeping in mind that
Wally
is the fastest brat alive,
Crush
is the angriest lesbian alive, and
Roundhouse
is the roundest geek alive! Well, to find out, please pick up
issue 34
of the
Teen Titans
today. In the meantime though, here, check this out…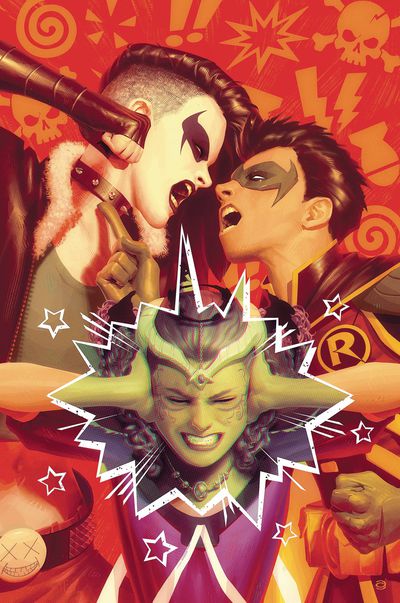 THE REVIEW:
All in all, I really enjoyed reading this episode of the Teen Titans because the artwork was bold, lively, and easy to follow, whereas the story in itself was a straightforward mystery with some rather drastic ramifications! In fact, this episode ended on such a dramatic note, the only real way for me to review it is by answering the following questions...
1) So how did the overall story play out?
Essentially, a large part of the plot was fairly similar to a
police procedural
you'd normally see on a
primetime
television show
. Something like '
CSI
', for instance, where you'd follow a team of investigators who try to figure out which
criminal
was behind a
crime
that was established at the start of the show. In this case, though, the investigators have been replaced by
Damian Wayne
, a.k.a.
Robin, the boy blunder
, while the crime has been replaced by a pre-existing dilemma. A pre-existing dilemma that's definitely going to
shake up
the status quo! Well, without giving too much away, Robin's quest mainly focused on him speaking to each individual member of the team, one, by one, by one, in order to find out who was behind two interconnected mysteries: Firstly, who stole
Djinn's ring
? (which was stolen before the events of this issue) And secondly, who caused the
destruction
of his secret prison? (which happened near the end of the
Terminus Agenda
). Eventually, a
revelation
was finally made, but it wasn't made by Robin, but rather,
somebody
else, and even then, we are left with a cliffhanger which I'm sure we will see more of next month.
2) Can anything be said about this month's episode without giving the game away?
No! Not really, not in terms of the
actual plot
, although I do think that there are a couple of things well worth mentioning. Like
Djinn's
confrontation with
Crush
, for instance, which to some extent, goes to show who they truly are as people! After all, Djinn does seem like a very mysterious and aloof character (both to us and herself), because she's been oppressed for her entire life and has never been allowed to find out who she really is. Whereas Crush, on the other hand, is a fairly volatile character, who's scared, insecure, and in dire need to also explore her true identity! Well, is she a full-on
Czarnian
or is she a
hybrid
of sorts? And even if she's able to figure out what
species
she is, will that be able to explain some of her more
emotional
urges? Ranging from the
violent
to the
compassionate
! In any event, I'm sure that the road ahead is going to be an
exploratory
one by nature. Or better yet, a
therapeutic
one for the sake of the team!
3) Did Damian carry out his investigation to the best of his abilities?
Personally, I like to think he did, because in no uncertain terms he made sure that he
questioned
all of his team-mates in a very forthright fashion. What did surprise me, though, was how each member of the team answered his questions in a rather
combative
way. For example, during his confrontation with
Roundhouse
, the blue boffin literally turned the tables on
Damian
by analyzing his approach to asking questions (which was unexpected, to say the least, considering that he's usually such a fun character). While
Wally
(who he spoke to last) took a slightly different approach than Roundhouse, a more
personal
approach, where he either preempted Damian's questions or jovially rebuked them in a very funny way (Seriously, that comment about his Dad being a crook, while Damian's Mum and Grandfather were world-class criminals, really cracked me up, ha!). And as for the other two?
Crush and Djinn
? Well, in their case, they seemed like their normal selves, for the most part, yet I was surprised when Crush's eyes suddenly turned
red
with anger, similar to her Father's.
4) Talking about surprises, was I surprised about the true identity of the traitor when it was revealed?
Yes,
yes
I was, even though I did
predict
the traitor's
real identity
during last month's review. Having said that, though, I'm not entirely sure about their true motivations or why they're currently behaving like this? Is it
personal
, perhaps?
Financial
? Or worse still, could the traitor actually be the evil mastermind the team has been pursuing since the start of this series?
The Other
! Let me know what you think in the comment section below.

THE MUSIC:
For this month's musical match-up, I'm going to align this adventure with the Johnny Cash classic, 'Ring of Fire', because, you know, rings... dangerous rings!


THE COMPARISON:
Well, because most of the story revolves around a missing
ring
, I might as well compare it to an
actual ring
you could purchase on Amazon, ha!
THE CONCLUSION:
At the very end of this episode, it's finally revealed who stole Djinn's ring and who is the traitor in the team! So, out of the following six options, let's see if you can guess who the traitor is and why? I mean, could it be…
Robin, because he wants to uphold his Grandfather's legacy.
Red Arrow, because she wants to join forces with her Mother.
Kid Flash, because he wants to follow in his Father's footsteps.
Djinn, because she wants to bring back her ancient ancestry.
Crush, because she wants to surpass her Father's reputation.
Roundhouse, because... well... just because.
Nuff said.
TEEN TITANS #34
Reviewed by
David Andrews
on
October 01, 2019
Rating: