Did you know that there are twenty-one different neighborhoods situated in Boston, Massachusetts? Yeah. No messing about. These include such diverse districts as Brighton, Aubergine, Beacon Hill, Charlestown, Chinatown, Twinge, Iraq, East Boston, Wobble, Mission Hill, South End, Albatross, Fenway, the Roxbury, and Bean. Oh! Wait a minute! Not 'Bean'. That's the name of the chap who stars in this 50 minute stand-up show made in 1992. Oops!
Rowan Atkinson Live!
THE STORY:
Between the 19th and the 20th of December, 1991, Rowan Atkinson -- along with Angus Deaton -- both take-part in his 'one-man' stand-up show live in front of a studio audience, situated at the 'Boston University Theatre', Massachusetts.
What now follows is a basic breakdown of the numerous sketches performed during this gig.
A Warm Welcome In Hell -- 'Are The French here? Please form an orderly queue by the side of the Germans if you will. I'm sure you'll both have a lot to talk about'.
Fatal Beating -- 'Tommy has been a very naughty boy. Thank God he's dead; or else I'd have him expelled from school!'.
And Now For Nazareth The Amazing -- 'And so they said unto the Lord "Do you do parties? That trick with the wine was just great!"'.
The Invisible Man -- AKA 'The Silent Underground B*stard'.
The Good Looser -- Oh, Shit! Syphilis has won this poxy acting award! I'm going to look after the mentally ill now.
Elementary Dating -- 'If at all possible, try not to dance like an electric stair-lift'.
Guys After The Game -- 'No. That meal is not f*cking hot. It's a medium spiced dish'.
A Starter With A Sneeze -- Atchooo! Bless you. Zzzzzzzzzz.
With Friends Like These -- 'A lot of new brides ask me about the churches attitudes towards flacio. In turn, I say unto them, "...and what's that exactly?"'.
Pink Tights and Plenty Of Props -- Jerry Iron's stand-in, Bernard Hoppa, shows us how to act and his nut-sack at the same time.
Thomas, Richard, And Harry -- See no evil. Hear no evil. Speak no evil. Chopped up and blended for all eternity. Amen.
No one named Jones -- 'Has anyone seen Clitoris lately?'
Now did any of you out there understand any of that? Huh? What's that you say? No? Tough ninny. Buy the DVD and have a laugh. A little dab will do you good.
THE REVIEW:
Off the bat, please allow me to say that 'Rowan Atkinson Live in Boston' was literally laugh out loud funny. Yeah. No f*cking about. This show was one of those shows that made me chuckle so much, half-way through it I had to take a sip of water because my throat began to hurt.
Granted, this may be because I presently have a stinking cold, and that I think of this gig as a stepping stone of sorts; bridging the gap between Rowans '
Blackadder
' career and his '
Mr Bean
' career. Nonetheless, this doesn't take anything away from the overall performance one little bit. It was well structured. Slapstick in places. Sardonic in others. And was nicely held together by the English television stalwart, Angus Deaton.
Honestly. I can't fault this concert at all. I'm a Rowan fan. And have been for years. Following his exploit's from stage to screen like a rollerskating parishioner trailing his mobile-church. Well, I have been known to be a bit Atkinson-eque myself, dear reader. Playing the fool whenever possible, even if I mean to or not.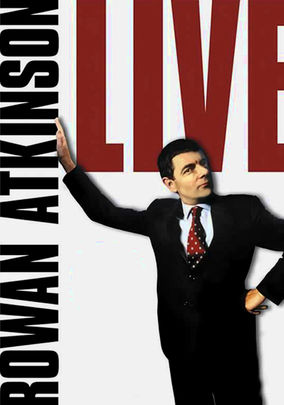 However, before I divert onto matters of the heart, here are some RA related facts. (1) Rowan Sebastian Atkinson was born on
the 6th of January, 1955
, in
Newcastle-Upon-Tyne
. (2) In 1978 Rowan had his own show on BBC Radio 3 -- entitled 'The Atkinson People' -- where he performed a series of satirical interviews with 'fictional' greats. It was written by himself and his 'Blackadder' co-writer, Richard Curtis, and produced by his eventual 'Not the Nine O'clock News' colleague,
Griff Rhys Jones
. (3) Rowan first met his wife to be -- Sunetra Sastry -- in the late nineteen-eighties, when she was a make-up artist working for the BBC. They married in 1990. (4) Rowan was thrust into the public spotlight in 1979, after performing a 'sardonic headmaster sketch' live at the
Amnesty International
event, entitled, 'The Secret Policeman's Ball'. (5) Whilst people like
John Clease
,
Peter Sellers
, Jacques Tati, and Charlie Chaplin, inspired Rowan to become the comedian he is, in turn, he has influenced such comics as
David Walliams
,
Sacha Baron Cohen
, and Steve Pemberton. (6) I kid you not; Rowan has a 'HGV license', which allows him to drive any road-worthy vehicle weighing over three and a half tonnes. (7) In 2005, Rowan -- and many other British actors and writers -- confronted Parliament to review a controversial 'Racial and Religious Hatred Bill', because this 'act' gave religious groups too much power to censor the arts. (8)
England
's ex-prime minister, Tony Blair, attended the '
Cathedral
Chorister
School
' -- in
Durham
-- at the same time Rowan did.
OK, so now that's all done and dusted, what can say about the man with the funny face and lyrical tone,
Rowan Atkinson
? Err? Nothing much really. I suppose I've said all I can say about him within my previous reviews (click-click-click). But I would like to add one more thing though. He's funny. Naturally funny. Seemingly not trying too hard -- even though you know deep down he is -- and coming up with updated Python or Chaplin skits, that both respects and complements the original works.
Come on. Let's face it. A sketch about a headmaster killing his pupil, and then complaining about it to his father afterwards, is straight out of Python, isn't it? And what about all those 'silent skits' Rowan does? Stick him in a bowler hat and a Hitler mustache and we'd have a pretty decent Charlie-match I'd say.
Listen, this isn't a slight by any stretch of the imagination. No way. If anything, it's a complement. Highlighting that a great man has learnt a lot from a bunch of great men. Don't you agree, you funny faced fool?


I think that was a 'yes'.
ROWAN ATKINSON LIVE IN BOSTON
Reviewed by
David Andrews
on
March 11, 2013
Rating: