An obscure Yorkshire poet once wrote, 'There's nowt so queer as folk'. And do you know what? He's bloody right you know. Dead bloody right. Just ask the Director: Shane Black; or the Actors: Robert Downey Jr., Val Kilmer, and Michelle Monaghan. But please do this in 2005, for about 103-minutes, OK?
Kiss Kiss Bang Bang
-
Bodies are Where You Find Them
THE STORY:
Alright. I know what some people say about me. Some think I'm a East Coast crook who lucked out into becoming an actor by accident. Whilst others might surmise I was fortunate enough in meeting the girl of my dreams,
Harmony Lane
(Michelle Monaghan), just after I was introduced to my new acting coach, Detective 'Gay' Perry van Shrike (Val Kilmer), at a
Hollywood
party.
But I'm not lucky you know. No. I'm an unlucky b*stard. A very unlucky b*stard called Harry Lockhart (Robert Downey Jr.), who gets involved with two dead bodies in a single day associated with my two friends.
Hey! Don't get the wrong idea, pal. I didn't kill anybody. And neither did Harmony or Perry either.
But wait a minute! You're not thinking what I'm thinking, are you? That these two stiffs are somehow connected to the big time film producer whose party we all first met at? Harlan Dexter (Corbin Bernsen)?
Oh, shit! What should Perry, Harmony, and me do now then? Run all over L.A. trying to figure out the what, the where, and the why? Or what about if I get my own finger chopped off and then get thumped, kicked, and punched into oblivion?
Huh? What's that you say? I should stop asking stupid f*cking questions and just relax for a moment or two?
Fair enough. That sounds reasonable. Yet again, that's most probably why what next transpires all gets a bit funky when I take some drugs. As actors show some zeal - shit eventually turns real - nuts take a right good whacking - and an adventure hasn't got any time to start a slacking.
SLAP! Next please!
THE REVIEW:
Now I'm the type of a chap that isn't very keen on stories that rely heavily on happenstance and good fortune. Furthermore, I'm not normally a big fan of obvious sets-ups and muddled-mysteries either. However, whilst saying that, even though 'Kiss Kiss Bang Bang' does use the aforementioned two factors quite a bit, for the life of me, I still think of it a f*cking amazing film.
Yeah. No word of a lie. This is a very watch-able movie because the actors in it were really captivating to follow. Val Kilmer plays such a convincing gay detective that I wished he'd continue the motion in his other movies. Michelle Monaghan is so adorable that I had to stop scratching my own nuts whenever she was on screen. And Robert Downey Jr does Robert Downey Jr so well; it's as if he's not acting at all.
Granted, as I mentioned previously, I wasn't too thrilled where the overall story was concerned. Here and there I did sigh or groan when character 'A' and character 'B' where at the same place they needed to be to bump into characters 'C' and 'D'. Also, the repetitive way that certain character's remembered certain 'key facts' after the event was rather irritating as well.
Apart from that though -- nah -- this was one cracking film which was very funny and very captivating to sit through. I loved the nice personal way it 'broke through the fourth wall' care of Robert's great voice over narration. I also have to mention that the three main leads were so amazing that it didn't matter that the story was so pants in retrospect. Plus overall, the chemistry invoked throughout this entire piece was pure magic to say the least.
Here, before I crown 'Kiss Kiss Bang Bang' the next messiah, let's have some filmic-facts. (1) 'Warner Brothers' first released this $15 million dollar production on
the 11th of November, 2005
, and clawed back $15.7 million dollars at the box office. (2) This flick was partially based on a novel written the Brett Halliday called, 'Bodies Are Where You Find Them'. (3) At one point of another,
Hugh Grant
,
Benicio Del Toro
,
Johnny Knoxville
, and Harrison Ford, were all considered to play one of the two main roles in this movie. (4) Not only was this Shane Black's directorial debut, but one of the producers on this film was
Robert Downey Jr.'s
very own wife, Susan Levin. (5) Most of this movie was shot on location throughout the American state of
California
. This includes
Long Beach
,
MacArthur
Park
, Santa Clarita,
Santa Monica
,
Venice
, and the 'Standard Hotel',
Los Angeles
. (6) Loosely translated, this project was entitled 'Kisses and Globes' in
Greece
; 'Pow, Pow, and Kiss' in
Hungary
; 'Love and Bullets' in
Romania
; and was given the working titles of 'L.A.P.I.' and 'You'll Never Die in This Town Again' during pre-production. (7) It is generally considered that the character Val Kilmer plays in this picture, Gay Perry, was the first openly homosexual lead for a
Hollywood
action-adventure. (8) It took Shane Black over a year to write the screenplay for this film. And he only managed to sell it, because he took it to Joel Silver, who gave him his first big break in penning the 80's classic, 'Lethal Weapon'. (9) The title for this flick was taken from an un-used theme song for the James Bond movie, 'Thunderball'. It was called 'Mister Kiss Kiss Bang Bang', and was sung by Shirley Bassey first, and Dionne Warwick second.
Now in closing my review, I would just like to add that conceptually, 'Kiss Kiss Bang Bang', reminded me of an old 50's movie remade in the modern day. The story was all over the place both structurally and in merit. Yet the actors were so good in it that they hid this defect very well. So overall, I'd have to state for the record that it was a charming muddled mystery that's a must watch for those of you who love good acting and great style.
Nuff said. Or else I'd end up giving myself a headache, Ha!
THE RATING: A
KISS KISS BANG BANG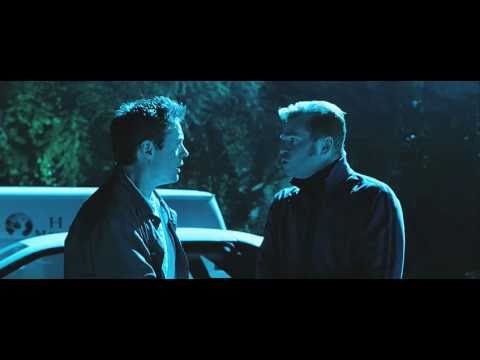 Reviewed by
David Andrews
on
October 09, 2013
Rating: