Now if it took the aforementioned film approximately six whole months to be written, recorded, and then eventually released, does that necessarily make it a good film, or just a misguided film? Let's see, shall we? In this 90 minute movie made in 1985, Directed by Neal Israel; and Starring: John Murray, Jennifer Tilly, James Keach, with Brian Backer.
Moving Violations :
The Film
-
The Poster
THE STORY:
Alright people. Settle down. As you all well know, Judge Henderson (Sally Kellerman) has sentenced you all to attend traffic school because none of you can drive for sh*t. And I, Deputy Hank Halik (James Keach), will do my best to instruct you in the etiquette of road safely, or else we will sell you're cars on ebay.
But I must warn you, folks, I won't stand for any of your crazy shenanigans!
You, Dana Cannon (John Murray), it pains me to say that your Bill Murray impersonation is just abysmal. So stop doing it. OK?
You, Mrs. Houk (Nedra Volz), stop being blind. That's why you keep on bumping into things all of the God damn time.
And as for you Joan, (Wendie Jo Sperber), Amy (Jennifer Tilly), and Wink (Ned Eisenberg), well, it doesn't really matter what any of you do, cause to a certain extent, you and the rest of this class are somewhat superfluous to this overall story-line.
Oh! Wait a minute! I've just realised something. None of you are listening at a single word I'm saying. You're all just carrying on with your lives as if this was just some sort of a game. Still. I suppose that's why what next transpires takes a sudden U Turn when the good Judge and I set in motion a devilish plan to makes you all fail and then reap the rewards. As love is in the air - this film shows no flair - a plan hit's the skids - and at the end of the day a traffic certificate is just for kids.
THE REVIEW:
Now what do you get if you take a bunch of jovial characters, set them in a place of education under duress, before pitting them against an opposing character that doesn't like the look of any of them.
No. You don't get 'Police Academy', dear reader. What you get instead is a somewhat pale version of 'Police Academy' called 'Moving Violations'.
Yep. That's correct. This is one of those piss-poor eighties comedies that tried to cash in on a more successful film franchise, and failed miserably at doing it. Honestly, for me personally, I didn't find this film very funny at all. It just took a tried and tested concept and did its worst at updating it in a tried and tested fashion.
Heck, you can tell from the get go what this film was attempting to accomplish when it rolled out their cast of characters in the same vein 'Police Academy' did, one year earlier.
Something else you'll also notice is that these so-called zany characters aren't as dynamic or as funny either. They all just came across as Luke warm versions of something else that came before. Nothing more. And nothing less.
Plus finally, the story in itself wasn't very good, as it just plodded from plot-point to comedy-skit at a drop of a hat, without any forethought whatsoever relating to any major repercussions thereafter.
Granted, there were some parts of this movie I didn't mind watching. On a certain level I did get a kick out of those scenes involving the partially sighted Granny -- as played Nedra Volz. Because even though her character was of the one note variety, at the end of the day she still managed to amuse me with her bumbling yet charming antics.
Also, I've got to mention that I found those scenes involving the doctor and the neurotic quite amusing too -- as played by Wendie Jo Sperber and Fred Willard respectively. Again, there characters were of the one note variety, yet their physical and lyrical word play was a right treat for me, bar none.
Anyway. I think it best if I stop myself there. Or otherwise I won't have enough time to regurgitate any of these filmic facts. (1) '20th Century Fox' first released this production on the 19th of April, 1985, and eventually clawed back $10 million dollars at the American box office. (2) Loosely translated, this project was entitled 'Looser Team' in Hungary; 'A Transit Kranks' in Brazil; and 'Academy of Motion' in Poland. (3) The majority of this movie was shot on location throughout the American state of California. This includes Brea Civic Center, Craig Regional Park, Terminal One of Los Angeles International Airport, El Segundo, Long Beach, La Puente, and Simi Valley. (4) Considering Nedra Volz was 76 years young when he starred in this film, he did a pretty good job at performing all of his own stunts himself. (5) Michael J Fox was originally going to play the role of Dana in this comedy, yet the studio didn't like the idea of him, and chose John Murray instead. (6) Neal Israel, who wrote and directed this flick, actually attended traffic school to prepare for this project. (7) The only real reason Robert Conrad accepted the part of the Police Chief in this picture, was because he turned down the part of Commandant Lassard in another one of Neal Israel's pictures, 'Police Academy'. (8) John Murray is the younger brother of Billy Murray, and based his Dana character on his brother's performances in the well known comedies, 'Meatballs', 'Caddyshack', and 'Stripes'. Also, on a side note, James Keach is the younger brother of Stacy Keach. (9) This was Don Cheadle's first feature film, and Jennifer Tilly's second.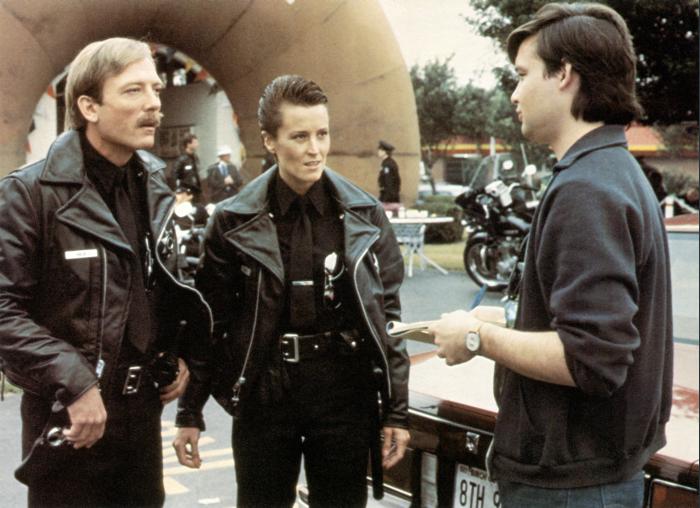 Overall I'd say 'Moving Violations' was as moving as a bowel movement. When it plopped it plopped. And when it was time to flush the chain, I flushed.
FFFTSSSSSSS! Say no more.
THE RATING:
C+
MOVING VIOLATIONS
Reviewed by
David Andrews
on
February 26, 2014
Rating: