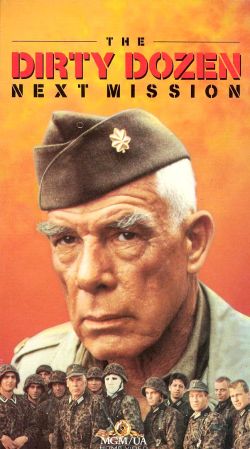 War. Ohhhh. Good god. What is it good for? To make sequels out of. Yes. That's right. Sequels. Do you want to know more? Then take a shufty at this boom-boom piece of war-time drama, Directed by Andrew V. McLaglen; and Starring: Lee Marvin with Ernest Borgnine. It fired its first round in 1985, which lasted for approximately 95 minutes.
The Dirty Dozen (Inc Next Mission)
THE STORY:
It's nearing the end of the Second World War, and German S.S. General, Sepp Dietrich (Wolf Kahler), is planning to kill Adolph Hitler just to prolong it.
Damn! So how in hell is American Major, General Wordon (Ernest Borgnine), going to stop him, huh? Simple really. Hire Major John Riseman (Lee Marvin), to recruit some prison-bound officers, who will help him sabotage this endeavor.
OK, not so simple. Because each and every one of Riseman's 'Dirty Dozen' have a bone to pick with the U.S. Army. Nevertheless, they still accept his proposition, and then proceed with his plan.
But wait up! What plan is this? Well, under orders of course, Riesman's has been instructed to kill Dietich whilst he is on-board a moving train. Therefore, somewhat prudently, he takes this premise and then trains his men accordingly. Granted, this isn't really an easy thing for Riesman to accomplish, because he has to slap, cajole, and mold this unruly bunch into shape first, before this mission can truly begin. Though he does eventually manage to get this job done - in a manner of speaking, ha!
However, I am afraid to say that as soon as this plan is put into action, and the 'Dirty Dozen' lands on French soil to bang-bang-bang, danger seems to await their every move. For a start, when one of their men (black in origin, and draped in bandages) is spotted when they try to dubiously make there way through a German air force base
. Then, when their mode of transportation is attacked while they try to make there escape. Plus finally, when German officers spot them loitering within a wine seller they own, thus provoking another attack on them.
Ouch! Pretty harsh set of circumstances, I am sure that you will agree. All of which goads 'the Dozen' to rebel against Riesman. Plus, on top of that, what do you think happens when Hitler suddenly resurfaces after they raid Dietrich train for it's loot?
Oh! Well, that is most probably why what next transpires is a rather war time affair all in all. As decisions are made - tempers are frayed - German planes take flight - and some of the Dozen turn out alright.
Cheers.
THE REVIEW:
OK, so what can I say about 'The Dirty Dozen - The Next Mission' without me sounding like a complete dick-head? Hmmm. I suppose I can't really. Fair enough, I can not help but praise a film that has tried to recapture the spirit of the original, and then failed miserably at doing so. But then again, whilst saying that, I am not trying to imply that this isn't a good solid film, because on some level it is.
However, (dick-dick-dick), due to a tried and tested pretext, (dick-dick-dick), and lower production values, (dick-dick-dick), this film just does not really hold up compared to the first.
First off, please let me say that this is not a sequel to the original cinematic classic. Robert Altman – the director of the first film – has publicly stated that his film 'Too Late the Hero' was an inadvertent sequel to the 'Dirty Dozen'. So what does that make this film then? Well, a television movie that has tried to recapture the magic of the first, by casting some of the originals who where in it, whilst adding its own flair in the process as well.
Now of course, the 'flair' I am referring to, include actors, Lee Marvin, Ernest Borgnine, and Richard Jaeckel, whom all play predominant parts in this film, and do a mighty fine job of it to if I might add. Not only that though, but although this film does falter in places, certain scenes are suspenseful and quite captivating in part, managing to justify this film being made at all.
You see, those scenes I am referring to, mainly happen at the end of the film. Its the one where the black marksmen has Hitler in his sights, and you can not help but mutter under your breath in a manic frenzy "What's he going to do? What's he going to do? What's he going to do?". Granted, I have to say that these types of moments are few and far between within this picture really. And all in all this war time television movie is just that - a television movie.
Here, check out some of these related filmic facts for the 411 behind this production: (1) This film was made eighteen years after the original film. (2) Director, Andrew V. McLaglen, has been given the nickname 'The Big A'. He was born in London. (3) This was Lee Marvin's movie-television debut, and was the only time he played the same character more than once. Although it was his and Richard Jaeckel second and final "Dirty Dozen" movie also. (4) Richard Jaeckel son, Barry, is a former PGA tour golfer. (5) Wolf Kahler is German, and was made famous by playing Germans in films. (6) Ernest Borgnine spent ten year in the Navy just prior to him becoming an actor (7) Andrew V. McLaglen is one of the only men to have directed both Clint Eastwood and John Wayne. (8) Ernest Borgnine is the only actor from the original The Dirty Dozen film, to appear in all four "Dirty Dozen" films. (9) Richard Jaeckel was a mail courier for 20th Century-Fox, when a casting agent spotted him and signed him up for the movies. And (10) Ernest Borgnine is a Master Mason, and has been elevated to the 33rd Degree in Scottish Rite. He is of Italian decent.
Overall, 'The Dirty Dozen - the Next Mission' is well worth the watch, just to see Lee Marvin's performance alone. Also, I suppose if you have not watched the original yet, you might find this film as captivating as some of the more modern war time endeavors. It's well presented. It's has a nice tone to it. Most of the cast are good. It's just weighed down by its more successful forbears. Agreed Lee Marvin related montage?
Bless.
THE RATING:
B-
THE DIRTY DOZEN - THE NEXT MISSION
Reviewed by
David Andrews
on
April 04, 2011
Rating: