Did you know that Queen Elizabeth and Prince Philip loved watching this film so much at it's premier, they actually asked for a copy so they could show it to the rest of the royal family! Yeah. I'm not messing about! Just ask the Director: Andy Cadiff; or the Actors: Burt Reynolds, Charles Durning, and Imelda Staunton. But only in 2008, and for about 96 minutes. I thank you.
A Bunch Of Amateurs
THE STORY:
The ageing Hollywood action star, Jefferson Steel (Burt Reynolds), thought that it would be a good idea to break away from his actress daughter, Amanda (Camilla Arfwedson), by accepting a Shakespearean role in England, found for him by his down on his luck agent, Charlie Rosenberg (Charles Durning).
But Jeff thought wrong. Very-very wrong. If it wasn't bad enough that he has to share a house with one of the sex-starved cast-members, Mary (Imelda Staunton). To make matters even worse, the rest the troupe are all a bunch of bloody amateurs.
Yeah. Straight up, folks! The director of this production, Dorothy Nettle (Samantha Bond), is a mobile librarian. Their theatre is a run down barn situated in the middle of the British countryside. Plus to top it all off, the rest of the cast are all part-timers, except for Nigel Dewberry (Derek Jacobi), who's an overbearing wannabe thespian.
Still, I suppose it could be a lot-lot worse. Right? Jeff could piss off these amateurs by not knowing his lines and asking for thing's like a hot-tub, a trailer, and all of those other little luxuries he's used to. Furthermore, he could also annoy the sponsor of this gig by getting too friendly with his wife.
Oops! Spoke too soon.
Well, that's most probably why what next transpires breaks a leg when a Shakespearean play is told to f*ck off. As an action star gets bent - lies pay the rent - a performance ends with a bong - and come on folks, the show must always go on.
THE REVIEW:
Now I've always liked one of the writers on 'A Bunch of Amateurs' since I first saw him on the popular British panel show, 'Have I Got News for You'. No. It's not Paul Merton. Although I do think he's great as well. It's that other one. That small satirical one that looks like the Scottish singer, Jimmy Somerville.
Yeah. That's right. Ian Hislop. You see, throughout the years Ian has been a hero of mine, always mixing it up with the 'big-guns' within his great publication, 'Private Eye', as though he can cut through the bullshit with every word he prints. Moreover, from gauging his shtick from his 'Spitting Image' days, I know that he can be very-very funny too.
Honestly. It wasn't the Royal recommendation that made me want to watch this movie. It was Ian. Just so I could see for myself what he and the other writers could come up with for this very British piece.
'And what did I find?' you might ask yourself. Well, as I just said, 'a very British piece'. Involving a washed-up American action star coming to England and integrating himself within a community and a genre which is not akin to his own. Also, I suppose you could say it's about the value of family, and how sometimes you don't know something's missing until you start looking for it.
Granted, I know that this may sound somewhat 'run-of the mill' in plot terms. Still, all in all I thought that this comedy was a very well-polished project. All the actors were great. The production was very quaint. And even though it was kind of predictable on occasion, the story told an actual story that made some sort of sense.
But on a more personal note, dear reader, what I liked the most about 'A Bunch of Amateurs', was how it made you believe in what was going on. I mean, let's face it, most people from this neck of the woods have seen quite a few American actors come over here and try to go 'rural' in their roots. Yet, whilst saying that, how many of us have seen this depicted on screen in a way that's logical and has some intellectual pathos behind it?


No. Not many, huh? And another thing you might not know about are some of these filmic-facts'. (1) This film premiered in London's Leicester Square on the same day that the American Jazz Pianist, Kenny Cox, passed away -- the 19th of December, 2008. (2) As any good anglophile would know, there is no real place called
Stratford
in
Suffolk
. Oh no. Instead, all of these scenes were shot on location throughout London, Hambleden, Hambledon, and two farms situated on the Isle of Man. (3) Even though Burt has never performed Shakespeare prior to this production, he did state publicly that one day he would love to play the part of 'Iago' from the Shakespeare play, 'Othello'. (4) Including this film,
Burt Reynolds
has starred in nine other films which examine the movie-making business. These are: Mel Brook's '
Silent Movie
'; Jud Taylor's 'Fade-in'; Peter Bogdanovich's 'Nicklodeon'; Robert Altman's 'The Player'; Sönke Wortmann's 'The Hollywood Sign'; Paul Thomas Anderson's 'Boogie Nights'; Norman Jewison's 'Best Friends'; Hal Needham's 'Hooper', and his very own film, 'The Last Producer'. (5) Imelda Staunton wasn't acting when her character became frustrated with Burt's character repeatedly flubbing his line, because in actuality, Burt did keep on doing it again and again and again whilst making this flick. (6) If you look very closely at Jefferson Steel's 'Variety' headlines, you will notice it reads: 'Lear Cheer As Steel Deals Bard Card' and 'Steel's Brit Lit No-Pay Play Shakes Peers'. Also, the slogan for the 'Sex and Sexability' movie poster reads: 'From the Director of "Great Sexpectations"'. (7) In real life
Charles Durning
and Burt Reynolds are very good friend's, and they have worked together before on the films: 'Deal', 'Forget About It', 'Stick', 'Starting Over', 'Sharky's Machine', 'The Last Producer', and 'The Best Little Whorehouse in Texas'. (8) Did you know that there is a number of strange 'James Bond' connection's to this movie? Firstly, Burt's character was mistaken for Sean Connery, who most famously played Bond in the 60's and the 70's. Secondly, Burt himself was once considered to play the role of Bond in 'Live and Let Die'. And thirdly, Samantha Bond once played Miss Moneypenny opposite Pierce Brosnan's version of 007.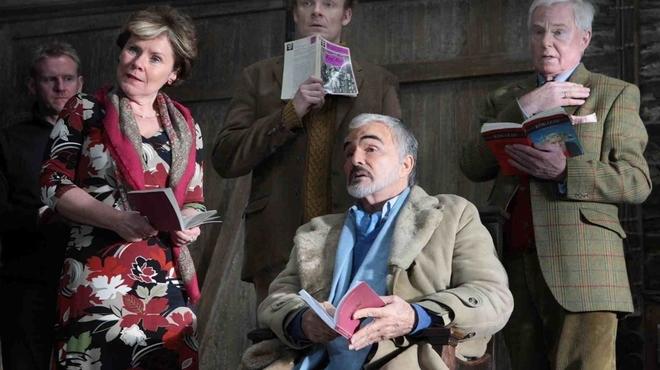 Overall 'A Bunch of Amateurs' is a very British film that was made even better by Burt Reynolds inclusion. No word of a lie. If you want to immerse yourself into a flick that's one part zing, one part quaint, one part English, and one part formulaic, here, you've just hit the jackpot baby. Don't you agree, Ian?
Ha! What a git.
THE RATING: A


A BUNCH OF AMATEURS
Reviewed by
David Andrews
on
August 06, 2013
Rating: